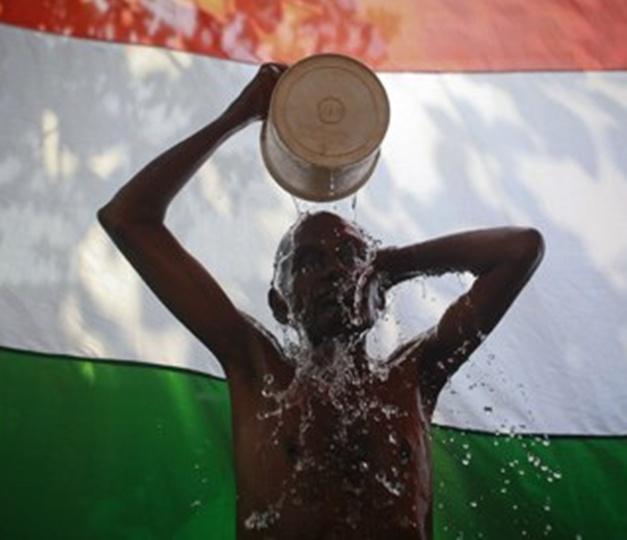 A study by international NGO WaterAid showed if all people waiting for household toilets in India were to stand in a line today, the queue would stretch from earth to moon and beyond.
Arguing that building toilets alone will not solve India's sanitation problems might sound counter-intuitive, especially amid the feverish pace at which some states are spending on the Centre's Swachh Bharat Mission.
However, a close look at SBM data reveals that despite the visible commitment to the programme shown by the central and state authorities, there has been a decline in focus on certain important aspects like 'information, education and communication' activities and preparedness for solid-waste management.

Besides, a study conducted by international non-profit organisation WaterAid on the occasion of World Toilet Day on November 19, showed if all people waiting for household toilets in India were to stand in a line today, the queue would stretch from earth to moon -- and beyond -- as 774 million people would be part of it.
India tops among all countries on this count.
Assuming that each Indian needs about four minutes in a toilet, that queue would need more than 5,892 years to get cleared.
According to the Ministry of Drinking Water and Sanitation, of the 111.15 million rural households that were without toilets in the 2012 baseline survey, 16.54 million have been covered under SBM (Rural) to date.
The Centre for Policy Research's Budget Briefs report on SBM (Rural) shows allocation for the initiative in 2015-16 was increased by 27 per cent over a year earlier to Rs 3,625 crore (Rs 36.25 billion).
MoDWS data also show that Rs 5,233.22 crore (Rs 52.33 billion) has already been spent on SBM in rural India so far this financial year, compared with the Rs 2,240.58 crore (Rs 22.4 billion) released for it.
Expenditure on a sanitation-related programme had last exceeded the released amount in 2009-10.
However, the Budget Briefs report says: "Construction activities account for the bulk of SBM (Rural) expenditure.
"In 2014-15, over 90 per cent of rural sanitation funds were allocated for construction of different types of toilets. . . IEC activities constituted only five per cent of the total SBM expenditure. . ."
Data from the Ministry of Urban Development reveal that only Rs 89 crore (Rs 890 million) of the total sanction of Rs 942.8644 for SBM (Urban) in 2014-15 was earmarked for IEC.
In 2015-16, of the Rs 333.52 crore (Rs 3.33 billion) released so far, only Rs 1.5 crore (Rs 15 million) has been set aside for IEC activities.
Commenting on the need for initiating a behavioural change with regard to open defecation, Ankit Tulsyan, a consultant with TERI Water Division for the USAID Project on Urban WASH, says: "Merely constructing toilets shall not yield 'Swachh Bharat'.
"To initiate behaviour change, there have been some successful innovative pilots done by organisations in India and Kenya, where they offered discount vouchers or cash-back on usage of toilets for a certain period of time.
"The government can take a closer look at these pilots and upscale them," Tulsyan says.
Another area that has been missing in the authorities' focus is solid-waste management -- steps for treating human waste. According to MoUD, only Rs 90.95 crore (Rs 909.5 million) of the Rs 333.52 crore (Rs 3.33 billion) allocated to SBM (Urban) for 2015-16 has been allocated for solid-waste management.
For 2014-15, the allocation for this was Rs 287.5 crore (Rs 2.87 billion) out of the total of Rs 942.86 crore (Rs 9.42 billion).
According to a 2015 report by World Health Organization and Unicef's Joint Monitoring Group, India, from 1990 to 2015, saw a 31 percentage point reduction in the proportion of population defecating openly.
Among the countries that outperformed India, Vietnam saw a 39 percentage point decline.
But a 2011 World Bank report on sanitation in Vietnam found: "While access to an improved private toilet is 94 per cent in urban areas, less than 10 per cent are connected to sewerage networks with treatment."
The report also found that the estimated overall economic costs of poor sanitation in Vietnam stood at $780 million per year at 2005 prices. India does not fare much better; MoUD's 2015 report on SBM (Urban) showed only 17.6 per cent of the 145,085 million tonnes of total waste generated in a day was being processed.

WaterAid study
The study, highlighting the seriousness of the sanitation problem in India and the need to end open defecation, said, with cities growing at an incredible pace, and a "cultural preferences for open defecation in fields rather than enclosed spaces", India had the world's longest queues for toilets.

"The resulting health crisis is a serious matter.
More than 140,000 children younger than five years old die each year in India from diarrhoea.
"Nearly 40 per cent of children are stunted; this will affect both their life chances and the future prosperity of India," the report said.
India also has high rates of maternal and newborn mortality linked to sepsis.
The report shows India has the dubious distinction of 173 people defecating in the open for every square kilometre, the highest density among all countries.
"That ratio would be the same as 500 people having to defecate in the open in the Square Mile of London, or 15,000 people in Manhattan, New York."
Haiti, whose geographical area is less than one per cent of India's, has the second-highest number of people defecating in the open (72 per sq km).
Those like Nepal, Togo and Benin -- all much smaller -- have fewer people defecating in the open per sq km.
Image: A man takes a bath outside his shanty in Dharavi, Mumbai. Photograph: Danish Siddiqui/Reuters