Reiki and Astrology Predictions, a Mumbai-based firm, has caught the fancy of investors by giving tips and predictions on daily movements of Nifty, stocks and even derivatives, notes N Sundaresha Subramanian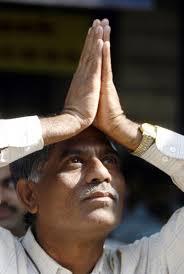 One can never have too many tools to master the raging bulls.

As the bull-run in Dalal Street gathers pace, people keen on riding it are looking to arm themselves with new tools and techniques.

This search has led some faithful to the proponent of an exotic energy-healing technique that has its origins in Japan -- Reiki.

Reiki and Astrology Predictions, a Mumbai-based firm, has caught the fancy of investors by giving tips and predictions on daily movements of Nifty, stocks and even derivatives.

It runs a website which puts out daily predictions and also has paid subscription services for value-added services.

The site also has a Facebook group dedicated to stocks, which had 669 members at the last count.

Brokers, students, chartered accountants, CFAs and financial planners were members of the group.

One of them even was a head of research of a mid-sized Delhi-based brokerage.

Antas Billorey, nicknamed Reiki Master on Facebook, says he combines Reiki and astrology.

"Reiki is a healing therapy.

"In Japan, businessmen have the habit of going to temple before they go home from work.

"This helps them concentrate and focus better.

"Similarly, when you are getting into a deal or looking for revenue in the business, Reiki can be done for that.

"We pray to the universal energy and transfer it to the receiver. We act as a medium." According to Billorey, an opportune time can be picked for initiating a trade to maximize returns.

He says in Reiki there is a rule that when you do Reiki, you have to take money.

Billorey said the number of people using the services has gone up significantly in the recent months.

"Since we started this in 2012, the number of people using our free services has gone up steadily.

"Today, it ranges between 250 and 500 people. Our paid services have started seeing more activity.

"We offer monthly packages for Rs 2,500. Earlier we used to get one or two subscriptions. We are now seeing 25-30 people. In some months, we have seen even 50-60 people."

Weekly tips packages are available for Rs 750. These packages can get you about between two and eight tips.

"However, if planetary positions are not conducive, there may not be any tip at all on any given day."

The website claims it gives correct predictions of Nifty and also about market moving events that are often obsessed over by investors and traders. Reiki and Astrology Predictions also provides, "predictions about Reserve Bank of India policy announcement.

"Predictions about companies quarterly result, for example, Infosys, State Bank of India, Axis Bank, JP Associates and many more.

"Predictions about Reserve Bank Policy CRR cut IIP numbers, Forex rupee vs dollar." Billorey laughs when asked if Reiki can be used to control market movements.

"We are like analysts.

"They make calculations based on numbers. We do calculations on things that have larger influence. Calculations can always go wrong," he admits.

But analysts, these days are tightly regulated. Has the Reiki Master made the trip to Bandra-Kurla complex, where the regulator sits or has he handled it through "long-distance Reiki"?

About Sebi and NSE, Billorey says he has checked with his chartered accountant and lawyers, they have told him registration was not necessary. "They have told me you are giving only tips on movement.

"You need registration only if you are trading."

Billorey, who hails from Indore, has been practising Reiki since 2000.

He claims to have healed over 500 patients with different kinds of ailments such as kidney stones, nervous problems etc.

He is assisted by his wife Pooja, who often posts on the Facebook group.

Billorey also is interested in making documentaries.