After a 25-year stint at ICICI Bank, Mor suddenly quit as he wanted to add more value in the bigger areas of health care and financial inclusion.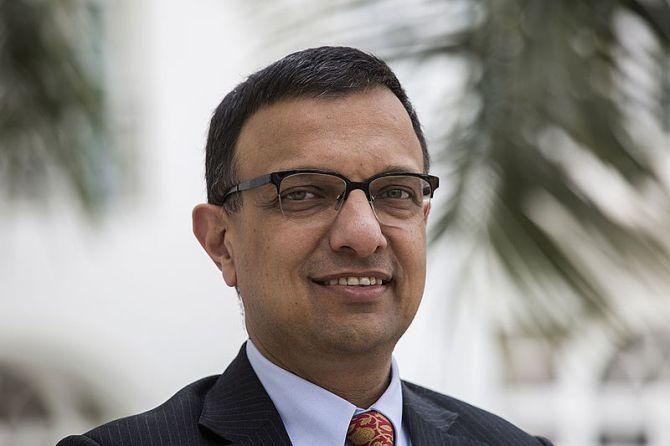 Nachiket Mor says he tried his best to be a "frontline soldier" in his "karmabhoomi" (area of work), but somehow it has never happened.
"I believe it was not in my destiny. My aspiration was to be in khadis with kolhapuri chappals and a jhola. But it has remained just an aspiration," he says with a smile, while adjusting his bright red silk tie.
We are at the Veranda Lounge of Hotel Imperial's 1911 Restaurant and are trying hard to beat the noise on a busy weekday.
Mor isn't over yet about his "destiny" - and says after so many years, he is resigned to the fact that he will continue doing "clerical jobs in the back office".
The India director of the Bill & Melinda Gates Foundation is obviously in a good mood and my query whether the perception in some quarters about him being only an "ideas person" has done nothing to spoil that.
The phrases he loves to describe himself and the foundation (they feature repeatedly during our conversation) are "impatient optimist," "problem-solver" and "catalyst".
I discover later that all the three terms are the favourites of the Gates couple, too. Mor is obviously quite fond of them and talks about how they look at "every Indian or African child as their own".
He orders Diet Coke and refers to the Gates couple's core belief that their contribution to tackling inequality should be made in this generation.
That is why they have instituted a "sunset clause", explicitly stating that the foundation must be wound down within 20 years of their deaths.
I ask him about the allegations a while ago (they have faded away now) that the foundation was advocating vaccination in India at the behest of global pharmaceutical companies and influencing policy.
Mor selects his words carefully and says he doesn't see any problem at all.
"After all, it was the government of India which awarded Padma Bhushan to Bill and Melinda Gates."
He explains in detail how the foundation does not approach the government with a "problem it wants to solve". Typically, it's the other way around.
The "conversation" begins when a senior government functionary indicates to the foundation that there is a challenge that needs to be addressed.
Once approached, the foundation assesses if it has any expertise to offer and on ascertaining that it does, the conversation proceeds to defining the challenge, developing a plan of action and determining the role of the foundation.
He orders mulligatawny soup and proceeds to explain that the name originates from the Tamil words millagai/milagu and thanni and can be translated as "pepper-water", also known as rasam. And it's quite filling, too. I opt for chicken kathi roll.
On the raging debate around price controls in the Indian health care system, Mor says none of the high performing health care systems work on a pure market-based approach and the only way is to introduce some kind of price standards.
Take the example of Japan, he says. Every couple of years, there is a negotiation industry-wide and right from the price that you will pay for a square inch of bandage to an overnight stay at the hospital is negotiated.
And government subsidy happens depending on the financial status of the patient.
"India should also follow that path. But the term I would use is price management and not control," he adds.
We turn our attention to the work that the Gates Foundation is doing in India, and Mor is at his passionate best, quoting extensively from the Annual Letter the foundation published recently.
Sanitation is something he focuses on, and says close to 70 per cent of the human waste generated across India seeps into the environment untreated.
More Indians still openly defecate in India than the rest of the world combined, as a result of which more than 200,000 children die every year of infectious diarrhoea and many more are stunted for life.
That's the reason for the Reinvent the Toilet programme with solutions that can run without water, electricity or plumbing; that leave waste 100 per cent pathogen-free; and that cost no more than Rs 3 a day per user.
The foundation helped a sanitation company build the first community faecal sludge treatment plant in Devanahalli, near Bengaluru. In less than a year, the amount of waste being treated there increased from 0 to 40 per cent. By 2020, Mor expects more than 25 such plants.
His passion now is providing health care solutions and the reason is obvious.
Every seven minutes, Mor says, an Indian mother dies from complications of pregnancy or childbirth.
Every two minutes, a baby dies before she is a day old.
In the poorer states, she is more than four times as likely to die as in the richest.
There is more. Every year, more than two million Indians contract tuberculosis and on any given day, close to a thousand die.
The foundation is using "fit to purpose" technology in a big way.
For example, at the request of the government, the foundation worked with a partner to develop and roll out the Common Application Software (CAS).
Currently, health workers have to enter information into 11 different registers. But using CAS, each Anganwadi worker can immediately enter clients' health information into her mobile device, at which point it is uploaded to a central database.
Close to 50,000 workers are now using CAS in five states - and the scale-up continues.
Information about the health of nearly four million women and children has already started to come in, providing an invaluable view of their growth and nutritional status.
By 2020, all 1.4 million Anganwadi workers across India will be using the system.
Mor, who has a PhD in economics from the University of Pennsylvania and is a Global Fellow at Yale University looking at public health, speaks with the authority of a professor, except when I ask for his comments on the progress made by payments banks, or the general reluctance of banks (specially the private ones) to participate in the government's financial inclusion programme.
That is understandable as Mor is on the board of the Reserve Bank of India (RBI) and chaired the committee on the licensing of payments banks.
"I can only say that banks have enough leeway to participate more in the financial inclusion programme and payments banks are just one lever of spreading the reach of financial services," he says.
Mor also chaired a committee on financial inclusion in 2014, and I ask for his reaction on the criticism he faced from some of the committee members, who thought that the recommendations were impractical.
But Mor plays with a straight bat and says the inputs were "valuable".
He remembers the tight deadline former RBI governor Raghuram Rajan set for the committee. He did ask Rajan for an extension. "Rajan agreed and gave me just a week more," Mor says with a smile.
Some years ago, Mor looked poised to enter ICICI Bank's corner office. He belonged to the bank's inner circle, saw the balance sheet multiply several times over, built the bank's treasury department, shaped its corporate banking business and established SME and rural businesses. And then, in 2007, he stepped down.
Why did he give it all up so suddenly? Mor speaks fondly about the 25 years he spent at the bank and says he quit as he wanted to add more value in the bigger areas of health care and financial inclusion.
As we wind up our discussions, Mor says India's social problems - from health to sanitation to financial empowerment - are inextricably linked.
Consider for example, a woman who doesn't have a bank account; she is more susceptible to TB; she needs support during pregnancy; and she lives close enough to an open defecation site that her children suffer frequent bouts of diarrhoea.
The solutions are interlinked, too; and this is why he believes that the foundation will succeed only by working together with the people and the government.
"For me, after a point of time, it was about where I can make a substantial difference", he says. Mor's world now is definitely much bigger than what a "frontline soldier" could achieve.
Photograph: Prashant Panjiar/Wikimedia Commons