He wants to transform his retail-led enterprise into a consumer goods giant, and reach Rs 1 lakh crore in turnover by 2021, but is that feasible?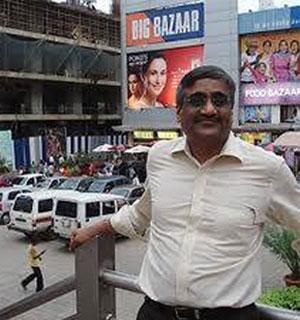 On June 19, Future Group's Chief Executive Officer Kishore Biyani unveiled his vision for his Rs 18,000-crore (Rs 180 billion) enterprise in the presence of the who's who of corporate India. In attendance were spiritual leader Jaggi Vasudev, management thinker and Biyani's mentor Ram Charan and Vedanta group Chairman Anil Agarwal.
Battling the rains, which lashed the city through the day, the attendees heard what Biyani had to say. He proposed to transform his retail-led enterprise into a consumer goods giant. This ambitious plan he intends to pull off by mapping consumer trends with the help of data science and analytics, launching affordable, but value-added, products at an aggressive pace across food and non-food categories and by expanding reach using a combination of online and offline methods. The aim is to emerge as a multi-channel retailer.
Besides this, Biyani also proposes to set up 4,000 neighbourhood outlets of KB's Fair Price, Nilgiris and Easyday stores to complement his network of large-format stores. The idea, he says, is to go where the consumer is. "We are smarter today than we were earlier," he said when addressing the audience on Friday.
"Unlike in the past, when we were chasing mindless growth, what we want now is profitable growth. We will not grow through debt, but through cash flows," he said, adding that he intended to touch a turnover of Rs 1 lakh crore by 2021 - that's a six-fold growth in six years.
This game plan is ambitious, to say the least - even by his standards. In the decade since Biyani, regarded as India's Sam Walton (Walmart founder), revolutionised retailing in India, he has attempted a number of things, eventually exiting a few of them.
A case in point is his insurance and financial services venture, Future Capital, which Biyani exited a few years ago. He also sold his cash cow, Pantaloons, to the Aditya Birla Group and restructured his business to bring down debt. From Rs 8,000 crore three years ago, Future Group's debt has come down to Rs 5,870 crore (Rs 58.7 billion) now.
Aiming big
Of his plans, Biyani says, "I've always believed that we are a consumer goods company. Whether fashion, food or home, our strategy has been to create products and then build distribution with our own retail network. We will simply amplify these efforts now." This would involve propelling the turnover of his food and fast moving consumer goods business from Rs 1,700 crore (Rs 17 billion) to Rs 20,000 crore (Rs 20 billion) by 2021. That's a nearly twelve-fold growth in the next six years.
Biyani has benchmarked his firm, Future Consumer Enterprises, which is spearheading his food and FMCG interests, against ITC, the Kolkata-based major that has diversified from cigarettes to soaps. "Their (ITC's) ambition is similar to ours. They are into bakery. We are into bakery. They are putting up a food park. We have already put up a food park. They are into personal care. We are getting into personal care," he says.
Like Biyani, ITC Chairman Y C Deveshwar has laid out an ambitious plan for his firm's non-cigarette FMCG business. He proposes to take it to Rs 1 lakh crore (from Rs 9,000 crore) in 15 years. That is an eleven-fold growth in a decade-and-a-half - a longer timeframe than what Biyani has envisaged for his group. This reality is not lost on his rivals.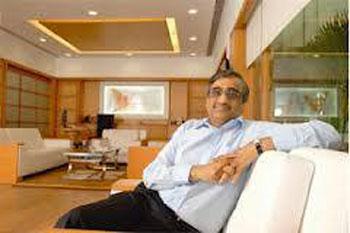 An executive of a rival retail chain says, "ITC has taken 10 years to reach where Future Group will reach in five years. In many respects, Future Group is ahead of ITC with its own chain of stores and a front-end that it can leverage to display its products."
But there are challenges - the biggest being Future Group's absence in general trade, which constitutes 90-92 per cent of FMCG sales in India. Experts argue that the move from being a retailer to a consumer goods giant is easier said than done since the fight for shelf space is intense in general trade.
Biyani is aware of this gap. He says, "They (ITC) are into mass distribution of products through general trade. We have our own stores where we largely distribute our products."
At 18.5 million square feet, Biyani's Future Group is still among the largest retailers in the country, but this is not likely to be enough to drive his FMCG ambitions, experts say. Some also believe that competing with ITC is a tall order.
"ITC has been consistently investing in R&D, branding, people, systems and so on. It takes a lot of resources and game plan to do what ITC is doing," says Sanjay Badhe, a Mumbai-based retail consultant. "ITC has also made huge inroads into food and non-food FMCG products. It is as big as Parle in biscuits, and in personal care even Hindustan Unilever, the largest personal care player in the country, is nervous of its presence," Badhe adds.
Consider this: ITC's turnover from personal care and foods is roughly Rs 1,000 crore (Rs 10 billion) and Rs 6,400 crore (Rs 64 billion), respectively. Food is an area that ITC has taken over a decade to build, having marked its presence across a range of segments, including biscuits (Sunfeast), noodles (Yippee), chips (Bingo) and branded flour (Aashirvaad). These are areas where Biyani wants to make inroads too. But outside its stores, ITC could give Future Group a tough fight with its overall reach in five million outlets (direct reach is 2 million outlets). Recent additions to ITC's portfolio are juices (B Natural) - where Biyani has a head start through Sunkist - and a proposed entry into dairy, which is also on the latter's radar. ITC is expected to give its rivals a tough fight in these areas.
In personal care, Biyani is slowly but steadily building a base. "We just launched a body wash for Rs 59, which is cheaper than a bar of soap," he says. "We are looking at shampoos. We also acquired Grasim's personal hygiene brands. There are more products in the pipeline," he says, adding that he is not taking his eye off the non-food category despite the bulk of the launches being in food.
Experts say that Biyani can race ahead of ITC in the non-food arena, provided its pricing and marketing is right. While ITC has been stuck with a market share of 2-3 per cent in shampoos, in soaps, it is estimated to have a share of 4 per cent, according to analysts.
In newer segments such as deodorants, ITC is estimated to have notched up a share of about 9-10 per cent with Engage, beating some older rivals. Biyani has no plans to go ballistic on deodorants, which is an over-crowded category, though personal hygiene with Grasim's recently-acquired brands, including Kara, Puretta, Handys and Prim, is something he will aggressively push in the next few months.
Whether that push is strong enough to disturb ITC is the big question.
Photographs, courtesy: Kishore Biyani/Facebook