The popular DU kiosk is losing approximately Rs 2,000 per day, even though they still serve instant noodles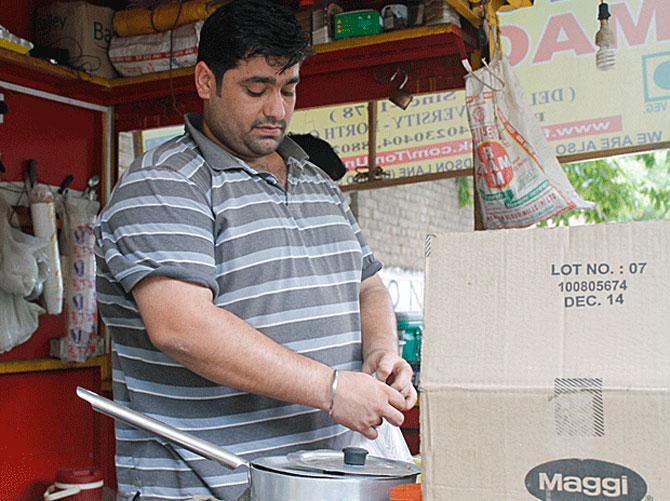 While I find it incredibly hard to navigate through the complex roads of New Delhi's North Campus area, I can still find my way to Tom Uncle's Maggi Point with no assistance. But I feel a strange sense of loss as I walk across Ramjas College this time. I don't know what to order and how to tell the man at the counter what I mean. Maggi has been synonymous with instant noodles just like Xerox has been with the very act of photocopying.
"People still come and ask for Maggi, even though they know we won't serve it to them," says Sandeep Kataria, the second-generation owner of the popular food kiosk. As if on cue, four young men park their silver Wagon-R near Kataria's shop and ask for Maggi. There's an awkward pause, which is finally broken by one of the men - "Ask for noodles," he tells his friends. Another couple asks for cheese Maggi and looking at the Top Ramen packets, shrugs resignedly and accepts the plate.
Dressed in a striped T-shirt, Kataria mans the stove and the cash counter, with a helper carting things in and out of their small kiosk. Despite a ban by the Delhi government on the sale of Maggi, his shop continues to be called Maggi Point. The stove is covered on three sides by an empty brown carton of Maggi noodles, seemingly as a sign of protest.
He looks hassled, both by the ban over Nestle's popular instant noodles and the summer heat, wiping sweat off his face with a thick towel. The stall was originally put up by his father, Ramesh Kataria, in 1978, though he only started cooking and selling Maggi in 1996. "I have been working here since I was a little boy," says Kataria. The name, he explains, came from his father's nickname, Titu, which became Tom after students from Khalsa College shortened it further.
Kataria joined his father's business after he completed school. He did his graduation from Delhi University's School of Open Learning so he wouldn't have to miss out on classes while working. He lives with his family at the nearby Hudson Lane, which is also where Tom Uncle's has a second branch managed by Kataria's younger brother. Business was good. The second branch, which opened about four years ago, was a sign of the good times.
But the last few weeks have put the Kataria family on unsteady ground. When news broke about high levels of lead in Maggi, Kataria thought it was an isolated incident - one that would blow over. "I still think this is temporary, but I have to keep a contingent plan ready," he rues. Kataria explains that he has tried to replicate the taste of Maggi with their secret masalas, but people still crave the original flavour. "I have lost a business of approximately Rs 2,000 per day, even though we still serve instant noodles."
His family, he says, is not very worried yet. "I have a toddler and I don't like to worry my wife with business troubles," Kataria says, letting a smile escape on an otherwise stern face. He fiddles with a brand-new sandwich grill, constantly wiping it like one would a new car. To tide over difficult times, he plans to add grilled sandwiches to the menu. "I'm also going to add rajma-chawal so that there are ample alternatives to Maggi," he shrugs with equal measures of defiance and exasperation.
But is he worried about business? "I think the company will sail through this. Everyone loves Maggi too much for the product to be discontinued," he says. While he has had no communication with Nestle or its distributers, the company did recall its packages from the market, Kataria's stock included. "But they couldn't take the open packets back. We finished those at home," he grins.
Photograph, courtesy: Business Standard