With the cunning of a master thief, author Mohsin Hamid has stolen the form of a self-improvement guide with chapter heads that alternate between the mundane and the cynical

One of the most inventively original novels of 2013 is called How to Get Filthy Rich in Rising Asia (Penguin, Rs 499) by the Pakistani author Mohsin Hamid. The title is aimed at baiting audiences that may well include an aspiring section of this paper's readership. There are also some other temptations: it is concise, running to a little over 200 pages, and fashioned as a self-help guide, a pastiche of that proliferating genre of business and management books that form a bedrock of the booming publishing industry.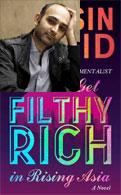 How to get on and get rich, or the old-fashioned rags-to-riches saga, is a formula that has lost none of its sheen; its renewed lustre glows with neon-like appeal to capture the buccaneering spirit of entrepreneurs in emerging economies like India. With the cunning of a master thief, Mr Hamid has stolen the form of a self-improvement guide with chapter heads that alternate between the mundane ("Get An Education", "Work For Yourself", "Focus on the Fundamentals") and the cynical ("Be Prepared to Use Violence", "Befriend A Bureaucrat", "Have An Exit Strategy"). But his is the supreme ironist's tale, a mocking morality play that tells the darkening story of a dirt-poor cook's son, transplanted from village to city slum that "is only one among many such organs quivering in the torso of rising Asia".
The protagonist is nameless in this bildungsroman; as in many self-help primers all characters and locations are safely cocooned in anonymity. Ostensibly set in Lahore and Karachi, with their heaving mass of urban migrants, the cities of How to Get Filthy Rich in Rising Asia could be Delhi, Mumbai, Manila or Jakarta.
Our hero starts out as a part-time DVD delivery boy, learns the art of profiteering by faking labels on cans of imported foodstuffs past their sell-by dates, sets up a primitive water purification plant and becomes the country's premier supplier of bottled water: "Your city's neglected pipes are cracking, the contents of underground water mains and sewers mingling, with the result that taps ... reliably contain trace levels of faeces and microorganisms capable of causing diarrhoea, hepatitis, dysentery, and typhoid."
Along the way, he uses the mafia to silence rivals, bribes officials, politicians and military brass to become a construction millionaire by creating safe havens of gated housing developments with clean water plumbed from the city's plummeting aquifer. "No self-help book can be complete without taking into account our relationship with the state," starts an exhortatory chapter. "Entrepreneurship in the barbaric wastes furthest from state power is a fraught endeavour, a constant battle, a case of kill or be killed, with little guarantee of success."
In a poised balance between technical virtuosity and literary conceit, the entire novel is told in the second person - the pronoun "you" standing for both reader and protagonist. Finding such forms in his fiction has made the 42-year-old Mohsin Hamid - a Princeton- and Harvard-educated former management and brand consultant - the winner in the prize pack of Pakistani novelists. Mr Hamid returned to live in his hometown Lahore in 2009 to raise a young family and, in a conversation with me, once described his heroes as "corrupt idealists".
This is true of his first two books. Told in multiple voices, the hash-smoking young banker's life in Moth Smoke (2000) disintegrates in a dangerous liaison with his best friend's wife; in The Reluctant Fundamentalist (2007), soon out as a film by Mira Nair, the ex-New York executive expresses pleasure at the 9/11 bombings in a long monologue to his interlocutor in a Lahore restaurant. In remarkable contrast, however, the hero of How to Get Filthy Rich in Rising Asia has a less troubled ending, a long life and peaceful death.
By so doing he delivers a coup de grace and cocks a snook at writers who churn out self-help books but forget to tell you how to deal with love, loss and longing; business betrayals and banking debts; the pain of old age and final retribution. Mr Hamid's book is likely to go up for all the top prizes. It deserves to be read by those who regard the sum of life as a composite, seamless cycle of success and failure.