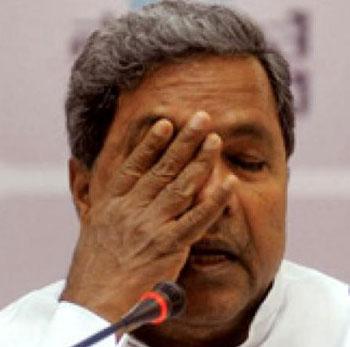 The current crisis Karnataka Chief Minister Siddaramaiah is facing is a cumulative effect of inattention to water management and the fiscal burden of populist promises, says Aditi Phadnis.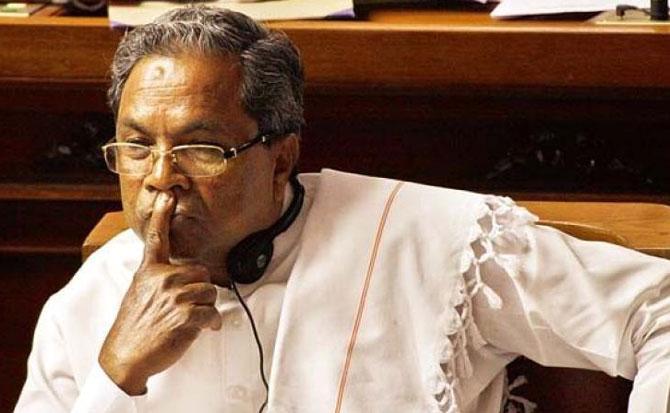 Has Karnataka Chief Minister Siddaramaiah bitten off more than he can chew?
With newspaper headlines screaming that Karnataka was on fire because of the Supreme Court-mandated award of Cauvery waters to Tamil Nadu (it wasn't, only the Old Mysore, Bengaluru-Mandya-Hassan regions were), one could almost feel sorry for the beleaguered chief minister. He's had to battle so much.
Since the Congress-led government came to office in 2013, it has been fighting off challenges. The manifesto promises were extravagant: one kg rice at 1 with a maximum of 30 kg to below poverty line ration card holders, interest-free loans to farmers, free laptops to pre-university students, an eight-lane expressway between Bidar in the north and Chamarajanagar in the south to promote industrial development; connectivity with major ports and airports, industrial townships; promotion of garments, textiles, engineering, automobile industries and creation of five million jobs. But the state was facing a slowdown in agricultural growth and battling a huge power deficit.
During its tenure (2008-2013), the Bharatiya Janata Party (BJP) government took one step that must be appreciated. It set up a large number of thermal power projects in the state.
These, in Raichur, Bellary and elsewhere, were expected to add as much as 5,000 MW to the state kitty, making it power surplus. But there was no coal linkage.
Unending drought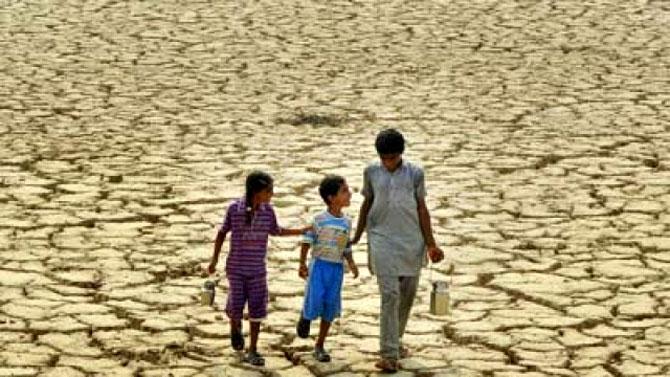 When Siddaramaiah took over, Karnataka had had a drought two years in a row. It reported a stupendous agricultural growth, powered largely by south Karnataka's cotton and sugarcane-rich fields, of 13 per cent in 2010-11.
But 2011-12 growth in agriculture was minus 2.9 per cent. This was because of the lack of water; most of Karnataka has no water two months in a year - and power. So farmers can't operate borewells.
Scanty rainfall continued to be a fact of life in the state. A careful analysis suggests Siddaramaiah's current problems stem from this: as data journalism site IndiaSpend reports, while Karnataka was 17 per cent short of normal rainfall between June 1, 2016, and September 9, 2016 (the meteorological department classifies this as a normal deficit, but rainfall was intermittent and uncertain through the monsoons), Tamil Nadu recorded normal rainfall, according to data from the Karnataka State Natural Disaster Monitoring Centre (KSNDMC) and the Indian Meteorological Department (IMD), respectively.
Farmers from Mandya and Hassan - who are wealthy and articulate - are asking how a situation has arisen where the state needs to give water to Tamil Nadu which is better off than Karnataka.
That may be a simplistic explanation, but the crumbling of the cookie is actually quite a simple process. The current crisis the chief minister is facing is a cumulative effect of inattention to water management and the fiscal burden of the other promises.
Take the 1 rice scheme, for example. An additional 107,000 tonnes of food grain annually was needed to implement the programme which was expected to cost the exchequer Rs 4,200 to 4,300 crore annually by way of subsidy.
Karnataka planned to buy the rice from Chhattisgarh at 23 a quintal. But massive misappropriation has been reported by Right to Information activist Marilingegowda Mali Patil.
He says,"The state government spent 22.60 per kg of rice. But, it is saying it spent 25. If we calculate, considering the documents from Chhattisgarh, there is a difference of 36 crore." Not much, but it does dent the chief minister's credibility.
The promise of waiver of loans to farmers, subject to an upper limit, was initially welcomed. The state did carry out its promise. But each year rainfall has been less than expected.
So the gesture meant little. Road building has been on but the Chamarajnagar-Bidar road is yet to be completed. K J George, the minister in charge of infrastructure, had to quit after he was named in a First Information Report filed following the suicide of an Indian Police Services officer who named him as the reason for his suicide.
Farm connection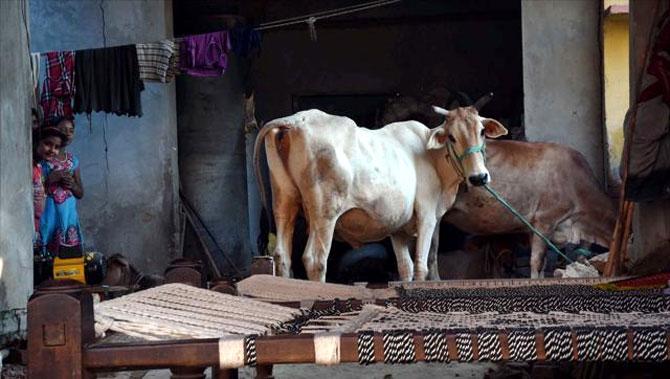 The claims of SM Krishna, Mallikarjuna Kharge, and others who were in contention for the chief ministership of Karnataka were turned down and Siddaramiah was made the chief minister, despite being a relatively recent entrant into the party, because of his connect with rural Karnataka.
In fact, 70 out of 121 seats the congress won were from the urban areas that rejected the BJP. But Siddaramaiah has an exaggerated anti-urban bias he does not bother to hide, a hallmark of his younger days under the tutelage of strong farmer lobbies which had leaders like MD Nanjundaswamy of the Karnataka Rajya Raitha Sangha.
Ironically, it is rural Karnataka that is reacting most strongly now, seeking justice and parity with urban areas.
Siddaramaiah has had his share of political problems. The first few years were lost in a war of attrition between his supporters and those of Dalit leader Parameshwara.
Named the state Congress chief, Parameshwara was his closest rival. He contested the assembly elections and lost - and it was alleged that that the Kuruba community in his constituency sabotaged his election. Siddaramaiah is from the Kuruba community.
Then he had to sack many colleagues for corruption and mismanagement. And, of course, recently he suffered a numbing personal setback: losing his son.
So frankly, it doesn't look good for Siddaramaiah. If the BJP can get its act together, we could be looking at a change in Karnataka in 2018.
Photographs: PTI Photo.