Indian exporters now face challenge from the relative appreciation in the rupee against competing currency, rues Krishna Kant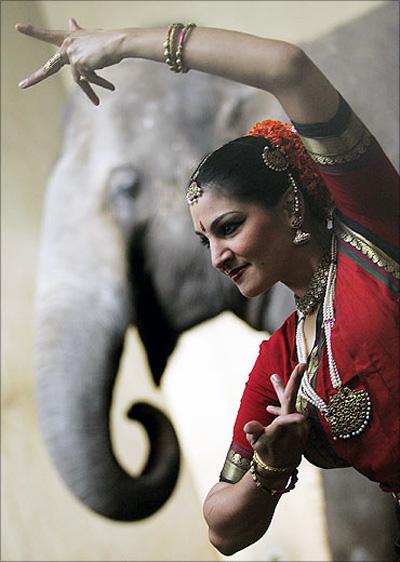 The April 2015 trade data and the fourth quarter results of information technology majors such as Tata Consultancy Services and Infosys are a stark reminder of the challenges that the Narendra Modi government face as its tries to take India's economic growth trajectory back to the high of the pre-2008 crisis.
India's merchandise exports were down 14 per cent in dollar terms last month -- a fourth consecutive month of export contraction.
IT exporters reported one of their worst quarters in three years with single-digit growth in revenues.
This is bad news for India's growth ambitions as goods and services exports account for a quarter of the country's GDP and IT exporters are the country's top earners of foreign exchange.
IT companies are also among the major employers with the biggest salary bills and closer to what banks and other financial services firms pay, making them central to urban consumer demand.
World GDP is expected to grow by three per cent in the next three years, according to Bloomberg consensus estimates, against average growth of 4.3 per cent during 1997-2008.
In the past two decades, India has grown twice that of world GDP growth on an average.
The equation yields GDP growth of 6.5 per cent for India in the next three years unless global economy receives a new economic trigger.
India also faces risks from a slump in global trade.
International Monetary Fund is more optimistic and expects world GDP growth to accelerate to 3.8 per cent in CY16 and further to four per cent in CY20 from 2.2 per cent in the past three years.
However, it is contingent on a much quicker economic recovery in the Euro zone and Japan.
"For the first time in decades, world trade is growing slower than world GDP since 2012, indicating a lack of global demand.
"It is tough for any economy to grow faster when the world demand is flat. External demand supplements internal demand and allowing the economy to grow faster," says Devendra Pant, economist and head (public finance) at India Ratings.
Favourable global conditions were central to pre-2008 boom in India and across the globe.
Between 2004 and 2008, 39 out of 40 major emerging economies (excluding India and China) reported peak GDP growth in 30 years.
The result was an export boom, which added the necessary kick to the India growth story.
For five years between 2002 and 2006, goods and services exports from India expanded at the rate of 20.9 per cent a year in constant currency terms.
As consumers lapped up more goods and services, companies expanded their capacities leading to a boom in industrial and corporate investment.
The result: India's GDP expanded at nine per cent on an average for 15 consecutive quarters in the run-up to September 2008 global financial crisis.
According to data from United Nations Statistics Division, exports (including services exports) accounted for 24.2 per cent of India's gross domestic product in CY2013, against 12.1 per cent in CY01 and 7.1 per cent in CY91.
This made exports an increasingly larger part of India's incremental economic output.
At its peak in 2004-2008, exports accounted for 45 per cent of the incremental growth in GDP.
This trigger is now lacking as world's major economies are either in recession or growing very slowly. Exports have also been hit by a slump in crude oil prices.
In FY14, oil exporting countries that are members of the Organization of the Petroleum Exporting Countries took 37 per cent of India's merchandise export and Organisation for Economic Co-operation and Development countries (grouping of developed countries) took in another 35 per cent, according to Reserve Bank of India figures.
Analysts call it convergence of business cycle.
"The global business cycle is showing greater convergence across countries in this decade than in the past, making it tough for a country to defy global challenges as every industrial and financial system is now part of a large global ecosystem," says Dhananjay Sinha, head of institutional equity at Emkay Global Financial Services.
Indian exporters now face challenge from the relative appreciation in the rupee against competing currency owing to strong capital flows in the past two years.
This makes Indian stuff uncompetitive in many markets, including at home.
This puts the onus on domestic demand to lift the economy.
"India is better placed than most emerging markets in this regard, but a domestic demand driven economy will grow slower without help from exporters," says Pant.
Domestic demand has been hit by fiscal austerity and stretched corporate balance sheets. "Unlike the 2008 crisis, the government doesn't have the fiscal space to push up demand growth (through) additional spending.
"Nor is there a monetary space to cut interest rates aggressively as it could fuel inflation," says Sinha.
Companies, on the other hand, are hamstrung by high leverage and low capacity utilisation of their existing capacity.
Analysts are now asking the government to kick-start the demand cycle.
"The government can kick-start the industrial economy by asking public sector units to scale up their capex and stop wasting resources on pampering private sector with tax cuts," says G Chokkalingam, founder and CEO of Equinomics Research & Advisory.
This means, a greater emphasis on 'Make for India' rather than 'made in India' as has been the rhetoric in the past 12 months.
Is Modi government ready for a dose of Nehruvian economics?