The cab-hailing firm needs to jettison its baggage of dysfunctional corporate and gender insensitivity, finds out Ritwik Sharma.
Illustration: Uttam Ghosh/Rediff.com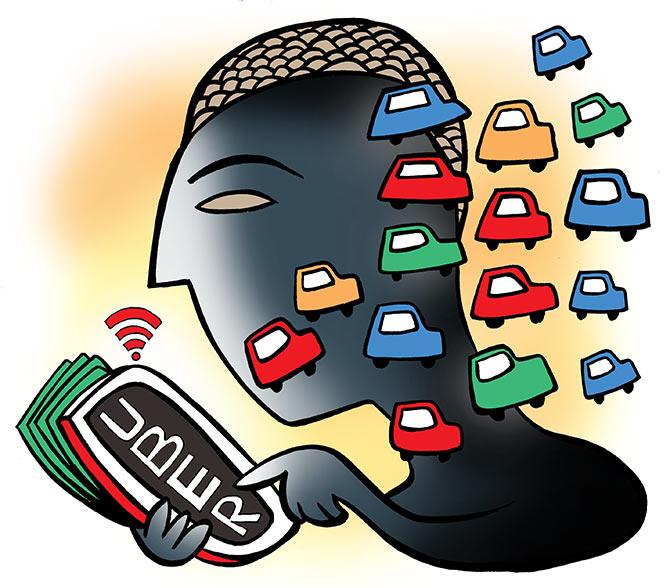 In contemporary English, "uber" is often used to mean the best or the greatest of its kind.
However, in case of ride-hailing company Uber, historical connotations of the word such as macho superiority may be more readily associated with it in the middle of an ongoing leadership crisis that follows allegations of gender discrimination and insensitivity.
The chief executive, Travis Kalanick, resigned on Wednesday reportedly in the wake of a "shareholder revolt".
It also comes close in the heels of allegations by a female employee of sexual harassment and gender discrimination at the workplace and an Indian woman who was raped by an Uber driver suing the company for casting doubts on her and obtaining her medical records.
The most valued start-up, which disrupted the transportation industry worldwide, has promised an overhaul of its corporate culture.
While the company's India officials were unwilling to comment on how Uber is likely to reset its corporate culture, experts suggest radical changes.
Supriyo Gupta, managing director of Torque Communications, identifies two broad issues - a dysfunctional corporate set-up and gender insensitivity - that need to be addressed by the company.
It may not be a situation yet where corporate crises impact the product, as customers continue to believe it is good enough.
But, Gupta adds, from a pure communications point of view Uber needs to hire a woman CEO with a very strong rights record. This, he feels, will communicate a strong intent to change.
"Secondly, the new team needs to take aggressive steps to correct the past, as it is not enough to set up internal committees," he says, adding that the gender insensitivity is part of its macho profile that Uber has enjoyed.
Mohit Gundecha, co-founder and CEO of talent assessment and analytics firm Jombay, similarly points to a "mindset" and "mindspace" problem in case of Uber.
"The C-suite will need to change the bro-culture mindset and believe that diverse organisations are more sustainable and successful in the longer term.
They will need to know that what has worked for them so far or what has made them successful may not be enough to scale them as a people organisation in the future.
This will need a mindspace to focus on this issue as a strategic business risk. This can't be treated tactically with lip service," he adds.
He also recommends setting up a strong people and culture department to implement this agenda and be the watchdogs.
Just as it has scaled its business globally, it will need to tackle the problem with scale and put long-term solution in place.
"Just asking the HR department to implement the new agenda is not going to work.
The way Uber puts its customers, men and women, at the centre and collects feedback at the end of every ride, they will have to put their employees at the centre and put a culture of treating all of them equally," Gundecha says.
In case of Uber, besides charges of sexism the company has also faced allegations of violating privacy rights and defamation from the 2015 rape survivor in India.
Also, privacy concerns in the past have extended to claims of Uber spying on high-profile individuals.
Gupta points out how a country like India would like to keep tabs on how tech companies are accumulating data - including on movements of people in sensitive roles - from the country that are hosted in servers around the world.
In this regard, Uber also has to resolve a trust deficit. "Tech companies need to realise they are not just technology disruptors or utility services but also a part of or even the backbone of a community. If you look at Uber or Ola, they have to start becoming participants in the community," Gupta says.
He argues that customer expectations from a cab-hailing service today is partly technology and partly social.
The technology bit is to be able to spot half a dozen cabs on one's smartphone within two to five minutes of one's location.
On the other hand, the social values emerge from the company turning into a lifeline so that safety, security, comfort, cleanliness, courtesy become a part of service expectations.
"Expectations have to be owned by the company and taken forward," Gupta stresses.
The corporate culture cannot be always separated from the product.
"The brand interplay is such that over a period of time you are seen to be what your company is, and today the Uber image has that dichotomy - a fairly decent product but an insensitive, dysfunctional corporate," he adds.
Given its status as a unicorn, Uber is viewed by other start-ups as a trendsetter. As a result, setting a benchmark on various counts is widely expected.
Nishith Upadhyaya, head, advisory and knowledge, SHRM India, outlines basic pointers on how to build a sound organisational culture.
"First, get your values right. A core set of values which are perceived as combative is something that needs to change. The company needs to get into a 'values exercise' and understand the reason for its existence."
Second, he adds, culture stems from diversity. "It's about getting individuals to collaborate, increasing focus on diversity is essential for organisations to move away from a unidimensional, prima donna culture to a more collaborative culture.
You need diversity related metrics and changes to be made in your performance management system so that diversity is taken very seriously."
The third step concerns ethics.
"If you are to be known as an ethical organisation, establishing violation codes and structure at the highest level is crucial. Having an ethics email/number to help employees report ethical violation, and a fair evaluation of that is crucial for a transparent culture."