A girl having fun under a waterfall with a Liril soap for company hardly changed during the campaign's 35-year run, notes Viveat Susan Pinto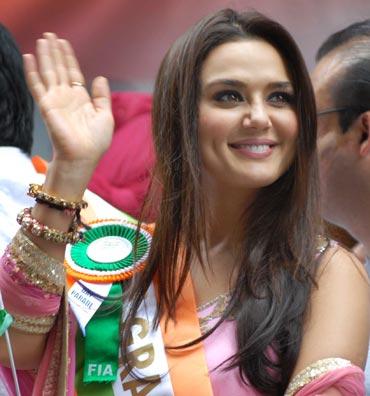 Image: Actress Preity Zinta modelled for the Liril soap. Photograph: Paresh Gandhi/Rediff.com
If there is one thing that has been consistent with commercials for Hindustan Lever's Liril soap, it has been its jingle.

Think Liril and the next thing that comes rushing to mind is its trademark 'La, lalala, la, la, la'.

This tune is closely followed by the visual of a girl frolicking under a waterfall.

The Liril Girl, conceived in 1974 by ad agency Lintas (now Lowe Lintas & Partners), and discontinued in 2009, is quite simply an audio-visual treat.

A girl having fun under a waterfall with a Liril soap for company hardly changed during the campaign's 35-year run.

In commercial after commercial, the Liril Girl -- from the original model Karen Lunel to actors Pooja Batra, Preity Zinta and Deepika Padukone -- could be seen playing in the water, diving, jumping and swimming under the waterfall.

The voice-over simply amplifies the message of freshness, the attribute of the soap.

In many respects, the Liril Girl set the tone for ads that worked at a subliminal level that became common in the 1970s, different from the chatter of ads that blatantly advertised product benefits.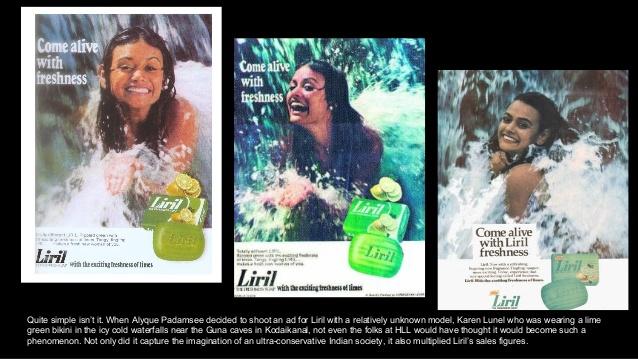 These ads appealed to the consumers' latent desires.

At no given point, however, were they vulgar.

In the Liril Girl's case, she was vivacious with bright eyes and an infectious smile. She could swim, dance and have fun with no fear of the camera or the world at large.

Adman Alyque Padamsee, who was the co-creator along with Neena Merchant, another Lintas hand, says, "The beauty of the Liril Girl was that she appealed to the senses.

"People enjoyed seeing her, which is why she stood out."

Yet, the Liril Girl would not have come into being had HUL's (then called Hindustan Lever) original plan worked.

The maker of brands such as Lifebuoy and Lux, wanted a soap that signified freshness.

The solution the company's marketing team first came up with was one that stood for the freshness of the mountain breeze -- represented by a blue soap.


It, however, flopped in initial product trials, prompting the team to work with Lintas in changing it to a lime-based soap that was green.

But the bigger challenge was marketing a lime soap, which was the first of its kind in India.

Padamsee says he did something that was never done before. He commissioned a consumer survey to find out what women really wanted out of a freshness soap.

The survey led him to an interesting insight: The Indian housewife, the target audience, had time to herself only during her 10 to 15-minute daily bath, day-dreaming about how her favourite Bollywood actor.

"In other words," Padamsee explains, "She wanted to escape.

"And her shower in the bathroom was symbolic of this, where she suspended her struggles as a housewife for some time and simply enjoyed her bath."

To make it real, Padamsee, who was creative director at Lintas, came up with a metaphor for the bathroom shower -- a waterfall.

The team would eventually shoot in the waterfalls in Khandala in Maharashtra for some shots, and in Kodaikanal, Tamil Nadu, for others.

As a result, the Pambar Falls in Kodaikanal bills itself as the Liril Falls to this day to attract tourists.

But the bigger task was carrying out his brief -- girl bathing under a waterfall. He says, "We screened some 100 girls before finding Karen.

"Women could identify with her and many in our survey post-release said that Karen could be their daughter.

"In other words, our objective was not to make her look sensuous, but project her as a girl who was simply having fun.

"This is why I think she did so well and people, both young and old, male and female, liked her."

Lunel remained the face of Liril from 1974 to 1985 -- the longest for any Liril Girl.

She was replaced by a number of models through the 1980s, the 1990s and the early part of the twenty-first century.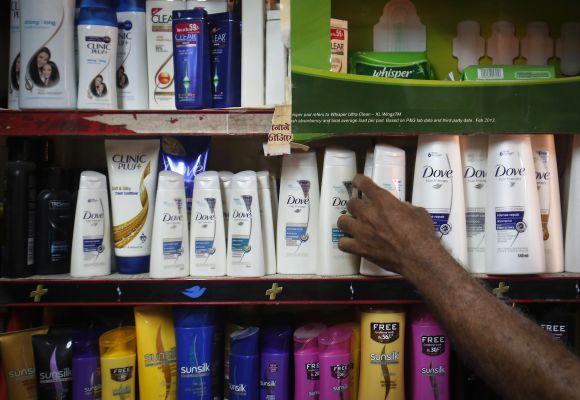 Image: Unilever products. Photograph: Danish Siddiqui/Reuters
As Padmasee says, "The Liril Girl became a gateway for young women to get into Bollywood.

"While I was happy about this, I am not sure whether the choice of girls were the best. Barring a few such as Preity (Zinta), Tara (Sharma) or Deepika (Padukone), most of them were largely forgettable."

But the big break from the past came in 2005, when HUL relaunched Liril as Liril 2000, positioning the freshness soap as a family soap.

It did this to arrest falling market share since freshness was no longer the unique attribute for Liril. Godrej Consumer's Cinthol, too, had positioned itself on freshness as it did a host of other brands.

Padamsee says Liril, as the first lime soap, notched up a share of 25 per cent by the end of the first year of its launch (1975), becoming the top-selling brand for HUL.

By 2005, however, it slid to low single digits, according to industry sources, prompting the re-positioning.

As R Balakrishnan, chairman & chief creative officer, Lowe Lintas & Partners, says, "There were many other soaps that had freshness as an attribute. Plus, the company's priorities were changing."

By 2009, the Liril Girl bid adieu and with it a chapter in Indian advertising came to an end.

"The Liril Girl began losing steam somewhere in the nineties.

"I don't think there was enough thought put to who was being cast.

"The company was experimenting with variants of Liril, which I think distracted it a bit," says Padamsee.