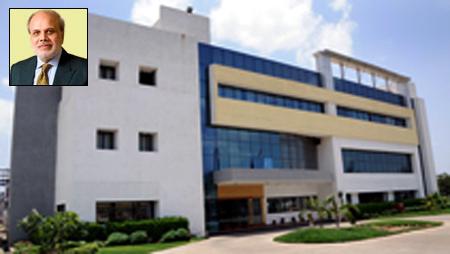 Kamal Sharma isn't fond of networking dos - he'd rather have roti-sabzi with office colleagues. He prefers to work 16 hours a day, away from the limelight; uses his free time to teach IIT students subjects like tech forecasting and assessment; and is uncomfortable being featured in Lunch with BS, which is more of a "personality piece".

So, it is hardly surprising that it took Sharma more than six months to make up his mind before coming to Trident's Italian restaurant – Botticino – in Mumbai's Bandra Kurla Complex for this meal, writes Shyamal Majumdar.
You must be fond of Italian food, I ask, wanting to know whether there was any other reason apart from the proximity to the office for choosing the lunch venue.

"Well, the only reason was that I was asked by my office to come here," says the 62-year-old MD of Lupin, India's fifth-largest pharmaceutical company. To my suggestion that he doesn't need to do anything but let his hair down a bit for the Lunch with BS, Sharma quickly responds with a smile: "Well, I hardly have any hair."
The touch of humour was reassuring; so, I come straight to the point after Sharma orders a Ceasar salad and I opt for a seafood broth.

What's the secret to his longevity as an outsider CEO in a company that has as many as four family members on the board - Chairman Desh Bandhu Gupta, his wife (M D Gupta) and two children (Vinita and Nilesh)?

Is he just keeping the seat warm for someone from the family's GenNext? Sharma appears unruffled and gives a rather lengthy answer: It actually has been an easy ride, he says, since the prerequisite is that you must be as qualified and experienced for the job as any of the best professionals.
"No one does charity. If you are good and are delivering the returns, no one messes around with you in any set-up, whether it's a family-owned outfit or otherwise," he says. Sharma adds that Lupin has done two other things: one, family members are appraised as strictly as outsiders (Vinita and Nilesh have done Masters from JL Kellogg School of Management and Wharton respectively and worked across all strategic business units before joining the board); and, two, a culture of managing dissent has been built carefully in the company. That means if somebody disagrees with the family, they are valued.
There is enough reason for which Sharma is more than valued by the family. When he took over as MD in 2003 to "reinvent" himself, Lupin was going through a tough time after some real estate investments turned bad and loaded the balance sheet with debt.

It was stuck with mainly one anti-tuberculosis drug – rifampicin – which was a low-margin product since its price was controlled by the government. While Lupin was finding it difficult to manage cash flows, its contemporaries, Ranbaxy and Dr Reddy's, had gone in for bold US expansions that saw their sales and profits grow quickly.

Worse, Lupin's shares were associated with Ketan Parekh. Restless investors wanted professional management, prompting Desh Bandhu Gupta to turn to Sharma who took charge in his second stint at Lupin. It had taken seven meetings and a lot of persuasion from Gupta to convince him.
Since 2003-04, the company's sales have grown to Rs 7,000 crore at a compound annual growth rate of 24 per cent; net profit has increased by 33 per cent; and earnings before interest, depreciation, tax and amortisation, or EBITDA, by 27 per cent.

A company with zero global presence in 2003 now derives over two-thirds of its sales from international markets, the biggest of which is the US where it claims to be among the top five generic firms in terms of prescriptions. Incidentally, Vinita oversees the US market and the MD is generous in acknowledging her stewardship.
For the main course, Sharma goes for spaghetti with grilled vegetables with mama rosso sauce and recommends orichette in seafood sauce with porcini mushrooms for me. The dish is superb and Sharma is pleased as punch when I thank him for the choice.
Sharma says he was clear about one thing: if Lupin, which had already lost a lot of time, had to succeed, he needed to do something that will differentiate the company from others. So, he went in for a branded play where the margins were higher.

For example, in the US, the attempt was to do what other Indian companies could not do - branded generics. To start with, Lupin bought the exclusive US rights for Suprax, an antibiotic suspension that innovator drug company Wyeth wanted to drop from its product portfolio.

Lupin re-launched the drug in 2004 and now has several variants. It then acquired the US rights for Antara and now has four brands in that country. It was also the first Indian pharma company to put up a sales force to promote its brands in the US.
What he is immensely proud of is steering Lupin's entry into the world's second-biggest health care market, Japan - then unfamiliar territory  for Indian pharma companies.

The two acquisitions, beginning with Kyowa in 2007, have borne fruit with Kyowa becoming one of the top 10 generic pharmaceutical companies in Japan. The high entry barriers, Sharma says, make Japan an attractive market at a time when the government there is pushing for greater use of low-priced drugs to cut national health insurance costs.

Besides, Japan has the longest duration of hospital stays in the world, averaging 40 days a person. It's more like a weekend getaway with most hospitals having facilities like spa, indicating the huge opportunities for doing business in the country.
What Sharma has also followed while implementing his "string of pearls" strategy (a series of small acquisitions) is this: one, Lupin does not acquire assets where the payback is more than five years, compelling the company to look at assets where synergies of revenue, costs and profits are high. And, two, it does not make cash-today, buyout-tomorrow acquisitions
For dessert, Sharma settles for sorbet grappa, while I order a choc pudding. He is tempted but desists because he doesn't want to sleep through his next meeting.

Among many other things, he attributes his success in bringing Lupin out of the troubled phase to the "stress" he went through in the earlier part of his life. The oldest of seven children, Sharma was given just one goal by his father — he had to be a role model for his siblings and get admission nowhere else but in IIT, and then go abroad for work.

While he more than fulfilled his father's first wish, the second had to wait for some time since he went to the UK on work much later.
"My father was strict with me. But I noticed he was friendly and lenient with my youngest brother. One day I asked my father the reason and was told that's because he anyway had his eldest brother's tough target to follow and should be given a relaxed environment at home," Sharma says with a laugh.
He also remembers his stint as works manager in a company called Mettur Beardsell before he joined Lupin. Just 28 years old, Sharma was the youngest there and had six managers reporting to him who were several years older.

"It was a massive task since there was a lockout and it was literally baptism by fire - at times it was chaotic, scary and anxiety-ridden, but the experience was invaluable," Sharma says, with a hint of pride in his voice. But he left and joined Lupin, then a tiny company. "My friends thought I had gone mad in turning down offers from multinationals and taking up a job in an unknown entity at that point," he says.
Our lunch has long overshot the time allotted, but Sharma says he doesn't mind being late for his next meeting since he enjoyed walking down memory lane.

As we wait for our respective cars, Sharma reveals he is a reasonably good cook and exercises his culinary skills once in a while in the company of friends and single malt. Clearly, the 16-hour work routine hasn't skewed his work-life balance hopelessly in favour of the former.

Photograph: Lupin office, Kamal Sharma (inset).