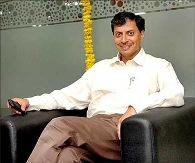 "I am no longer the promoter of the company. If you have any questions, please speak to my brothers."
That was the only comment from Narendra Patni, founder and one of the promoters of Patni Computer Systems, as he finally exited the company.
For iGate CEO Phaneesh Murthy, slipping into Patni's shoes as promoter of the company that bears the latter's name could prove one of the biggest challenges of his career.

After all, he takes over from the person credited with starting India's off-shoring business. At the same time, it could well be one of his biggest opportunities.


What Murthy does with the combined entity and how successful he is in merging iGate with Patni is still some time away. But one thing this deal has done is catapult him into a bigger league.

Not that he will offer much competition to the Top Three IT services firms, but Murthy will certainly gain access to global deals and clients that were hitherto out of his reach.


For the 48-year-old IIT-Madras and IIM-Ahmedabad alumnus, the Patni deal brings Murthy back on the Indian information technology map after a gap of eight years.

Starting his career with Sonata Software, Murthy soon joined Infosys Technology. As the head of sales, he took Infosys revenues from a mere $2 million to $700 million in 10 years.


He would have continued as the Infosys poster boy, but for a sexual harassment case that was slapped against him by former executive assistant Rekha Maximovitch. While the issue was settled for $3 million, the episode brought Murthy's career at Infosys Technologies to an abrupt end.


But he was not down for long. He started Quinant, with the backing of the GMR Group. Within a short span, the company was acquired by iGate, with Murthy at the helm of the merged entity.


Acquiring Patni was Murthy's biggest challenge so far, but it is in line with his commitment to make iGate a $1-billion firm by 2012 - a tough ask for a firm with revenues of just $200 million. "This also shows his risk-taking ability. He has been a go-getter and will not back down easily," says an industry source.


Patni is not the first time Murthy has tried to bulk up through an acquisition. In 2009, he made an unsuccessful bid to buy scam-tainted Satyam Computer Services - another company bigger than iGate in size. Nevertheless, the iGate-Patni combination certainly gives Murthy the size he was looking for.


But he is still a long way from playing with the Big Boys: TCS, Infosys and Wipro. Moreover, there are a handful of firms already in the $1-billion club like MphaSis, Tech Mahindra, Genpact and HCL Technologies.

As Murthy himself accepts: "The challenges is to take a company, which is moving like an auto rickshaw and convert its pace to that of a speeding car."


Therein lies the challenge. "The company last clocked a growth above 20 per cent in 2006 at 28.5 per cent. Since then, it has been growing at less than 20 per cent and in some years less than the industry average," says an analyst of a leading brokerage firm on condition of anonymity.


So, if Murthy really wants to break into the big league he will need to floor the pedal.

"Our immediate priorities will be to create a new go-to-market strategy; create an integrated leadership team; reach out to customers, investors and employees. In the Patni model, the top 10 customers don't grow much; they are growing at 1-2 per cent. We have to bring in our account management principles, which have been helping us to grow our top 10 accounts quite strongly," says Murthy.


"The immediate step should be to take clients into confidence. This would also mean sharing the future road map and some goals with them. Second is to focus on middle-management attrition. While employees will be relieved that finally there is stability in management, there will be some rationalisation of employees. More importantly, they should also raise the bar for client engagement so that they see value in retaining their services," says Sudin Apte, Principal Analyst & CEO, Offshore Insights.


There are positives, too. Despite being hit hard during the recession, iGate has emerged fitter and stronger. It has a presence in the mortgage industry. Its revenues in the last two quarters have grown at 40-50 per cent.


Sure, Murthy has a formidable task. He can take the combined entity to a much higher level and set a different pace for mid-cap IT players, with some help from Apax. Or become yet another firm in the $1-billion segment.