'Imagine the message it sends to people. They will think tobacco cannot be a killer because LIC is investing in it.'
'The so-called rakshak (protector) has become a bhakshak (destroyer).'
Ranjita Ganesan meets Sumitra Pednekar who is spearheading a campaign against tobacco.
Illustration: Dominic Xavier/Rediff.com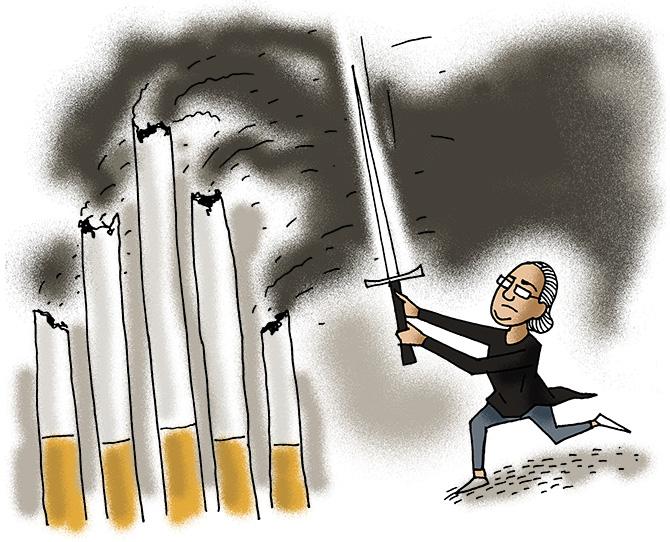 Young people in her neighbourhood know to put away any cigarettes when Sumitra Hooda Pednekar is around.
To them, the 60 year old is "that lady" who always stops to condemn the use of addictive substances and warn of ill-effects.
Pednekar, whose tobacco-fighting mission is driven by a deep personal setback, is now taking this battle to tobacco companies and their public investors.
Neatly arranged on a shelf in her Versova home (north west Mumbai) are photographs of husband Satish Pednekar, Maharashtra's former home and labour minister who died of oral cancer in 2011.
It was caused by an addiction to mawa, a mixture of chewing tobacco and pan masala.
The two had met when she was the general secretary for a students union in Haryana and he was with the Youth Congress, and married later.
His death was an emotional and financial loss for her and her two daughters as well as a political loss for his followers.
Her desire for activism came soon after his demise.
Pednekar describes it as "God's call".
"You don't feel the urge to take action until something happens to you."
She began writing letters to powerful persons -- to editors of various publications to stop carrying ads for gutka barons, and to the prime minister asking for action against the tobacco industry.
Over the years, she has even questioned several Maharashtra ministers, among whom such harmful habits are common.
With the support of some prominent citizens, she is spearheading a policy-level campaign against tobacco.
Most recently, they filed a PIL against government and state-owned insurance companies for holding stakes in tobacco-related businesses including ITC.
"Imagine the message it sends to people," she says. "They will think tobacco cannot be a killer because LIC is investing in it. The so-called rakshak (protector) has become a bhakshak (destroyer)."
According to her PIL, tobacco causes nearly 50 per cent of the cancers in India and 90 per cent of mouth cancer patients die within 12 months of being diagnosed.
Every third Indian adult uses some form of tobacco, she says.
Pednekar dabbled in acting, fashion designing and other businesses before quitting to raise her children. Now that they are grown up, she is devoting time to activism.
She wants to do more for the wives of men who die of addiction-related cancer, especially those from middle-income backgrounds. They suffer a lot, she says, but are too proud to ask for help.
Among her plans is a documentary film on the prevalence of mouth cancer in Varanasi.
Pednekar's own experiments with substances have been limited.
Her father, an army man, was a chain smoker, but gave up the habit as taxes on cigarettes were raised and he was about to have a fourth child.
In college, Pednekar liked the way cigarettes looked tucked between graceful manicured fingers, but the bitter, burning taste did not appeal to her.
"I had grown up on a diet of milk. It was too much for me."
Similarly, when she wanted to try alcohol one day, her father poured her small amounts of various spirits. "That was the first and last time I drank."
She is relieved that times have changed since her youth, when advertisements blatantly depicted smokers as cool and brave.
The current pictorial warnings on tobacco packaging are welcomed by her, as are the statutory warnings in films.
"If it upsets filmmakers, they should not release their films," she says.
Pednekar hopes her PIL will deter investments in tobacco companies.
She knows manufacturers will likely bring up the question of farmers who depend on tobacco for earnings.
"I find that hard to buy. Farmers can be given financial and technical aid for switching to other types of farming."
It is better to reduce availability of substances rather than convincing addicts to give up, she notes.
Oftentimes, as in the case of her husband, it is too late when users realise the harm.
"You do not leave tobacco. Tobacco leaves after it is done with you."