'Through an old train ticket, a ubiquitous red and black pencil, his promotion letter to me, my plane ticket to Bangalore and Thomas House -- five objects and institutions -- my memories of his fine life, will linger.'
R Gopalakrishnan remembers T Thomas.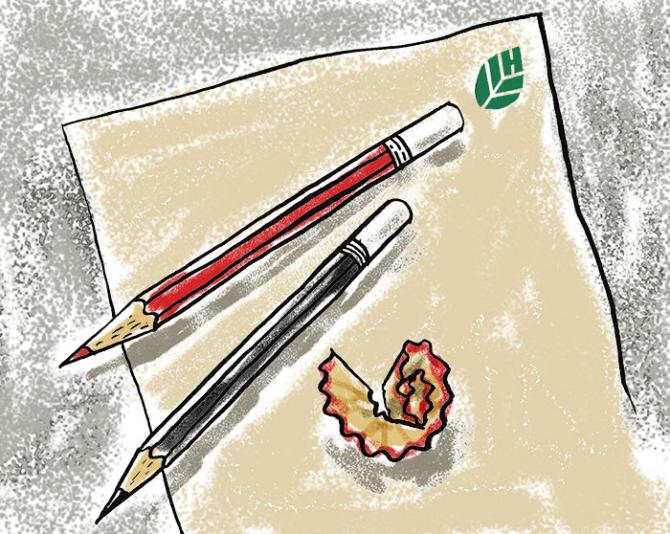 T Thomas, the legendary chairman of Hindustan Unilever, passed away on March 2, aged 90. Illustration: Dominic Xavier/Rediff.com
There are innumerable stories from all sorts of people, who had career encounters with TT.
The fact is that anyone who interacted with TT experienced some sort of a transformational effect. The transformation sometimes dawned on the person years later. Most people felt enhanced by the interaction and transformation, though a few also felt singed.
The fit way to honor TT is neither to repeat oft-told stories, nor to mechanically chronicle his myriad accomplishments -- at HLL and Unilever, at Glaxo and Lafarge, at Cathedral and John Connon School and at Mother Theresa's Asha Daan -- but rather to share the texture of his relationships through remnants of a bygone period.

IMAGE: There are innumerable stories, from all sorts of people, who had unique career encounters with Mr Thomas. Photograph: Kind courtesy Hindustan Unilever
Memories of associations have a texture to them. Since they are products of the human brain, they are notoriously malleable. They take different forms at different times. Memories sit at the delicate intersection of episodes, places and emotions.
But an object or an institution is a real thing, a physical thing, something which holds within its gnarled remnants some truth or emotion of an association. It is through objects and institutions that tangible, lively and reliable memories can be reconstructed.
A rail ticket from Amritsar to Delhi.
I held an old card ticket to travel by AC First Class from Amritsar to Delhi by the Frontier Mail. So did TT.
He had travelled with me for three days during my branch sales management stint -- by road from Chandigarh to Amritsar -- intently watching how I dealt with distributors and market developments.
At 9.30 pm, while we both sat in the coupe en route back to Delhi, he asked me, "So I want you to come to Mumbai and assist me with corporate communications."
"Sir, you must be joking, what is corporate communications anyway?" I stuttered.
He nailed me to the upper berth with a steely stare, "The Chairman of HLL does not joke with BSMs at 9.30 in the night."
I stored the train ticket as a keepsake and started to plan my return to Mumbai. In hindsight, the train ticket symbolises to me the extent of trouble and care HLL took to groom talent.
A red and black pencil with an eraser to shape an institution.
TT was a copious user of these instruments of communication. He drafted and redrafted his speeches, improving the crispness and focus with his precise point of advocacy.
HLL's case came up before the MRTP (the then Monopolies and Restrictive Trade Practices) commission for setting up a chemical factory.
In a rare display of corporate chutzpah, he did not rely on solicitors and counsels, he argued the HLL case personally -- and succeeded.
He wrote notes to the finance minister, the industries minister, Opposition members of Parliament and to anybody who mattered to argue that making soap from Indian forest seed oils was a very high quality technological development compared to the easier global method of making soap from animal fats.
It saved the country foreign exchange. He authored a new word, PTG, standing for Processed Tri Glycerides, to demonstrate the sophistication (=relevant for India) of the chemical process.
He met (then prime minister) Indira Gandhi to argue that control of prices on soaps was counterproductive.
He was persistent and indefatigable.
The red and black pencil and eraser played a quiet role in his successful advocacy.
Occasionally, the output of his pencil and eraser failed his brilliant mind, for example, when I went to (the then) food minister, A C George with his note on Vanaspati price control.
Alas, it was too late and George said, "Tell him I am sorry."
Signed promotion letter from TT.
From the musty files in my cardboard box, I pull out a sepia-tinted copy of a letter dated 1st July, 1977, addressed to me and signed by Chairman T Thomas.
He must have signed many such letters to many people, but for me, my letter was, and is, special -- I had been promoted to 'Grade I manager' in the company.
For days before the event, his able assistant, Amy Kharas, would call to check that I was not travelling, and to warn that somewhere between 3 pm and 5 pm, I may be called by the chairman.
She had this smirk, "But I cannot tell you why." By the time of the appointed hour and date, I had knotted my tie several times, combed my hair with many combs and wiped my sweaty palms on numerous handkerchiefs kept in my pocket for the purpose.
Those were the days -- innocent anticipation, the joy of surprise, the overwhelming feeling of elation -- all of these, and more, are the emotional sauces in which I (and many other wannabe HLL managers) sautéed our modest accomplishments and braised our future hopes.
When I met him, he enquired whether I had had enough money on my recent trip to Unilever, did someone host me for lunch or dinner, and did I feel welcome? These then stayed as memories in my brain.
A plane ticket to Bangalore.
Just two years ago, he sat at seat 1B and I at 1C, we were both travelling to Bangalore on separate missions. With a benign nod, he asked me to sit next to him.
I had observed his recent loss of memory as he would fail to recall conversations from the last few days.
To my great surprise, for the 90 minutes that the journey lasted, he recounted for me his entire life from the village in Kerala, his poor economic status and every material incident that he felt he could share -- crystal clear recounting of incidents.
He added the story of his arranged marriage to Susy Eapen, who initially rejected him for some small remark, but which he made up for -- by drafting a letter with his black and red pencil and eraser!
Thomas House.
He came from the deep belief that if you think of the right thing to do, God will show you the way to execute it.
There was a struggle for several years to expand the facilities and curriculum of the Cathedral and John Connon School because suitable premises were not available, contiguous to the present school.
Finally, one property seemed promising, things fell into place, and around his 90th birthday, the school decided to memorialise his contributions by naming the new building 'Thomas House'.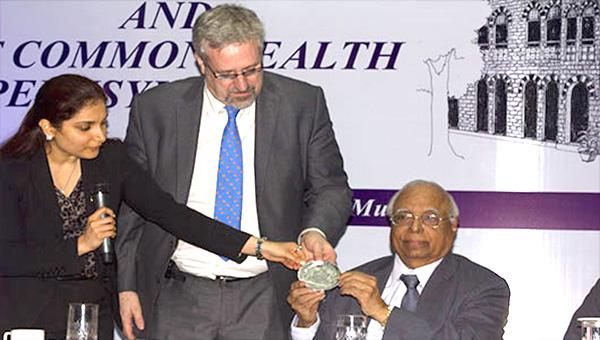 IMAGE: Cathedral and John Connon School recently acquired Kodak House on D N Road, south Mumbai, for Rs 75 crores (Rs 750 million). It will be named Thomas House in Mr Thomas' memory when it opens.
Mr Thomas is seen here at a Cathedral school meeting. Photograph: Kind courtesy cathedral-school.com
And so, through an old train ticket, a ubiquitous red and black pencil, his promotion letter to me, my plane ticket to Bangalore and Thomas House -- five objects and institutions -- my memories of his fine life, will linger.
TT, Rest in Peace in the Lord's arms.
R Gopalakrishnan is the former vice chairman, HLL, and former director, Tata Sons.