The idea to set up CarDekho.com was inspired by a visit to the Automobile Expo in Delhi.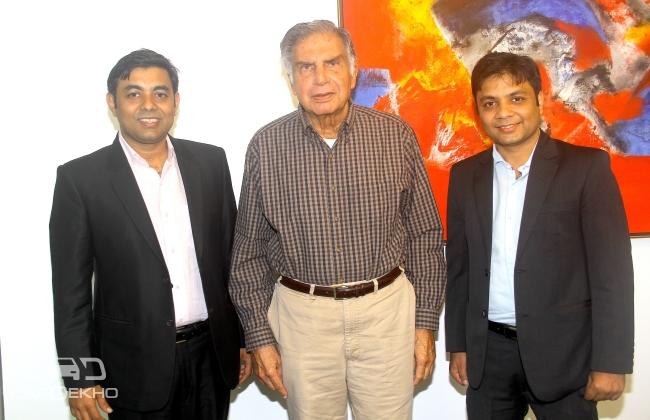 Image: (From left to right) Amit Jain, CEO & Co-founder, Girnar Software, Ratan Tata, chairman emeritus of Tata Group and Anurag Jain, Co-founder, Girnar Software. Photograph: Kind courtesy, CarDekho.com

Four months ago, the Jain brothers of Jaipur, Amit and Anurag, set their hearts on getting Tata Sons Chairman Emeritus Ratan Tata on board as an advisor for their six-year-old online automobile portal, CarDekho.com.
Tata's understanding of the automobile sector and his credibility in the business world made him the best mentor.
The idea to set up CarDekho.com was inspired by a visit to the Automobile Expo in Delhi.
The portal was launched in 2008.
Starting from a one-room set-up with just two laptops, it has reached a valuation of $300 million today.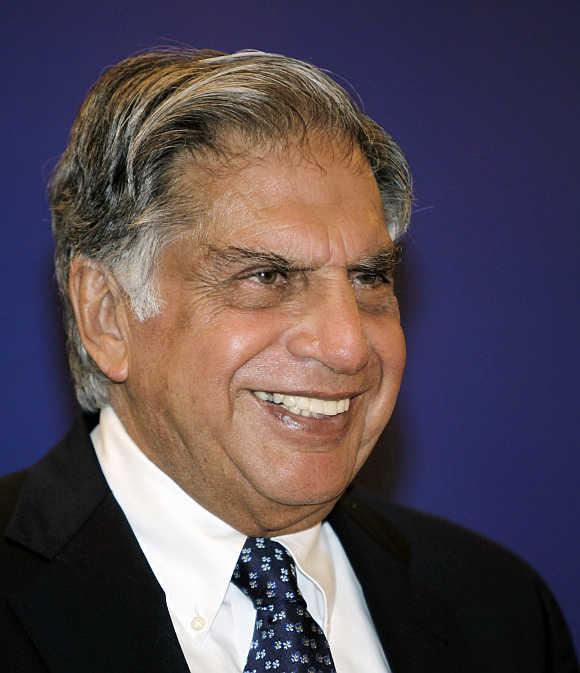 Image: Ratan Tata. Photograph: Reuters

On Friday, the duo was in Mumbai to sign an undisclosed amount of investment from Tata, who didn't agree to a board position on CarDekho.com, but 'promised' he would be available to speak to the Jains at least an hour a month and guide them.
"We did not need money at this juncture but we wanted Tata as our mentor.
"So, once we decided this, we got in touch with our investor Sequoia Capital, who got us in touch with Tata's team," Amit Jain told Business Standard.
"So far, I have met him twice and his composure, humility and the knowledge he carries are what impressed me the most."
This unusual approach to finding an investor is not the first such move for the Jains.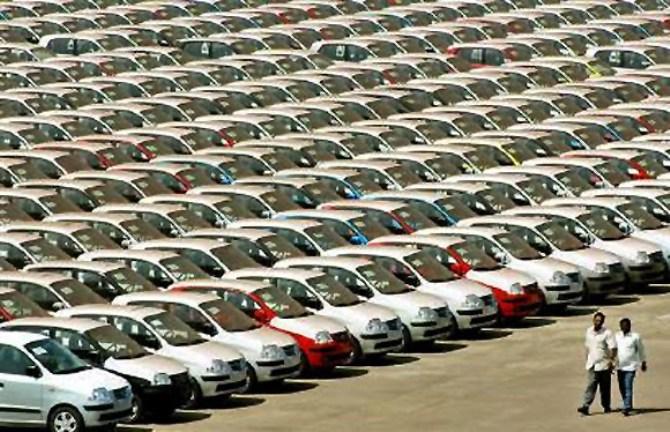 Image: Cars are inspected at the end of the production line. Photograph: Reuters. Image is used for representational purpose only.

In 2007, after nearly eight years of working with Texas-based Trilogy, Amit Jain, a graduate from Indian Institute of Technology Delhi, abruptly quit his job and returned to Jaipur.
He dabbled in his father's gemstone business for some time after the latter's death.
"Once on ground, I realised it was so easy to advise my father about business strategies from an academic point of view.
"The devil lies in the detail," he says.
After six months of trying their hands at the gemstone business, the brothers decided to do something they had more domain knowledge of, and set up Girnar Software.
Besides CarDekho.com, Girnar Software owns and operates BikeDekho.com and PriceDekho.com.
The younger of the two, Anurag Jain, followed his elder brother's footsteps and graduated from IIT Delhi in 2001.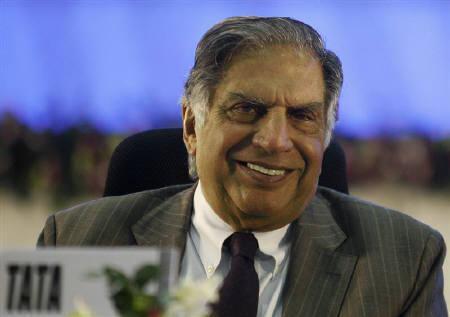 Image: Ratan Tata. Photograph: Reuters

"There aren't many opportunities for people from Jaipur that allow them to stay in the city.
"I knew people from IIT who were from Jaipur and were forced to move to other cities for jobs," says Amit Jain.
"So, we thought 'let's try setting up our company in Jaipur and if it does not work, we can later move to Delhi or Bengaluru'. But we attracted a lot of people who wanted to move back to Jaipur."
Girnar now has 1,000 employees, of which 800 work for CarDekho.com.
The company has set up offices in Bengaluru, Mumbai and Gurgaon for sales and marketing, and has a development centre in Hyderabad.
Excluding the investment by Tata, CarDekho.com has raised $45 million in two rounds from Sequoia Capital, Bourne Capital and Hillhouse Capital Group.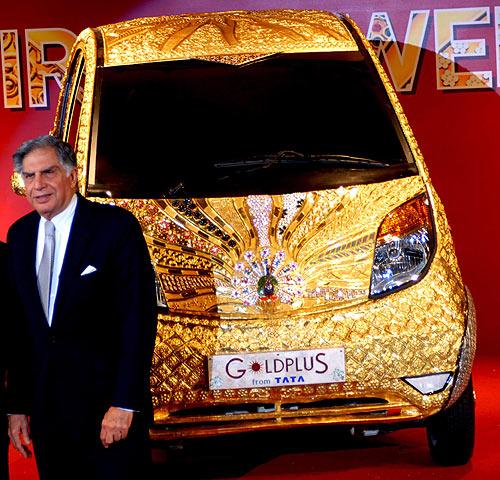 Image: Ratan Tata unveils the world's first Goldplus car in Mumbai. Photograph: Sahil Salvi/Rediff.com

Deepak Mittal, chief executive and co-founder of IntelliGrape, a web, mobile and cloud consulting firm, and Amit Jain's IIT batchmate and a close friend, says he always spoke of starting his own venture.
"I do not remember seeing him low. He is always full of energy and passion, and that is his core strength," Mittal says.
Despite setting up a successful business, the brothers maintain a low profile. Suresh Agarwal, president of the Federation of Rajasthan Trade and Industry, says he has hardly met them.
Vinay Sanghi, founder of competitor CarTrade.com, agrees. "I have hardly met Amit."
Girnar has been profitable since 2007, but it posted a loss in 2014 because of heavy investments.
Last year, CarDekho.com acquired another popular automotive portal, Gaadi.com, to beef up its used-car portfolio.
The Jains hope the company will be back to profitability soon and become a multi-billion dollar firm by 2020.
Amit Jain
CEO of Girnar Software
Alumnus of IIT Delhi (batch of 1999)
Worked with Austin-based Trilogy for 8 years
Worked in family's gems business
2007: Co-founded Girnar Software
2008: Launched CarDekho.com
Anurag Jain
Heads finance functions at Girnar Software
Alumnus of IIT Delhi (Batch of 2001)
Deals with issues such as fundraising for CarDekho.com and handles PriceDekho.com