If it was true that Maharashtra Chief Minister Devendra Fadnavis held up the flight to Newark to ensure that Praveen Singh Pardeshi, the state principal secretary, was on board, he had at least one excuse, reports P Rajendran/Rediff.com
Photographs: Paresh Gandhi/Rediff.com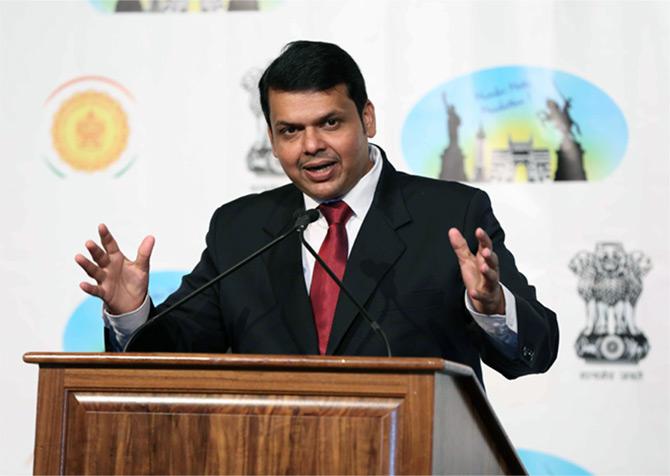 There were few people that Maharashtra Chief Minister Devendra Fadnavis chatted with at the lunch organised by the US-India Business Council at the Taj Pierre in Manhattan, June 29.
But though there was little dialogue with the 90-plus attendees, about business or politics, Fadnavis still made a strong pitch for his Indian state as an investment destination.
He later signed an MoU with Atul Chordia of Panchshil SPV to set up infrastructure in Maharashtra.
The event held at the hotel's 2,385 square feet Wedgwood Room began with Dr Mukesh Aghi, the president of the US-India Business Council, speaking about the changing business milieu in India, particularly focusing on the shift of power from the federal to the state level, and how Mumbai, Maharashtra's capital, still generated 60 percent of India's revenue.
Ambassador Dynaneshwar Mulay, India's consul general in New York, spoke of how Fadnavis had gone from the tarmac -- after his plane landed -- to meet Chris Christie, the governor of New Jersey, to discuss business options.
If it was true that Fadnavis held up the flight to Newark, New Jersey, to ensure that Praveen Singh Pardeshi, the state principal secretary, was on board, he had at least one excuse: Pardeshi makes a killer presentation to the business community, arguing for the joys of investing in Maharashtra.
Maharashtra, Pardeshi said, is a business-driven state and, just to reassure people still in doubt, added that decisions are taken in consultation with the private sector.
The state's GDP, Pardeshi pointed out, has risen 85 percent since 1980, and listed the many new projects likely to spur it further, including the Navi Mumbai airport on the mainland east of Mumbai; NAINA, the city being built around it; the Pune and Nagpur metros; the Mumbai Trans Harbor Line; and an airport and special economic zone in Nagpur, Fadnavis's home constituency.
Among other things listed on Pardeshi's presentation was also the mention of looser environmental standards, including the discontinuation of the river regulation zone laws, which deems there should be no industry up to two kilometres from the high flood lines of a river.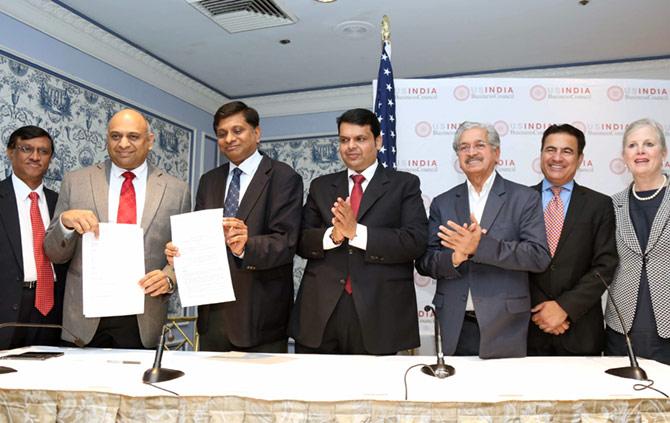 Ashok Vasudevan of Preferred Brands International, the manufacturer of Tasty Bite food products, spoke of how the industry viewed working in Maharashtra, since he has set up infrastructure there.
Vasudevan described Maharashtra as being comparable to California, being the most well-diversified state in India. He argued for food processing outsourcing to India, saying it had gone from a "basket case to a bread basket."
It was not the cheap labour alone that made Maharashtra so attractive to food producers, Vasudevan stressed, but the fact that it produced so much. Five percent of the 160 million tonnes of fruit produced in India, he added, came from Maharashtra.
India, he pointed out, wastes 20 million tonnes of fruit, the same as Europe's consumption of it.
"India wastes as much as Europe consumes," he stressed, adding that with proper management such waste could be turned into profit.
While very appreciative of Maharashtra, Vasudevan asked that something be done about the power situation for industries there.
Maharashtra Industry Minister Subhash Desai came up to speak about the new single-window option for businesses in India.
"Not like the software Windows -- you open one window and 10 windows open," he said, drawing a laugh from the audience.
Desai doubled up on Pardeshi's take, saying, "We have an industry-friendly government in Maharashtra... Make in India (Prime Minister Narendra Modi's slogan to encourage local production) cannot happen till Make in Maharashtra happens," Desai said, adding that the chief minister was easily accessible now.
"Our ministry is also available. We are there to support you," Desai said, adding that the state also stood to gain since 50 percent of the people in the state were below the age of 25 and would be on the hunt for jobs soon.
Since agriculture in the state was not sustainable, Desai said the state hopes to divert more farmers to industrial jobs. He described some German investors telling him that they liked it that the state had highly educated workers, most of them knowing English, obviating the need for interpreters, a requirement in other countries.
Desai pointed out that even India's defence sector was now open for private investment -- aerospace ship-building, and arms and ammunition. India, he added, wanted that electronics, which now makes for the most funds for imports after crude oil, could be generated locally and assured investors all help in the area.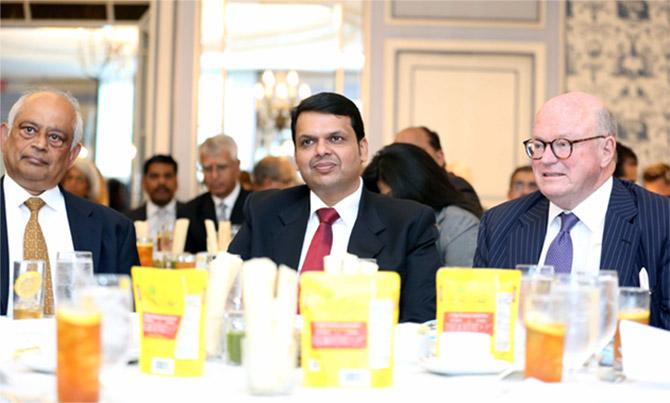 When Fadnavis rose to speak, he apologised for being the last hurdle on the way to lunch, and said he had an incentive to speak less because he, too, was hungry.
But speak he did -- of the whittling down of government regulations (in one case, dipping from 76 required permissions to 37, with the promise of the removal of 12 more) and the assurance that if permissions were not granted within a deadline they would be deemed to have been given.
Hungry or not, that got the audience to fervently applaud.
Fadnavis spoke of how India was ranked 142nd out of 180 countries in the world for ease of doing business, and added that he hoped to have Maharashtra be equivalent to one in the first 50 countries in terms of ease of doing business.
He spoke of the 'inspector raj,' in which officials could turn up anytime to conduct a check, adding, "You know what happens next." The audience laughed at the allusion to bureaucratic corruption.
"Most things are on self-certification mode," Fadnavis said, adding that the few checks conducted would be randomly conducted, the selection being made by a computerised system.
Speaking to Vasudevan's concern about power, he said, "Maharashtra is a power surplus state," and added that the time taken to supply power -- and even the cost of power itself -- would also be soon reduced.
After echoing Pardeshi on the value of some of the state's big projects, Fadnavis said that if there were any problems, "Please let me know. We will help you." Instead of red tape, he insisted investors would get a red carpet.
One of the attendees, Jagresh Rana, Geography Strategy Lead, at Monsanto, said his company, which is well settled in India, had no meetings planned with the chief minister.
Jacques Safra of the Safra National Bank of New York, a family-run private bank with roots in Brazil, described the experience of one in which his bank was assessing the option of investing in India, which he admitted was not a priority in Brazil.
"We're keeping ourselves informed," he said.
Akshay Sehgal, a senior vice-president at the bank, which targets high-worth individuals, said while there were some ups and downs, with expectations of the Narendra Modi government having to be tempered a bit, there might be options yet for non-resident Indians.
Images: Top: Maharashtra Chief Minister Devendra Fadnavis makes his case at the event.
Middle: Fadnavis with Industry Minister Subhash Desai, third from right, and India's Consul General in New York Ambassador Dyaneshwar Mulay, a Kolhapur native, left.
Bottom: Fadnavis with former US ambassador to India Frank Wisner, right.