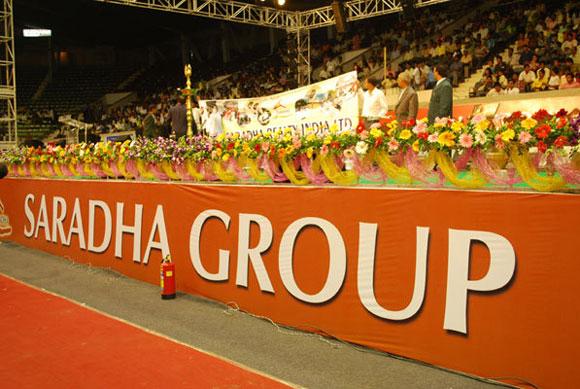 'I have tutored my family and myself to fight hunger,' the former agent for the Saradha chit fund says, his eyes welling up.
96 of the 107 cases referred to the Serious Fraud Investigation Office are based in Bengal!
Indrani Roy/Rediff.com reports on the state's ponzi schemes.
"I have no money to buy food," Siddhartha Das, a former agent for the Saradha chit fund, had told Rediff.com two years ago, in April 2013, soon after the Rs 2,460 crore (Rs 24.6 billion) Saradha scam broke.
"I had dreamt of making it big with my job at Saradha," Das tells me two years later, on April 1, 2015. "But now, I am reduced to nothing."
Das, who is in his mid-30s, now works as a daily labourer in and around Bengal's South 24 Parganas district.
"I have tutored my family and myself to fight hunger," he adds, his eyes welling up.
Das's total outstandings in Saradha stood at Rs 52,000; he had to flee to escape the wrath of clients.
His is a familiar story in a state that has seen numerous chit fund companies mushrooming in recent years. There are many like Siddhartha Das who fell for the Saradha ponzi scam.
Many of them were out on the streets, crying themselves hoarse for compensation, but in vain.
96 chit firms unearthed in Bengal in two years
According to a recent Press Trust of India report, in over two years, as many as 107 cases have been referred to the Serious Fraud Investigation Office for allegedly running ponzi schemes. What is alarming: 96 such firms are based in West Bengal.
Saradha group firms and Rose Valley Group companies feature prominently on this list.
While Saradha defaulted on payments of Rs 2,460 crore to 1.25 million depositors, Rose Valley owes a whopping Rs 4,000 crore (Rs 40 billion) to its investors, an employee tells Rediff.com, speaking on condition of anonymity.
The Saradha scam is being investigated by the Central Bureau of Investigation. The Rose Valley case is being probed by the Enforcement Directorate.
Why do people fall prey to chit funds?
Chit funds have operated in Bengal for many years. Long before Saradha or Rose Valley happened, a firm named Sanchaita collected more than Rs 120 crore (Rs 1.2 billion) in the early 1980s before its offices were raided and it folded up.
Two promoters of the group were arrested and a few investors got back a pittance. One promoter, Shambhu Mukherjee, committed suicide while Swapan Guha was declared insolvent in court.
Why do people fall prey to chit funds over and over again?
Chit funds thrive mostly on the dreams of rural and semi-urban depositors who want to get rich quick, says economist Swapan Bhowmick.
These ponzi schemes spread their tentacles mostly in areas with poor banking facilities and a population that suffers from financial illiteracy.
According to the latest Reserve Bank of India data, Bengal ranks high among states with the lowest financial inclusion.
Moreover, industrial and agricultural growth in Bengal has been poor for the last few years, which in turn has led to unemployment and huge income inequality.
'It is possible for chit funds to survive in a locality which is poor and which is hoping that better days will come soon,' economist Dipankar Dasgupta said in a recent interview to the media. 'Then an opportunity comes in the form of some companies that promise to double people's money. Many fall for that bait.'
Investors and depositors Rediff.com spoke to said they were attracted to Saradha schemes in their quest for a better life.
"Chit funds generally target the illiterate or semi-literate people living in rural or suburban areas," says veteran Bharatiya Janata Party leader Tathagata Roy. "They are gullible. It is very easy to lure them with some filmsy 'get rich quick' schemes."
Congress leader and advocate Arunava Ghosh corroborates Roy's view when he says, "Those who lost money in Saradha or such other scams hail mostly from villages. As banks and other financial institutions are rather reluctant to cater to the demands of these people, when chit funds allure them with high returns in the short term, they can't help falling into the trap."
Asked what made Saradha and Rose Valley flourish in the post-Left Front regime, Roy reasons, "Whenever there is a shift in power, there is a bit of chaos and confusion. People who make their living through illegal means take advantage of the situation for their own good. This logic is applicable to both these chit fund groups."
According to investigators, the Saradha scam surfaced because Saradha chief Sudipta Sen's weird method of 'recycling' investors's funds failed.
Rose Valley chief Gautam Kundu kept investing the money he collected from investors in various 'fruitful' ventures.
Rose Valley was one of the sponsors for the Indian Premier League team, the Kolkata Knight Riders, for two years.
During repeated interrogation by the Enforcement Directorate and other investigating agencies, Kundu said his companies incurred huge losses.
Strangely, he continued to invest in media houses. Kundu is also known to have financed about 35 to 40 Bengali films.
During an interrogation by the ED last month, Kundu, who owns a Rolls Royce Phantom car, failed to explain how he maintained a flashy lifestyle when his companies, as per his claim, were in the red, sources told Rediff.com
The ED arrested Kundu on March 25 and froze more than 2,000 Rose Valley bank accounts.
Why Kundu's arrest is of great significance
Gautam Kundu's arrest brought to the fore how existing loopholes in India's financial system helped an illicit company operate unhindered for several years.
Those who have termed the Saradha scam one of the biggest scame in post-Independence Bengal were stunned when it was made known that Rose Valley mobilised six times the money that Saradha had.
Unlike Saradha, which originated in Bengal before spreading to other parts of India, Rose Valley was born in Tripura before moving on to other states.
Investigations revealed that Rose Valley issued non-convertible debentures to raise money in violation of guidelines stipulated by the market regulator, the Securities and Exchange Board of India, sources told Rediff.com
Are there links between Sudipta Sen and Gautam Kundu?
Prior to his arrest, Gautam Kundu reportedly told the ED and media that he had attended the controversial midnight meeting with West Bengal Chief Minister Mamata Banerjee in Kalimpong in spring 2012.
Saradha chief Sudipta Sen, estranged Trinamool Congress leader Mukul Roy and jailed TMC Member of Parliament Kunal Ghosh are known to have attended the same gathering. The trio have confirmed this at various points of time.
In an interview to Rediff.com a day before he was arrested, Ghosh had claimed that during that Kalimpong meeting, Sudipta Sen told Mamata Banerjee: 'Didi, apni CM theke PM hoben, ami media house ke seibhabei sajachchhi (Didi, I am setting up my media houses in a way that it helps you become the PM).'
Now the onus is on the Enforcement Direcorate to find out what business Gautam Kundu had at the Kalimpong meeting and if there is any link between Sen and him.
Many political leaders under scrutiny
The Saradha scam dealt a major blow to Bengal's ruling Trinamool Congress government as several TMC leaders, including MPs and ministers, were entangled in the mess at regular intervals.
The most prominent leader in prison for his alleged involvement in the Saradha scam is West Bengal Sports and Transport Minister Madan Mitra. His name also reportedly came up in the Rose Valley investigation and he is likely to be questioned soon, sources told Rediff.com
Though the Saradha and Rose Valley group of companies swelled after the Trinamool Congress came to power in Bengal, both groups came into being during the Left Front regime.
The CBI and ED will look into a possible nexus between these two groups and Left leaders.
The ED, sources told Rediff.com, will soon quiz prominent Left leaders.
ALSO READ: