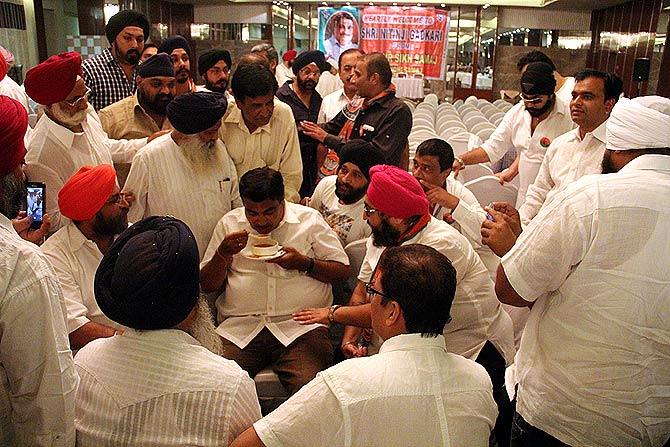 Nitin Gadkari has seven portfolios, but does not seem weighed down at all by the many things on his plate.
The minister is brimming with ideas, discovers Rediff.com contributor Rashme Sehgal.


As Union minister, Nitin Gadkari handles the portfolios of:
Road transport
Highways
Shipping
Rural development
Panchayati Raj
Drinking water
Sanitation
Besides juggling between ministries he has taken time out to fly down to Maharashtra to discuss the political situation in his native state where an assembly election will be held October 15.

At a press conference last fortnight, Gadkari was asked about his chances of becoming Maharashtra's next chief minister. Even though he evaded the query, BJP sources point out that following party strongman Gopinath Munde's death, Gadkari is a strong contender for the job.

The minister says he is focussing on ensuring that sufficient quantities of drinking water reaches flood-hit Jammu and Kashmir.

"Our ministry (drinking water) is ensuring that 400,000 litres of water is airlifted every day to Jammu and Kashmir," says Gadkari.

His ministry has also launched a programme to help remove arsenic and fluoride present in very high percentages in 17,000 villages in India.

"The aim is to help reduce water-borne diseases prevalent in our villages," he adds.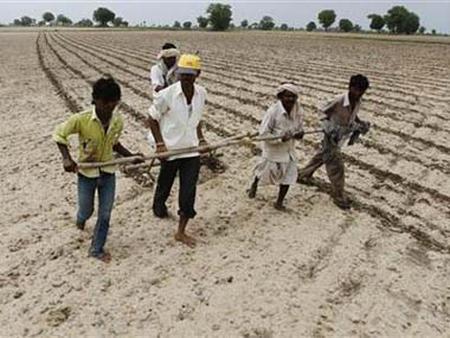 Image: Nitin Gadkari believes MNREGA should be restricted only to tribal and backward districts in the country.
---
One of the big issues Gadkari faces is whether to continue with the United Progressive Alliance government's Mahatma Gandhi National Rural Employment Gurantee Act, MNREGA, scheme, which has attracted both criticism and applause.

The UPA government had allocated Rs 33,000 crore (Rs 330 billion) for MNREGA for 2014-2015.

When asked about his plan on MNREGA in terms of funding and linking it to rural development and rural infrastructure, Gadkari told Rediff.com: "The spirit of NREGA is very good. However, states like Maharashtra Gujarat, Karnataka, Tamil Nadu, Punjab, Haryana are facing a large amount of problems because of NREGA."

"The socio-economic situation in these states is different from the BIMARU states. We have 274 districts that are most economically backward. We will request the authority concerned -- the Planning Commission -- to find out the talukas that are more socially, economically, educational backward. We want to concentrate NREGA schemes on the poorest areas of this country."

Gadkari believes MNREGA should be restricted to tribal and backward districts.

"It is not required in areas where the per capita income is high," he explains.

Another use for MNREGA would be to link it up with other water conservation schemes, he adds.

Gadkari's career took a dive a couple of years earlier when his name was cited in a number of controversies including one in which Maharashtra politicians were accused of diverting billions of rupees meant to create an irrigation network for drought-affected districts into their pockets.

But he seems to have been effectively rehabilitated since.

Nor does he seem weighed down by having too many ministries on his plate.

On the contrary, he is busy laying down an agenda for each ministry and ensuring that deadlines are met.

Brimming with ideas, Gadkari admits that with the water table dropping, his ministry is testing all kinds of new technologies including converting "moisture in air into water."

"We have already installed 3,248 solar-powered dual pumps in Naxalite-affected districts to provide safe drinking water and reduce drudgery," he says, adding that his long-term roadmap is to ensure that the Swachh Bharat Abhiyan becomes a national movement.

He wants all new toilets being constructed in the country to have access to water.

"At present, 350,000 toilets have been constructed. Most of these are not being used because they do not have water. This is an area we are working on," the minister points out.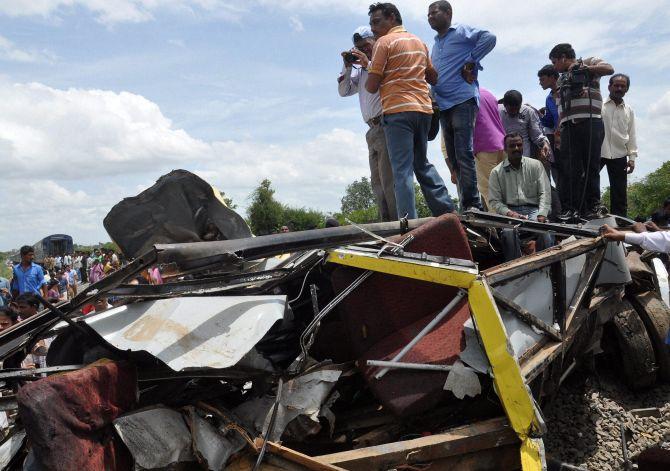 Image: Mangled remains of a school bus are all that remain at the accident site of the bus-train collision in which 18 people, including 16 school children, were killed in Telangana's Medak district in July.
---
Another area of concern is to reduce the high level of road accidents taking place.

"India has the world's second largest kilometre or road network stretching 48 lakh (4.8 million) km. But our roads remain among the most dangerous with around 138,000 people being killed in accidents every year. The total social cost of this is estimated to be around Rs 100,000 crore (Rs 1 trillion)."

The Cabinet has already approved higher fines and lengthier jail terms for drunken driving, jumping red lights, overspeeding and use of mobile phones while driving.

"The Motor Vehicles Amendment Bill, being prepared in sync with practices in six advanced nations -- the United States, Canada, Singapore, Japan, Germany and Britain -- will be introduced in the next session of Parliament. This will overhaul the sector bringing to an end the corrupt practices in RTOs (Regional Trust Offices)," discloses Gadkari, adding that CCTV cameras are being installed at all toll plazas which will be connected through a system of e-governance.

Road accident victims will also receive cashless treatment for the first critical hour though he does not elaborate just how such a scheme will work.

The other area of major expansion is to get down to the nitty-gritty of increasing the road network across the country which had come to a standstill during the UPA regime.

"Our objective is to achieve a target of developing 30 km of road construction per day with special focus on the North-Eastern states."

As part of this ambitious scheme Rs 12,000 crore (Rs 120 billion) will be allocated to rebuild roads. "1,000 km of roads have been constructed already and 350 km have been strengthened," Gadkari says.

Special thrust areas will be Uttarakhand, Ladakh and, of course, the North-East.

The minister says he has inherited 189 languishing projects and another Rs 1.5 trillion worth of projects that weare stuck because of the UPA government's lack of political will.
Image: Boats moored, ready for tourists to cruise the Ganga in Kolkata. Photograph: Jayanta Shaw/Reuters
---
Along with improving road connectivity, he is also determined to improve waterway transport systems.

"It will mean less pollution, less accidents, less cost... developing inland waterways, ports is another top priority for me. This can contribute at least 2 per cent to GDP growth. We can start with the Ganga and have Japanese tourists reach Varanasi by boat (from Kolkata)," says Gadkari.

"We have started a scheme to convert water bodies into water ports. For every bridge, after studying the land, a bridge-cum-barrage project will be incorporated to boost water availability," he explains.

"We are encouraging the shipping industry to promote tourism as well. We want to start a hovercraft service to the Andaman and Nicobar islands."

The other thrust area would be to facilitate a framework for ship building and the shipbreaking industry as also to set up more dry ports, he adds.

"A special package is being envisaged for development of Mumbai port," Gadkari says, adding that another Rs 4,000 crore (Rs 40 billion) will be invested in the Jawaharlal Nehru Port Trust.

"Bus ports shall be made like airports, under the BOT model," he says.

"Bus ports shall have modern amenities like those at airports," he stresses, adding, "My objective is to restore the confidence of developers and contractors through fund circulation in the sector. As the sector regains momentum, it will be opened to PPP investments again."

Expansion of the road network is inextricably linked with land acquisition which remains a very tricky area given that approval for this is required by state governments.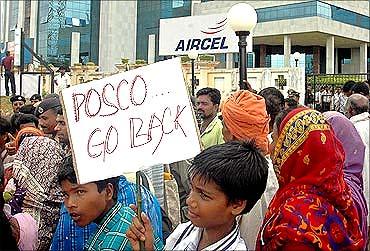 Image: The anti-POSCO agitation in Odisha highlights the many issues with land acquisition in India.
---
The government has given clearance to 34 projects, but Gadkari hastens to add that projects will be green lighted only after 89 per cent land acquisition has been cleared.

"A number of state governments have expressed reservations about the Land Acquisition Act," he says, expressing confidence that the problem will be solved at the earliest.

The government, he says, will first evolve a political consensus before bringing about any changes to the Land Acquisition Act, the minister hoping "contradictory views" emerging within different parties would be ironed out.

"Some leaders in Delhi say one thing, others say something, some others say something else. I am confused," Gadkari says when asked what steps his government is planning to bring about to streamline the Land Acquisition Act.

The minister hastens to clarify that there will be no compromise on clauses related to compensation, rehabilitation and resettlement.

"There is no question of reducing the compensation package for farmers whose land is acquired for projects, we will try to increase it," the minister explains. "Leaders from every political party are telling me in writing to bring changes in the Act. I wish to make it clear that whenever there is a consensus on the matter, then the government will take a decision. There is no general consensus on the issue right now."