'My simple instruction to every IBM salesperson is, "When you go to the customer, use less of this (he points to his mouth) and more of this (ear)".'
'Talk less, listen more",' Karan Bajwa tells Raghu Krishnan.
Illustration: Dominic Xavier/Rediff.com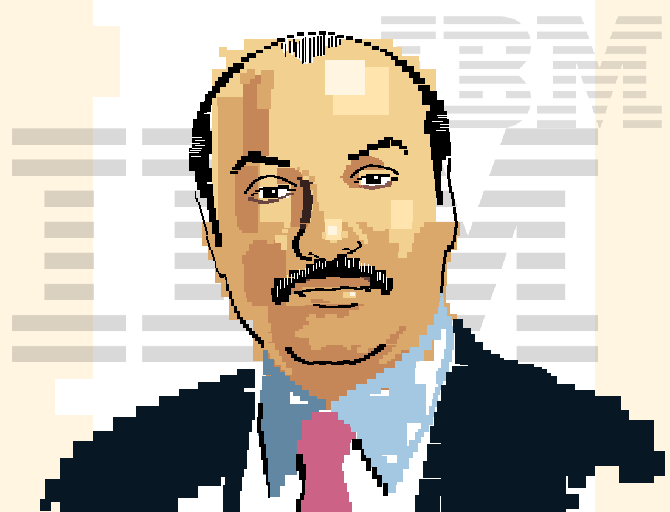 The top boss at IBM in the country has always had his base in Bengaluru, from where the global tech major runs its massive operations for India and the world.
Not Karan Bajwa, who took charge as managing director of IBM India in January.
The self-confessed workaholic is based in Gurugram, on the outskirts of Delhi. He shuttles to Bengaluru often to meet colleagues and customers, as he looks to transform the company, known for its diversity, to "sing one song" or stand as one IBM.
The task is huge, admits Bajwa, though he sees it as an opportunity rather than a challenge. That is one of the reasons he returned for a second stint at IBM, this time to head the company, after nine years at Microsoft, with his last role as its managing director.
Bajwa believes that there are three types of technology companies: First, those with deep consulting expertise; second, those that possess enormous technology assets; the third set of companies are those that can deliver services to customers.
Most complexities in technology arise when there are communication gaps between these sets of companies.
"We are dealing with one of the complex (business) transformations (currently). Customers don't want people to tell them what to do or to throw products at them. They want all of it to be stitched together and that is IBM's biggest advantage," says Bajwa, as we sit down for dinner at The Lantern, a Chinese restaurant at The Ritz-Carlton, Bengaluru.
The Lantern is a standalone three-storied building outside the main hotel. The basement has an open-air section that draws the cool breeze of Bengaluru during the monsoon bringing back to Bajwa memories of the Garden City when he first landed there in the 1990s for training at the Centre for Development of Telematics, an institution set up by Sam Pitroda that rang in the first telecom revolution in India.
It was the period when fans were rare and air conditioners rarer in the city even as it was sowing the seeds of the information technology revolution that has shaped it into what it is today.
Bajwa has been travelling to Bengaluru ever since, even when he was at Cisco and Microsoft. Does he rue the bumper-to-bumper traffic of today's Bengaluru, I ask. "I don't. Gurugram is worse," comes the reply.
"Bengaluru has changed like any other city -- Delhi has changed, Gurgaon didn't exist in 1991," says Bajwa, as he orders a watermelon juice, while I take a lime soda.
Except for the weak infrastructure -- Bajwa says the government should learn from Hyderabad how to improve it -- Bengaluru has all the right attributes -- talent, quality of living, culture and ecosystem.
That has helped IBM and other global and local firms to grow, while the citizen activism among entrepreneurs such as Biocon Chairman and Managing Director Kiran Mazumdar-Shaw also forces the government to respond to citizens' concerns.
IBM, globally, is undergoing transformation as it sheds its traditional business model to shift towards digital and cloud. India has been a bright spot.
With the resources it built in the country, it has been able to lessen the impact of the outsourcing model, while deliberately focusing on building the local business.
IBM is a clear leader in the local market. But even here the business models are being disrupted, like it is happening globally, with customers looking at outcomes and not just technology support.
Bajwa says he would go for the "minimalist" set menu and not order à la carte. "It is easier to handle," he explains and chooses the non-vegetarian option, making sure there is no fish.
The non-veg portion has pumpkin corn soup, chicken shu mai -- open-top steamed chicken dumplings with wonton skin, prawn and asparagus with black fungus -- some noodles and rice. I go for the vegetarian option.
Traditionally, technology companies have been selling products and solutions, promising customers that IT is an enabler to build their businesses.
It has been an expense item, where the decisions are taken by a technology team led by the chief information officer. But now, technology is strategic, something that impacts the survival of most businesses.
Uber and Ola disrupted the taxi business, both in India and globally; Airbnb disrupted the traditional hotel business and Paytm the way money is transferred.
The disrupters came out of nowhere. This is a concern for CEOs who decide on the business impact of technology investments.
But selling to the top leadership requires a different mindset, says Bajwa.
His advice to his salespeople is to elevate the conversation.
"My simple instruction to every salesperson is, 'When you go to the customer, use less of this (Bajwa points to his mouth) and more of this (ear). Talk less, listen more'."
Most chief executives know what they want and IT firms such as IBM need to engage with them and help deliver outcomes.
The soup is tasty, Bajwa says, moving away from our serious discussion for a minute.
Ever since Bajwa took over, he has made sure that his style of working doesn't affect others.
He is the first to come to office every day and puts in 14 to 15 hours a day. "I enjoy working," he says.
Working odd hours and weekends could have a ripple effect on colleagues; Bajwa says he is mindful of that.
So, now he prefers not to work on weekends, spending that time at home with his 17-year-old daughter who is planning to go overseas for higher studies after completing Class 12.
The demanding office schedule also means his hobbies are simple such as watching Bollywood movies. Indeed, non-serious films are great stress busters.
Bajwa tried taking up golf -- he enrolled for courses three times -- but the turf didn't encourage him to stay on course for long.
At the workplace, Bajwa is implementing an important change. As part of Ginni Rometty's global initiative, he is urging people to work in offices rather than remotely from their homes.
"I want people to come to office. This company is so diverse, my biggest fear is that two IBMers would go into a meeting and exchange business cards... The day that fear comes true I would know there is a problem," he says with a laugh.
"It is very difficult to replace the corridor conversations, water cooler gossip -- these are important attributes of the culture of an organisation. You've got to have a fine balance to become more collaborative."
Bajwa talks about his vision for IBM, which he has dubbed "One IBM."
He shows me a slide that has been shared internally -- it shows three pillars that drive the go-to market strategy of the company.
They are 'mainstream', 'breakthrough' and 'expand'.
"Take technologies such as cloud, cognitive to customers and developers, and expand the market by tapping opportunities even at the bottom of the pyramid," reasons Bajwa.
"Digital, security and blockchain -- we have three assets, where we have a point of view, intellectual property and the ability to deliver," says Bajwa, while working on his dumplings. The servings are huge and we wonder what is in store for us.
Among IBM's biggest customers in India is the government. I enquire about the fear of technology lock-in that often comes up in conversations with regulators and government officials dealing with technology.
"It is just a fear," he says, and in the same breath, points out that a government has great power in deciding what technology is adopted by its people.
"Nobody can rub them in. They have huge power -- of regulation, of the way they can manage (technology adoption). This has a lot to do with perception -- that is the reason the first thing I said was that it is important to educate," says Bajwa.
"Every company realises that you also need the citizenship for the country... in a manner of speaking... to be able to work in that country."
He says the only way to tackle the perception issue is by making technology interoperable so that newer shifts can be taken care of.
Bajwa says he has five to six mentors and counts Infosys independent director Ravi Venkatesan and a former boss at Microsoft among them.
"I always learn from real people. Your mentors should never be your idols. You outgrow mentors -- that is perfectly normal."