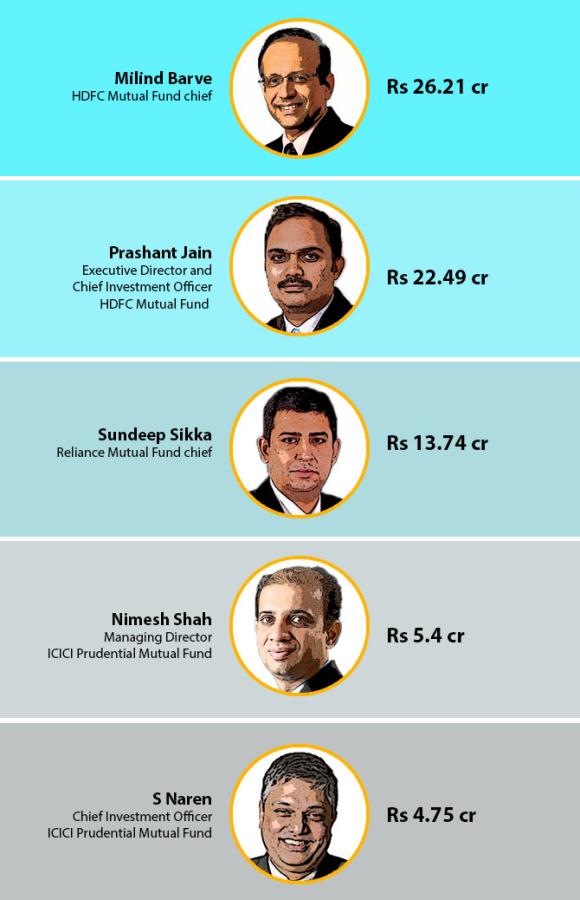 Sebi wanted to know how much Mutual Fund head honchos were paid. A look into who got how much...
Infographic: Reuben NV/Rediff.com
HDFC Mutual Fund's chief Milind Barve earned Rs 26.21 crore (Rs 262.1 million) in 2015-2016, but a large portion came from Milind's exercise of employee stock ownership plans (ESOPs) granted to him.
His pay package included Rs 6.25 crore (Rs 62.5 million) as the salary component. Rs 19.96 crore (Rs 199.6 million) came from his exercise of ESOPs.
Prashant Jain, Executive Director and Chief Investment Officer, HDFC Mutual Fund, earned Rs 6.16 crore (Rs 61.6 million) as salary and Rs 16.33 crore (Rs 163.3 million) from ESOPs.
Other HDFC MF executives took home salaries ranging from Rs 13 crore (Rs 130 million) to Rs 1 crore (Rs 10 million). As many as 38 people received remuneration in excess of Rs 1 crore (Rs 10 million).
Sundeep Sikka, the top honcho at Reliance MF, received a pay package of Rs 13.74 crore (Rs 137.4 million) -- which included Rs 3.5 crore (Rs 35 million) as salary and over Rs 10 crore (Rs 100 million) as a one-time payout.
Reliance MF paid a total compensation of Rs 41.5 crore (Rs 415 million) to its top executives, which included one-time payouts comprising ESOPs as well as perks for marking the completion of 20 years of the fund house.
ICICI Prudential MF paid Rs 5.4 crore (Rs 54 million) to Managing Director Nimesh Shah, while S Naren, CIO at the fund house, earned a salary of Rs 4.75 crore (Rs 47.5 million).
15 executives received remuneration of more than Rs 1 crore (Rs 10 million).
In March, the Securities and Exchange Board of India directed fund houses to disclose the annual salary of all employees earning Rs 60 lakh (Rs 6 million) or above within one month of a financial year, starting with 2015-2016.