Pilots open up to Anjuli Bhargava about their struggles.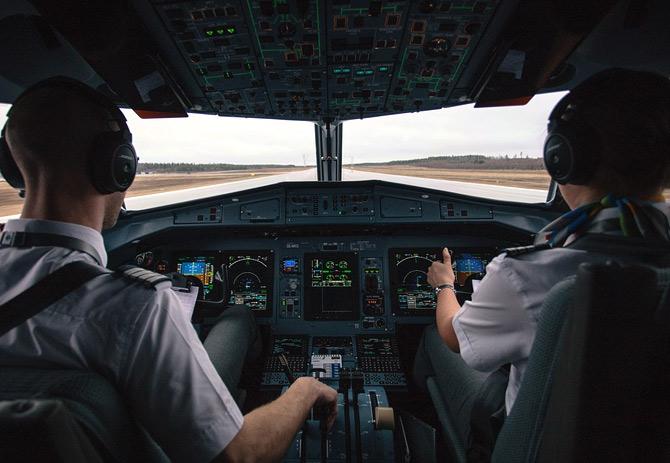 Representational photograph: Pixabay.com
The A320neo's engine problems have led to several stressful weeks of flying for commanders and co-pilots of IndiGo and Go Air.
While the problem may be behind them for now with the grounding of 11 aircraft, flying with a low-fare airline in India is not a piece of cake.
After four years of flying as a co-pilot, Navneet Sarin, 32, is the commander of a low-fare airline in India. Sarin is married, has a child and lives in Gurgaon.
His reporting time on one of the days of his last week's roster was 4.35 am. He takes off from Delhi and lands at Cochin. There is a 20-25 minute stop at Cochin when passengers disembark.
Then the flight takes off for Thiruvananthapuram. The stop at Thiruvananthapuram is even shorter -- as the number of passengers getting off shrink.
From Thiruvananthapuram, the flight takes off for Chennai. More passengers board at Chennai, and the commander takes the flight to its final destination -- Hyderabad, where he finally gets to halt for the night.
Typically, on a such a work day, Sarin carries out four take-offs and four landings. He barely manages to stretch his legs when the aircraft halts -- let alone have a cup of tea or coffee.
Unlike full-service airlines, turnaround time between flights is tight for low-fare airline, making it more stressful for pilots. Since each take-off and landing means pressurising and depressurising of the aircraft, it takes a physical toll on the body.
But Sarin argues the mental toll is worse. He he feels like a "glorified driver", and says that even if he doesn't fly that many hours in a month or a year, the nature of the work is stressful.
The prescribed rest period after a day of four landings and take offs is 15 hours.
"One can land at 9 pm and then the next flight could be scheduled at 12 noon the next day," explains Sarin, so one is always cutting it fine to the minimum time prescribed or to what is legally required by the regulator, the Directorate General of Civil Aviation.
Moreover, sometimes the schedules include what is called "red-eye" flights -- which typically end late into the night or start very early in the morning, making matters worse.
"No matter what time one retires, one cannot actually fall asleep before 11 pm, which is one's normal body clock", says Sarin.
So, at times like this, the pilot often gets barely a few hours of actual sleep and is far from rested.
"The body itself is confused; am I supposed to get up or am I supposed to sleep?"says Sarin.
While this may be manageable for a few months, on a longer basis, it begins to tell on the system.
Although there are rules that prescribe no more than two consecutive late night landings, in effect and practice, it works out differently.
Sarin and other LCC (low-cost carriers) pilots say that while their schedules are manageable for a few months, over a longer period, the fatigue begins to set in.
Also, since the low-fare airlines do the same routes all the time, a sort of monotony sets in. It is, in fact, to escape this monotony that many pilots through their careers opt for ground duties.
"Just flying endlessly becomes a bit mindless over a period of time. Even the thrill of handling the aircraft single-handedly dims after a period," says a senior commander with Jet Airways.
Arati Saini -- who worked as a commander with a full-service carrier before moving to an LCC two years ago -- says she was spending 12-15 days in a month out of the house and this was throwing her personal schedules haywire.
Even though she opted for less flying (a contract that required 60 hours over 21 days), she still found she was spending too many nights outside the house.
"This may work fine for co-pilots -- young, unmarried and yet to start families -- but it becomes a problem for commanders with families," she explains.
In addition to this, another factor is adding to the stress of pilots.
Many of the low-fare carriers -- IndiGo in particular but even SpiceJet and others -- have seen fairly rapid capacity growth in the last two-three years. To keep pace with the growing demand, aircraft and routes are being added almost on a daily basis.
But the rate at which commanders can be added is much lower. As a result, a lot of the commanders are pulled in as reserves and stand-bys.
So, if a pilot is on reserve on a particular day from say 5 am to 3 pm, it effectively means he can't do much else as he can be called in to operate a flight just 1-2 hours before he actually flies.
"Commanders and senior first officers are at a premium as you cannot churn them out at the same rate as you can add planes," explains Shakti Lumba, an industry expert.
This is what is behind the move by airlines to increase the pilot's notice period to one year, an absurd stipulation as most people in the industry agree.
What then is the solution to some of these problems, since the nature of the job is tied to the nature of the business?
Pilots and commanders say that a more "humane" approach towards them would go a long way.
"The aircraft is a machine but we are not," says a senior pilot, who feels that the attitude of the management has in the past often been adversarial, although it is slowly changing.
Alternating the schedules and adjusting them to ensure that one day with four departures and landings is followed by the next one with only two departures and landings would help after the 15-hour rest.
"It all comes down to better planning by someone who is willing to understand the problem by stepping in the pilot's shoes; not by someone who wants to dictate terms as it often happens," says Lumba.
The joy of flying must be a factor that is kept in mind -- not just for passengers but the pilots as well.
(Names of pilots have been changed to protect their identity)