The founders of IndiGo may have thought it's time to go for a rejig of the top leadership team which can take care of the growing demands of an airline that has grown much bigger than they could have ever imagined, says Shyamal Majumdar.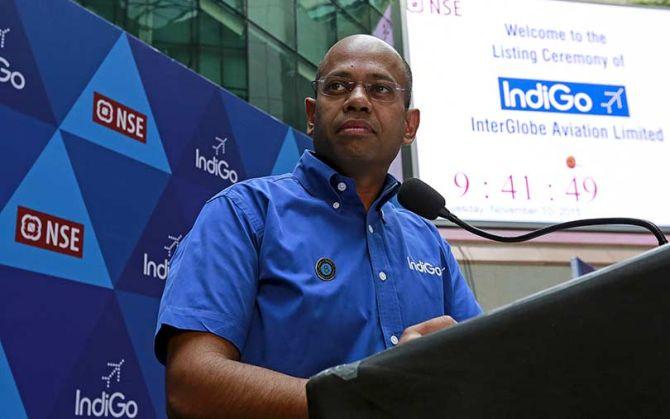 It is unrealistic to expect that the exit of a high profile head of India's largest airline can happen quietly.
So the noise surrounding Aditya Ghosh's resignation from IndiGo, an airline he served as president for close to 10 years, was quite natural.
Though the noise has been described as "drama" by Ghosh and "unfair" by IndiGo founder and interim CEO Rahul Bhatia, their media statements did little to shed any light as they refused to go beyond denying media speculation about the actual reason for the sudden exit.
There are several reasons for the questions that followed Ghosh's resignation.
For example, the IndiGo media statement recently said Gregory Taylor has been appointed senior adviser and will take over as the new CEO once regulatory clearance was received.
Taylor, who was earlier the executive vice-president of revenue management and network planning at the airline, had quit in February this year and left the country.
The question is, what happened between February and April that prompted IndiGo to bring him back -- this time as Ghosh's successor?
The second question pertains to the appointment of many key people in quick succession in the months leading to Ghosh's exit.
The buzz was that these new executives were taking over the decision-making, bringing about a cultural change and leaving little for the incumbent management.
For example, the latest joinee, Wolfgang Prock-Schauer, was appointed chief operating officer in January.
IndiGo has justified these appointments by saying that the airline is preparing to launch long-haul flights and the experience of these expats are crucial.
But many say bringing in people from vastly different backgrounds may not build a cohesive team, especially if the person they are supposed to report to, has had limited say on their appointments.
Most of these expats have a formidable global experience behind them.
For example, Prock-Schauer is an industry veteran of nearly 40 years, having worked with Air Berlin, Austrian Airlines, Jet Airways and GoAir (as CEO).
Taylor is also an industry veteran of 40 years and has served in various senior management roles at United Airlines and US Airways in the areas of corporate planning, strategy, network planning, fleet planning etc.
The other appointments have been Michael Swiatek as chief planning officer and Willy Boulter as chief strategy officer.
All of them also have a decent understanding of the Indian aviation market.
Therefore, it would have been difficult for them to have worked under Ghosh for long -- a fact IndiGo promoters couldn't have been unaware of.
Though Ghosh has been integral to IndiGo's success, his experience in aviation is just 13 years.
It was in 2005 that InterGlobe started its aviation project.
The other tension point could have been the series of missteps by IndiGo in recent times.
For example, in the last few months the airline has had to ground several planes -- at one time 11 -- and cancel several flights, over 900 in the second half of March, on account of engine glitches in its A320 Neo fleet.
Some cases of IndiGo aircraft being forced to do emergency landings on single engines went viral on social media.
Far worse was the incident of IndiGo ground staff manhandling a passenger on the tarmac.
The airline sacked the whistle-blower on the pretext that he had instigated the assault and refused to tender an apology.
Ghosh relented later, but the damage was already done.
The airline was also embroiled in an unneccesary legal battle with the Delhi International Airport (DIAL), which had directed airlines to partially shift their flights to Terminal-2.
For some inexplicable reason, IndiGo took DIAL to court, but lost the case.
And then, a Parliamentary Committee report was harshly critical of its services.
These are examples that do not point to a CEO who is firmly in command.
There is no doubt that Ghosh had a phenomenal connect with the people (he knew most employees, including junior ones by name) and played a stellar role in the success of IndiGo.
But the founders may have thought it's time to go for a rejig of the top leadership team which can take care of the growing demands of an airline that has grown much bigger than they could have ever imagined.
Photograph: Danish Siddiqui/Reuters.