A century-old company -- that started as an infrastructure provider for large religious gatherings like the Kumbh Mela -- has expanded its role to keeping the premises of such gatherings litter-free.
Sneha Bhattacharjee reports.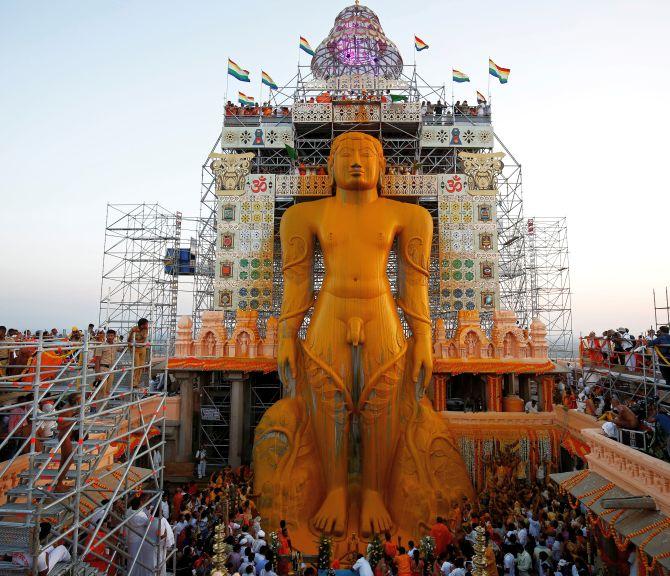 IMAGE: From cleaning, lighting to all civil work related to the mega religious event, Lallooji & Sons was in charge at the Mahamastakabhisheka of the Gomateshwara statue in Shravanabelagola, Karnataka in February. Photograph: Abishek N Chinnappa/Reuters
In India, litter, garbage and other means of causing pollution are synonymous with any mass gathering, especially if it is a mega festival.
Setting off crackers during Diwali which leaves roads and public places littered with debris, what to say of the pollution caused by smoke, garbage produced after and during Durga Puja celebrations and the innumerable small festivals and ceremonies taking place in every locality...
India hosts so many festivals, a Swachh Bharat Abhiyan is needed every day.
In the circumstances, people who try to ensure a hygienic temple premise, litter-free organisation of festivals, seem like manna from heaven.
One such century-old organisation is Lallooji & Sons.
Incorporated in 1920, and headquartered in Lucknow, LSJ has been at the forefront of organising the Kumbh Mela as well as the Magh Mela.
Micro-managing the event, right from the structural management of the tents and stay area, to the cleanliness and maintenance of hygiene inside the premises, LSJ has evolved from just being an infrastructure company to an event management firm.
"We began by providing just the basic infrastructure facilities for organising festivals on a large scale," says one of its founding partners, Suneel Kumar Agarwal, adding "with time, we realised that was not enough and we needed to expand our reach."
This year, LSJ added one more mega festival to its responsibilities -- the Mahamastakabhishek held at Shravanabelagola, Karnataka, that attracted lakhs of visitors from across the country.
Considering the scale of the festival, it was also expected to generate tonnes of garbage and filth.
No one municipal corporation has the capacity to address this order of garbage clearance. So this time, the government decided to keep the event as clean and sacred as the place.
From cleaning, lighting to all the other civil work related to the event, over 350 people were hired from Uttar Pradesh and Madhya Pradesh for the task at Shravanabelagola.
For this, LSJ set up temporary townships across 13 cities and towns, and involved housekeeping staff from all these 13 places.
With over 700 large bins placed across the town to collect the waste, experts were hired for taking up the task of ensuring safe and convenient disposal of the collected waste.
Does such a large-scale work pose a challenge for LSJ? Not really, says Agarwal.
"We have been doing this work for nearly 100 years. The workspace and area might change but not the quality and effort we put in," he adds.
"Everything is systematic and streamlined. We just allot the work taking everybody into account from across the country," says Agarwal.
Accountability is what makes LSJ stand out.
From the Rann Utsav in Gujarat to tourism and educational expos and fairs across the country, LSJ has made its presence felt with the help of high-class infrastructure that includes German-aluminium hangers, octonorm, hanger superstructures as well as its dedicated workforce that is based across India.
So, what has indeed changed from the way festivals were organised before and now?
"Not much," says Agarwal. "We still have to bid for tenders against small-scale competitors. It is just that we now not just provide infrastructure at the event, but are wholly involved in organising it right from scratch."
While keeping a big event place neat and clean, especially when VVIPs and religious leaders are visiting, is a challenge, Agarwal feels it is their years of experience in handling mega events that makes them sail through smoothly.