'One out of three phones sold in India is a Xiaomi phone,' Mi India MD Manu Jain tells Peerzada Abrar.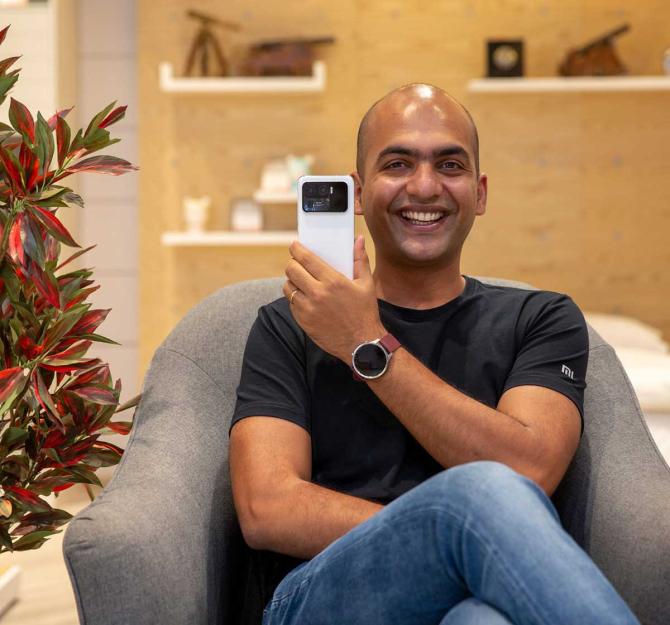 A year ago in March, Manu Jain, 41, vice-president, Xiaomi and managing director, Mi India, had a meeting with the board members of Xiaomi, the third-largest smartphone manufacturer in the world by volume.
He was there to present the company's quarterly plans to the top executives including the founder chairman.
After presenting the plan for India, Jain was asked if he foresees any impact of the coronavirus pandemic on the Indian business. Surprisingly, he stood up and said that he doesn't.
"I must say now, that I was completely wrong," says Jain.
Within 10 days, the lockdown was announced in the country. From selling more than 10 million phones every single quarter, Mi India's (Xiaomi) business came down to almost zero.
"From doing millions of dollars worth of business it came to a standstill," says Jain.
Everything got shut down including Xiaomi's more than 2,000 service centres, over 3,000 exclusive retail stores and its factories and call centres.
"When something drastic like this happens, it is extremely disturbing, I didn't know whether our business would ever go back to where it used to be," says Jain.
There were a lot of concerns among employees related to retaining their jobs, salary freeze and pay cuts. This created a lot of anxiety for Jain and the leadership team.
"It was a very tough time," says Jain. "I went through a lot of emotional ups and downs."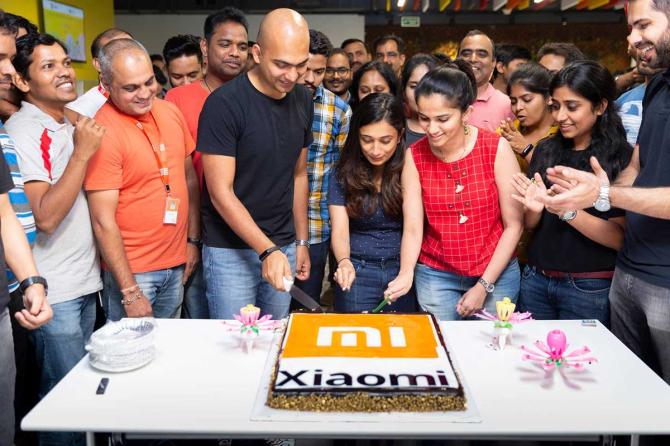 But the pandemic turned out to be the biggest leadership test for Jain.
Under his leadership, the company announced that no matter what, it would not ask anyone to leave the company or take a pay cut. This created calmness among employees and they were super motivated to do even better.
Jain said this was one of the key reasons that Xiaomi was able to scale up even during the pandemic.
The firm already had three manufacturing plants in partnership with Taiwanese manufacturing giant Foxconn and American-Singaporean manufacturer Flex. It added two new manufacturing plants by joining hands with new partners DBG and BYD.
In the middle of the pandemic, it started local manufacturing of many new components like camera modules, back panels and batteries. The firm also set up a new manufacturing plant to locally produce smart TVs in partnership with Hyderabad-based Radiant Technology.
"A lot of this work went on in the middle of covid because we assured people that we are there to take care of them, no matter what," says Jain.
"I think people just did wonders when they were at peace. They really put in their heart and soul in making this happen."
The entire team pulled it through and made the firm's business even stronger than it used to be one year ago.
To appreciate the work done by employees in a tough year, Xiaomi has rolled out a hardship allowance which is an extra half month of salary for everyone in the company for the full year 2020. This is over and above the regular bonuses.
Besides the pandemic, another big challenge the company faced last year was anti-China sentiments and campaigns to boycott Chinese products.
Jain declined to comment on the geopolitical situation, but said that the company is as Indian as it can be. He said the entire team including the leadership in the country are all Indians.
The firm has generated employment for 60,000 people and 100 per cent of its phones and smart TVs are now locally manufactured in the country. Also, the majority of the components are made locally.
The company has a big research and development team in the country. It is also moving a lot of R&D resources to India. Jain said the team is building innovations not only for India but for the world.
"I'm not fully qualified to speak anything on the geopolitical situation," says Jain.
When asked about assuring the users about data security and privacy, Jain said that six years ago, Xiaomi had started moving Indian user data to Amazon Web Services based in Singapore and the US. Starting from 2018, the company migrated the data located in these regions to AWS servers physically located in India.
"Let me assure you 100 per cent of the data is encrypted and is located in India," says Jain.
"We have the highest standard of data security and we have been certified by third-party agencies."
Xiaomi has said that it received certifications from international third-party companies and organisations -- TrustArc and British Standard Institution --- which have certified the security and privacy practices of Xiaomi's smartphone and its default apps.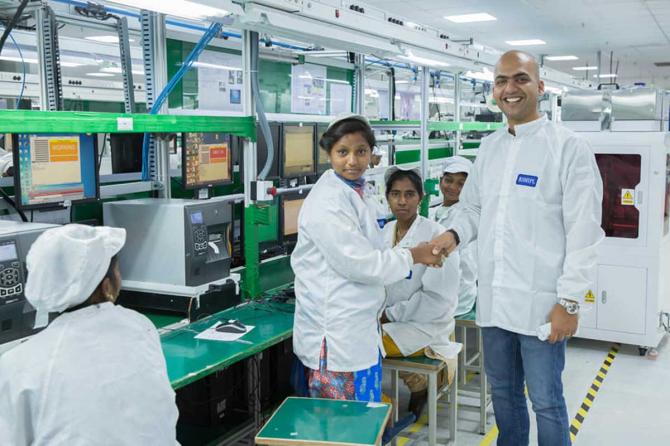 In order to boost domestic manufacturing and make the country globally competitive, the central government introduced the production linked incentive (PLI) scheme in March last year.
The PLI scheme is offering over Rs 1.8 lakh crore of incentives or subsidies to manufacturers to invest in local manufacturing.
Jain said PLI is a better scheme for boosting 'make in India' products and would enable the country to become a manufacturing hub across the world.
"We are extremely bullish on this," says Jain. The company's product components such as motherboard, camera modules, back panel, chargers, cable, battery and boxes are now locally manufactured or sourced.
He said no firm has pushed so much localisation of components as Xiaomi.
At the beginning of 2020, the firm had about 50,000 people in the country. In the last one year, it added another 10,000 people at a time when many companies were downsizing due to the pandemic.
After several years of growth, the Indian smartphone market declined by 1.7 per cent year-on-year in 2020.
Due to the coronavirus pandemic, the Indian smartphone market exited 2020 at 150 million units, according to research firm IDC. However, the need for upgrades is likely to push towards a stronger market acceleration in 2021.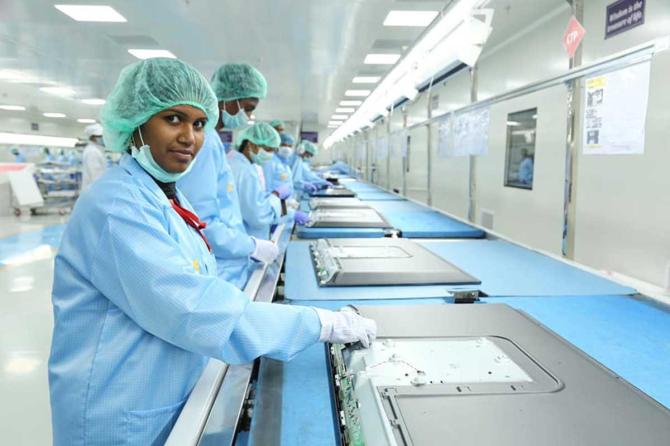 The pandemic has triggered an urgent need for devices supporting activities such as work from home, remote learning, entertainment and playing games. Xiaomi India is betting big on this opportunity.
"Smartphones have become a modern-day essential commodity after food and medicines," said Jain. "Unlike the US, Europe and China, the majority of Indians don't have access to laptops, desktops and WiFi. About 90 per cent of them access the Internet using smartphones."
India is the second-largest smartphone market after China. Also, India's digital transformation opportunity and anticipated 850 million smartphone users by 2025 have made the country a very attractive market for phone companies such as Samsung, OnePlus, Apple and various domestic brands.
Mi competes with these players.
In the smartphone category, 40 per cent of the market is online while 60 per cent is offline. Within that, Jain said for smartphones, the company has a 40-50 per cent market share in the online space and a 20 per cent market share in the offline space.
Xiaomi has plans to expand its retail presence to capture the offline market.
It is also planning to launch various Internet of Things (IoT) devices.
Over the past few years, it has been launching products such as smart TVs, air purifiers and premium laptops.
In the last six years, the average price of India's cheapest smartphone has gone up from Rs 5,000 to Rs 11,000.
There is enough demand in the market, but Jain said it would be difficult for people to stretch their budget from Rs 10,000 to buy a phone which costs about Rs 1 lakh.
He said any brand which can make quality products and make them available at a good price would win in this market.
He said the firm is leading in multiple product categories such as smartphones, smart TVs, fitness wearables and power banks, wherein each of these categories, it has between 25 to 50 market share.
"One out of three phones sold in India is a Xiaomi phone," says Jain.
At present, Xiaomi India is more focused on meeting the needs of the domestic market.
After that, it plans to work with partners including Foxconn to start exporting also in a big way. The firm has plans to scale up the number of its manufacturing plants, services centres and retail stores in India.
An alumnus of IIT-Delhi and IIM-Calcutta, Jain is a former manager at consulting firm McKinsey & Company and co-founder of e-commerce firm Jabong. He and other leadership team members had no relevant background related to the smartphone industry.
Jain launched Xiaomi's operations in the country in a small room that could accommodate just 6 team members in 2014.
In 6 years, the firm has now grown to 60,000 people who are spread across its factories, call centres, service centres, warehouses and exclusive stores.
Interestingly, the average age of employees is less than 30.
Before the pandemic, Jain used to travel a lot, sometimes taking 4-5 flights per week.
He sees pandemic as a welcoming change as he is able to spend more quality time with his family, especially his second child, who was born during the lockdown.
He now also participates in household chores like sweeping, mopping and cooking.
Jain has also set up a gym at his garage, where he exercises regularly. This has not only helped him beat the pandemic blues but also increased his focus and productivity.
"Personal health always takes a backseat as people say that they need to focus on work and family," says Jain. "But focusing on my health from the last few months has been incredibly helpful."
Feature Presentation: Ashish Narsale/Rediff.com