'Our real future is the boy in the slum and the girl in the village.'
'We need to find the voices that can empower them to lead a better life,' TED Talks' Chris Anderson tells Niraj Bhatt.
Illustration: Dominic Xavier/Rediff.com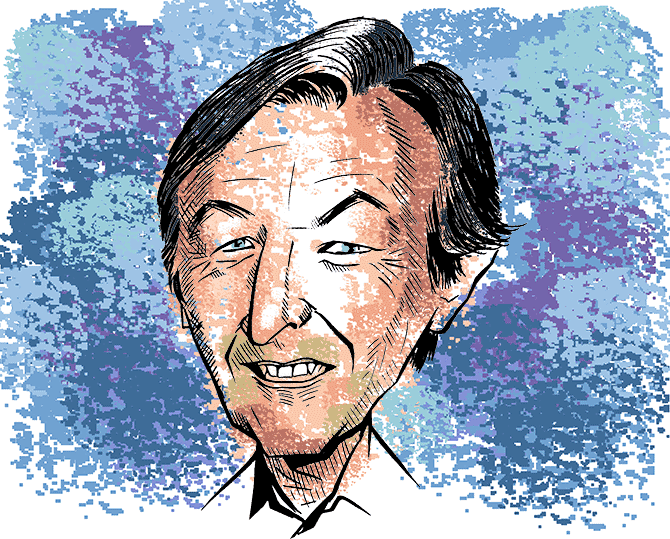 Chris Anderson has been on a 'fun journey' for the last 16 years, educating and enlightening audiences all over the world with TED Talks.
Along the way he has achieved scale any media company would envy.
From a small annual event for the elite, which Anderson acquired in 2001, TED Talks videos generate 2.5 billion views annually today.
Every year, the main TED conference and events add 300 talks while the independent, volunteer-run TEDx adds another 20,000.
The repository has 2,600 main TED Talks and TEDx, held across 190 countries, and reached 100,000 talks last month.
Mumbai was a stop in Anderson's journey to announce the launch of TED Talks India Nayi Soch on Star Plus, which unlike the regular talks, will have a host in Shah Rukh Khan.
We are meeting for breakfast at Taj Land's End in Bandra, north west Mumbai, where he orders English breakfast tea with skimmed milk, and I ask for a black coffee.
Anderson is amused that TED has come full circle -- he had tried to get television networks interested in TED Talks in 2001, but they said nobody wanted to watch 'lectures'.
On December 10, TED Talks was seen on television for the first time, and that too in Hindi.
Ideas belong to everyone, Anderson believes. An idea that makes sense in Sri Lanka probably makes sense in the UK and the US.
"I love the fact that ideas want to be free, they want to be available to all people and they are a powerful equaliser," he says.
The modest Anderson is not averse to risks; he's taken several in his life.
In his twenties, he switched from being a journalist to an entrepreneur. After having made and lost a fortune, he quit entrepreneurship for non-profit.
He put TED Talks on the Internet for free endangering conference ticket sales. Son of medical missionaries -- his father was an ophthalmologist -- in South Asia, he was born in a mud hut in Shikarpur, Pakistan.
Rather than have the children live in the Sindh desert, the parents sent them to Woodstock School, an international boarding school in Mussoorie.
"Woodstock had a big impact on me. It's a beautiful place and I loved it there," he says.
He says playing, fighting and laughing with kids from 30 different countries has made him a "global soul".
"That's what I think of myself and I wouldn't change it for anything."
The world needs more places like that for kids to have exposure to people outside their own culture. That in itself would solve so many global problems, he believes.
He joined Oxford to study physics and left with a philosophy degree. The advent of the home computer was a turning point. He bought his first home computer in 1980 and enjoyed programming on it.
"It was the most amazing thing I had owned," he says. After five years as a journalist at a Cardiff newspaper and a radio service in the Seychelles, he became the editor of a computer games magazine in 1984.
"Technology was changing the publishing industry and computers made typesetting easy," he says.
A year later, he founded Future Publishing, focused on special interest magazines such as computers, mountain biking and woodwork.
"These magazines were the Internet of that time. When a new issue came out, people would run to the news agent to buy them," says Anderson.
At the peak, Future published 150 magazines. "They could be deeply boring to everyone except the people who they were targeted at," says he.
The business was heavily dependent on technology advertising and went through a crisis after the 2000 dotcom crash.
The stock price crashed 95 per cent in 18 months and Anderson lost a huge amount of paper profits. He'd already moved to the US in 1994, as he wanted to work on a bigger playing field.
Anderson attended the TED (it stands for Technology, Entertainment and Design) conference, a small, paid-for event for an exclusive audience in 1998 and was overwhelmed.
"It was a unique unbelievable experience, inspirational in terms of exchange of ideas."
In 2001, when he found that the conference was up for sale, he bought it from the funds in his non-profit foundation, and quit Future.
"I thought I had to try and make it something. Plus it was the end of the fun, entrepreneurial days after the dotcom crash. It all came together and made sense to do this as a new chapter," he says.
Why did he change TED from a for-profit business to a non-profit?
"My parents were missionaries and I did not see a long-term future for myself as an entrepreneur making more money. At some point I wanted to do something meaningful, build a foundation with the money that had been made,=" he says.
Working slowly through his bowl of fruit, Anderson says he wanted the talks to reach a larger audience and decided to put a few on the Internet for free in 2006. It was a time of low-quality videos on YouTube, which had started a year earlier.
"We were amazed to see the response. We started getting mails saying, 'I am sitting in front of my computer and tears are running down my face, I am so inspired' and 'Your talk enabled the best conversation I have had with my daughter in 10 years'. These mails convinced me that we were doing something right."
By then there were quite a few TED Talks on the rules of the new economy and how it actually made sense to let things be free, give things away.
"Speakers like Kevin Kelly, Clay Shirky and Howard Rheingold were sharing what seemed like radical ideas and we drank their Kool-Aid and gave it a try,"? says Anderson.
Since then TED has taken on a life of its own and become unstoppable. While some people had warned him of the free videos killing the conference, the main source of revenue, it only increased demand for the conference.
Anderson's mission has been to make ideas that matter accessible.
The biggest challenge now is to leverage the low-cost broadband that is coming, where India is leading the charge.
"It is not far that every person will have easy access to a video-based Internet on a smartphone with real-time machine translation into their local languages," he says.
People are not paying enough attention to this mind-blowing shift in world infrastructure. "That means our real future is the boy in the slum and the girl in the village and what do we have for them. We need to find the voices that can empower them to lead a better life," he says.
Suddenly you will have seven billion minds available to do good for the world or the opposite; there's a lot of dangerous material online and a possibility that they get exploited online.
The opportunity for TED is to have the talks in hundreds of languages. "TED Talks in Hindi is a huge first step for us, it is one reason why this partnership (with Star TV) is so attractive," he says.
Does he understand Hindi? He first says no, and then "thoda sa.
"I have a special attachment for this part of the world, and have come back many times," he says.
He is happy to tag along with his wife Jacqueline Novogratz, whose impact investing fund Acumen has funded several businesses in India targeted at poverty alleviation.
"Her work is amazing, she is the star between the two of us,=" he says.
I ask him what he does when he is not changing the world. He laughs and says he does the occasional binge-watching on Netflix, enjoys nature, hiking, biking, sailing, golf, chess and bridge.
A cricket buff, Anderson would root for the Indian team in England. The man who has spotted all the tech waves accurately exclaims, "T20 has made cricket so interesting."