'The focus on easier access and faster delivery is creating a new consumption pattern that allows consumers to satisfy their last-minute cravings and restock essentials at the click of a button.'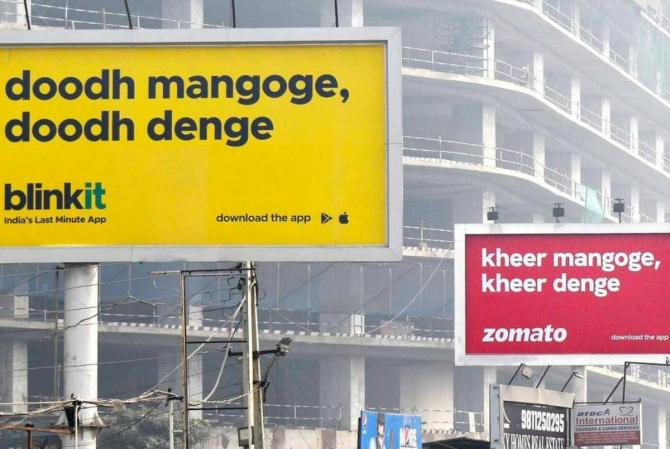 Once thought of as a passing fad, quick commerce might have just turned the corner to become a revenue generating business.
The Blinkit numbers shared by Zomato recently are a case in point: The growth in revenue per order has led to higher overall revenue growth of 28 per cent quarter-on-quarter in Q3 FY23.
Also adding steam to the company is its advertising model.
In the third quarter results, Blinkit CEO Albinder Dhindsa said the platform had become a preferred destination for over 500 brands for advertising and engagement.
"These brands, large and emerging, use us to build brand awareness and to also push their sales on the platform with performance advertising," he added.
Zomato-owned Blinkit is one of the early players to double down on a brand-focused approach.
Its management is of the view that going forward, the advertisement income will be a key driver of its revenue.
After launching its own self-serve advertising platform – Blinkit Brand Central -- in December 2022, the firm has also launched a facility for brands on its app to create custom pages and promote products.
Using 'Brand Stores', sellers can track the real-time performance of products, highlight them and create their own designs.
The brands can also look at real-time analytics around the performance of their pages, and create content and sections according to relevance or customer preference.
This is proving to be a win-win for both the platform and the brands.
What's also working for quick commerce is that it is geared more towards 'low-involvement' products such as groceries, fast moving consumer goods (FMCG), electronic accessories, etc, where customers are not necessarily looking to spend a lot of time comparing a wide range of products or features.
"Though discounts are not high in quick commerce, we have seen good traction for biscuits and namkeens," Mayank Shah, senior category head at Parle Products, told Business Standard.
"The price points that see high demand on these platforms are between Rs 20 and Rs 70. Currently, quick commerce makes for one per cent of Parle Products sales," he added.
"The focus on easier access and faster delivery is creating a new consumption pattern that allows consumers to satisfy their last-minute cravings and restock essentials at the click of a button," said a PepsiCo India spokesperson.
"Our range of salty snacks, carbonated soft beverages and juices operate in the impulse buying categories, making quick commerce a preferred choice."
Quick commerce is also lending itself as a medium for diverse launches -- and allowing for consumer trials of newly launched products.
"Our latest launches have been well-placed across the new and emerging quick commerce platforms, with specific limited-time-offers and multi-packs catering to bulk buying during celebratory and gifting occasions," the PepsiCo India spokesperson said, adding, "It is a channel of hyper growth and increasing consumer adoption, and PepsiCo India will continue to unlock the opportunities it offers."
Cost versus benefits
Despite the advantages of performance advertising and quicker deliveries, advertising on quick commerce platforms comes at a much higher cost.
"The advertisement costs are 25-30 per cent higher on quick commerce compared to ecommerce platforms, making them among the most expensive," Parle's Shah said.
That said, using the quick commerce model, brands can get insights into consumption trends at a hyperlocal level, which allows them to micro-target relevant audiences based on specific brand positioning.
Furthermore, quicker deliveries allow brands to be closer to their products's 'point of consumption'.
"Brands have been using Blinkit effectively for new launches as they are able to create a buzz around the product with a faster feedback loop," Dhindsa said.
"Overall, we believe that quick commerce will help brands do more targeted marketing and get better ROI on their investments," he added.
"We expect advertising to be a significant driver for increase in revenue per order."
Reducing burn
Since funding has slowed down in the sector, quick commerce firms are exploring other ways to reduce burn and improve margins.
Vinod Murali, managing partner at Alteria Capital, a venture debt firm that has made investments in Dunzo, believes that businesses need to improve their revenue while concurrently improving margins as well.
"This can be achieved by having a more efficient supply chain of goods, by improving logistics and warehouse management, and by managing distribution channels better."
"With respect to our last-mile costs, there is this low rewards perception right now that faster deliveries lead to higher delivery costs," Aadit Palicha, CEO, Zepto, told Business Standard.
"We are seeing the opposite. If we keep distances short, with our riders making deliveries in the range of 1.7-1.8 kilometre, we can do more deliveries per hour per item and drive lower last-mile costs in a sustainable manner."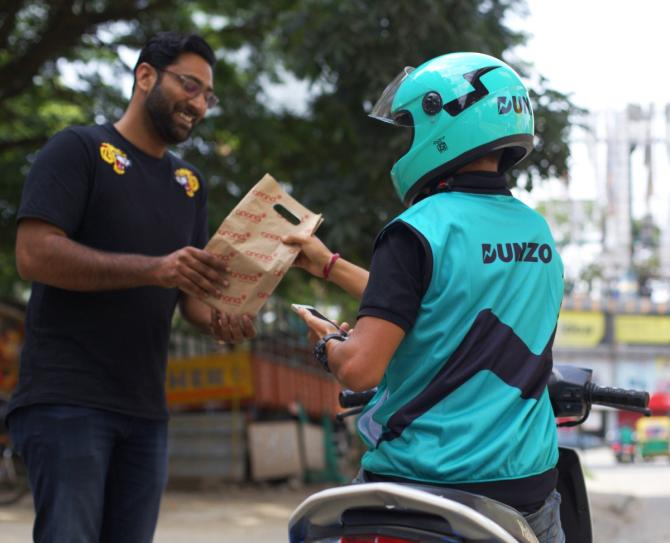 Path to profitability
Besides putting in place out-of-the-box initiatives such as Blinkit's, experts say quick commerce firms need to focus on scale to turn profitable. This is precisely what many firms are doing.
After strategically shutting down some unviable dark stores, businesses are looking towards expansion in an attempt to build scale.
"Currently, we believe that we can comfortably grow our dark store count (for Blinkit) by about 30-40 per cent over the next 12 months," said Akshant Goyal, chief financial officer, Zomato.
"This will also depend on our ability to find the best and most cost-effective locations for these stores."
Goyal said the company was looking to open stores "in high-potential areas based on the data our systems generate, the management bandwidth and time to supply creation".
Many of Zepto's dark stores, too, are now on the path to profitability.
"We are seeing better unit economics by the day because our supply chain execution is good, and we are launching dozens of dark stores every quarter," said Palicha.
Dunzo has also seen its dark stores turning profitable.
"In the last few months, our stores/micro-fulfilment centres that have completed six months of being online have turned profitable," said a Dunzo spokesperson.
"As more centres turn profitable, we will take those profits and invest them back into the business, leading to growth across other centres, which will turn profitable at a higher scale."
Zepto's Palicha said profitability is a function of execution and the level of depth a company can build on its supply chain.
"I think the model itself is challenging. It requires best-in-class operational discipline," he said.
"If you have that, it ends up becoming a very profitable model. We are seeing that in our mature dark stores."
Feature Presentation: Rajesh Alva/Rediff.com