The BJP's manifesto for UP elections promised many things. But, given the state's precarious financial position, fulfilling these promises is likely to prove tricky, says Ishan Bakshi.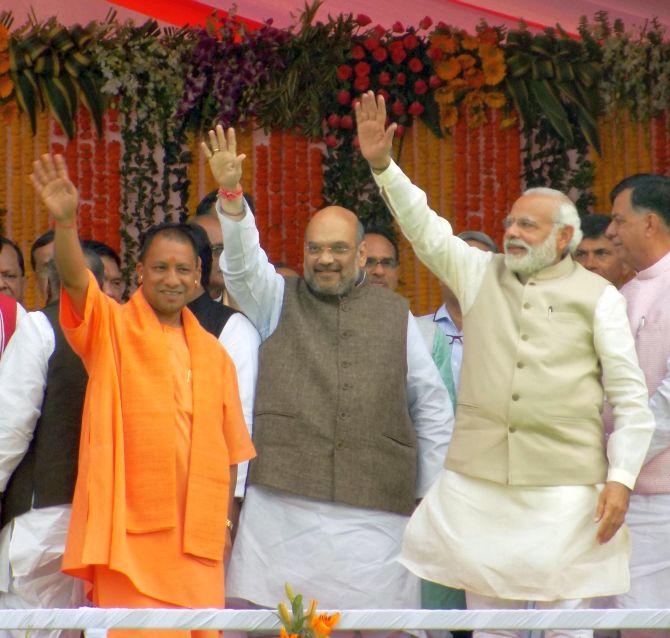 IMAGE: UP Chief Minister Yogi Adityanath with Prime Minister Narendra Modi and BJP President Amit Shah, soon after his swearing-in ceremony. Photograph: Sandeep Pal.
Winning Uttar Pradesh so convincingly was no mean achievement. But now comes the hard part.
With the general elections only a couple of years away, the BJP will have to move quickly on its poll promises in order to hold sway in the state.
Like every political party, the BJP's manifesto promised many things -- from farm loan waivers to free WiFi in colleges to free education. But fulfilling these promises is likely to prove tricky, given the state's precarious financial position.

The most contentious promise was the loan waiver for small and marginal farmers.

While the details of what this entails are awaited, the fundamental question is: Who will bear the costs -- the Centre or the state?
According to reports, loans worth ₹75,000 crore were extended to farmers in the state; of these, only ₹8,000 crore came from state cooperative and primary agricultural credit societies. Even if the loan waiver is extended only to the latter, the state's fiscal position may worsen.
In 2016-17, UP had budgeted for a fiscal deficit of ₹49,960 crore (4.04 per cent of the gross state domestic product, or GSDP, including the Ujwal Discom Assurance Yojana, or UDAY). But it ended up climbing to ₹55,020 crore (4.45 per cent of GSDP).
At a time when the state is also staring at its Pay Commission obligations, any additional burden is bound to be fiscally ruinous.
The state has budgeted to bring the deficit down to three per cent in 2017-18 (provisional), but if the past is anything to go by, it seems unlikely.
In 2015-16, it had projected a fiscal deficit of ₹31,559 crore of 2.87 per cent of the GSDP. But it ended up climbing to ₹58,475 crore, or 5.3 per cent of the GSDP.
The BJP manifesto has also promised a road map to double agricultural income in the state by 2022. This is in line with the prime minister's vision to boost farm incomes at the national level.
This is a challenging task.
"Income from agriculture can be increased by either raising productivity or by raising prices," says Sudhir Pawar, president of Kisan Jagriti Manch and a Lucknow University professor.
As agricultural yields in India are significantly lower than those of other countries, there is scope to boost productivity.
But the flip side is that an increase in supply -- with restrictions on exports -- could lead to lower prices, depressing farm incomes.

Economists contend this could be offset by raising procurement.
"Except in western UP, there is very little procurement. Decentralised procurement could provide the floor price," says Santosh Mehrotra, professor at Jawaharlal Nehru University.
"Incomes of small and marginal farmers can be augmented by animal husbandry," he adds.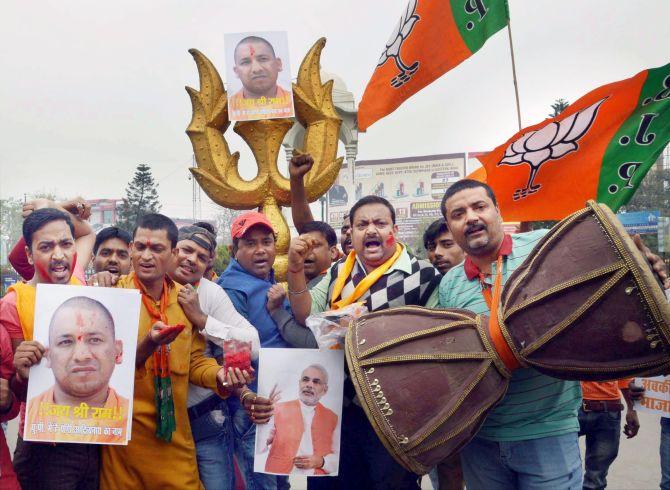 IMAGE: Yogi Adityanath's supporters celebrate his elevation to the post of UP CM. Photograph: PTI Photo.
But the larger challenge, one that confronts the country and not just UP, is how to move millions out of agriculture into more productive jobs in industry.

Jobs were undoubtedly a major electoral plank of the BJP. But the situation in UP is more severe than other states. The state hasn't attracted the kind of investments other states like Gujarat and Maharashtra have.

Industrial growth has averaged a mere 1.6 per cent over the four years, from 2011-12 to 2014-15.
Data from the department of industrial policy and promotion show that investment proposals filed through industrial entrepreneurs memorandums in the state were only 121 in FY17 (till December 2016), accounting for a mere 5.32 per cent of all nationwide proposals. The total investment proposed was ₹13,722 crore, or 3.3 per cent of all proposals.
This lack of attractiveness as an investment destination shows up in other indicators too.
No city in the state appears in the list of top 10 cities for foreign direct investment recipients.
Kanpur ranks 13.
Further, data from the ministry of micro, small and medium enterprises show that the number of entrepreneurial memorandums filed in the state grew at an average of nine per cent, from 2007-08 to 2013-14. By comparison, the all-India average was 13.7 per cent.
Experts contend there are very few industries in the state that can absorb the surplus labour moving out of agriculture. Construction is the foremost.
But, after demonetisation, the sectors's ability to absorb labour is questionable, says Pawar.
While some mobile companies have set up assembling plants, the scale isn't large enough. Other industries like auto and auto-ancillary aren't present in the state, to the extent required to boost employment.
The BJP's manifesto does promise to triple current investment in the state by the creation of an investment board. It calls for a single-window clearance department.

But given that the investment cycle in the country, especially the private investment cycle, is showing no signs of reviving, it is difficult to see how this will happen.
"Public investments alone cannot revive the investment cycle. For private investments in UP, maintaining law and order is essential," says Mehrotra.
Perhaps this is why the manifesto places great emphasis on self-employment.
IMAGE: The BJP has promised 24x7 electricity for all households in Uttar Pradesh. Photograph: Kamal Kishore/Reuters.
Another promise made by the BJP is to ensure 24x7 electricity for all households. Currently, of the roughly 30-million odd rural households, only 14.5 million have been electrified, according to data from the ministry of power.

Central to achieving this ambitious target, which entails not only connecting all households, but also providing them with round-the-clock electricity, is distribution.

"The power availability in UP would depend upon the financial health of the state power utilities (reflecting their power offtake capacity), as well as their timely implementation of capex measures for strengthening of distribution/rural electrification network, going forward," says Girish Kadam, vice-president, Icra.

While UDAY will help clean up the balance sheets of distribution companies (discoms), it needs to be supplemented by tougher, more politically contentious measures.
For one, aggregate technical and commercial losses need to be brought down.
UP has one of the highest losses in the country at 32.36 per cent in FY16. Under UDAY, these need to be brought down to 15 per cent.
Hiking tariffs is another tough decision that the government needs to implement.
But with the manifesto promising to provide 100 units of electricity to poor households at a discounted rate of ₹3 per unit, the question is who will bear the burden? Further, will tariff hikes be commensurate to power costs?

"Their (discoms's) ability to cut the distribution loss levels in line with targets and tariff adequacy remain critical for a sustainable improvement in their financial," says Kadam.

In other poll promises, too, the question of who will pick up the tab crops up.

The manifesto promises all students scoring above 50 per cent will get free education till graduation. It also promises to supply clean drinking water via pipeline to every household. Fulfilling these promises requires greater state funding.

But a look at the state's expenditure priorities shows that its spending on the social sector is in line with the national average.