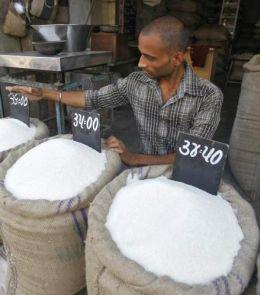 Namdev Desai, manager of a small restaurant near the ruling Congress party's office in south Mumbai, has stocked up on cold sugary drinks in the past few weeks to quench the thirst of party workers during India's ongoing general elections.
As the campaign picks up pace in the scorching summer heat, sales of these drinks will soar, potentially boosting demand for sugar in top consumer India to a record high this month.
At the same time, the surge in demand for sugar would divert supply away from exports and support global sugar prices that have shed more than 5 per cent so far in April.
Consumption of cold drinks and ice cream, and as a result demand for sugar, rises in India during the summer months that run roughly from March to June.
But this year, demand has been higher as political parties hold huge rallies, some attended by as many as 300,000 people, undeterred by a sweltering heat that can top 40 degrees Celsius.
"There is always some or the other function and party workers crowd this area.
They buy cold drinks as those are cheaper than juice," said Desai, whose restaurant Vasant Sagar is currently selling as many as 150 bottles of cold drinks per day, versus 30 to 40 bottles typically.
"During functions, I sell 100 in an hour."
Local sugar prices have risen above the cost of production for the first time in a year on the strong demand, but this has hit exports of the Indian sweetener which is now more expensive than supplies from Thailand and Brazil.
India is the world's second-biggest sugar producer after Brazil and has been looking to offload a surplus in an already well-supplied world market.
"India's sugar demand will remain buoyant till May end. We have elections for another month and then the wedding season demand will kick in," said Ashok Jain, president of the Bombay Sugar Merchants Association.
Traditional Indian sweets, as well ice creams and cold drinks are served at wedding feasts in India, where the marriage season peaks in May.
Jain expects the country's sugar demand to hit a record high in April, up at least 10 per cent from about 2.1 million tonnes in the same month a year ago.
India's sugar millers, such as Sakthi Sugars and Shree Renuka, have seen their orders race ahead in the run up to the elections.
"There is a lot of political activity going on and we have been receiving higher orders. I think there is room for sugar prices to go up even more," M. Manickam, executive vice chairman of Sakthi Sugars, told Reuters.
Near record election spending
Sugar prices are likely to continue rising as the political parties jockey to attract supporters.
"Campaigning in summer is not an easy task. You need to take care of party workers.
You have to provide food and beverages otherwise no one will campaign for you," a leader from the Bharatiya Janata Party (BJP) from Maharashtra said, declining to be named.
Indian politicians are expected to spend around $5 billion on campaigning for the election, a sum second only to the most expensive U.S. presidential campaign of all time.
"They give everything free. Cold drinks, food. It is one of the reasons why I campaign," says 18-year old Faizal Shaikh as he shouts "Abki baar, Modi sarkar (this time, Modi government)" in a slum district on the outskirts of Mumbai - referring to Narendra Modi, prime ministerial candidate for India's main opposition party, the BJP.
Millers emerge winners
Sugar millers such as Shree Renuka, Bajaj Hindusthan, Balrampur Chini Mills and E.I.D-Parry have emerged as winners as the price of the sweetener has soared.
Indian sugar prices have surged over 10 per cent since early March and reached a 14-1/2 month high on April 4.
Mills in top sugar producing state Maharashtra are selling sugar at 5 per cent above the cost of production this month, flipping to a premium for the first time since January 2013.
The higher prices should help Balrampur and Shree Renuka return to profits for the March quarter, said Achal Lohade, vice president, research at JM Financial Institutional Securities Private Ltd. After posting losses for 2013/14, most sugar companies would book profits in 2014/15, Lohade added.
Balrampur shares surged 20 per cent and Bajaj Hindusthan by 25 per cent in March, outstripping a 6 per cent gain in the main index.
Indian sugar mills had been previously struggling to make cane payments to farmers as sugar prices were depressed due to surplus output for a fourth straight year. The government had even offered payments for raw sugar exports to cut inventory.
But the spike in sugar prices will curb new export deals.
"Exports are not happening. There is no parity. Exports are not possible unless we see a sharp rise in international prices," said Manickam of Sakthi Sugars.
India is offering white sugar at around $493 per tonne free on board, versus offers from Thailand at around $460 for comparatively better quality white sugar, dealers said.
With the stronger demand, ice cream and cold drinks makers will have to buy more sugar in the coming weeks.
"Stockists are bullish about sugar prices. They are building inventory expecting a further rise," said Jain from the Bombay Sugar Merchants Association.