'After household expenses, we are left with nothing...'
'Sometimes I think it is better to shut the store...'
Alison Saldanha/IndiaSpend reports on how demonetisation and now GST have hit small businesses in areas near India's commercial capital.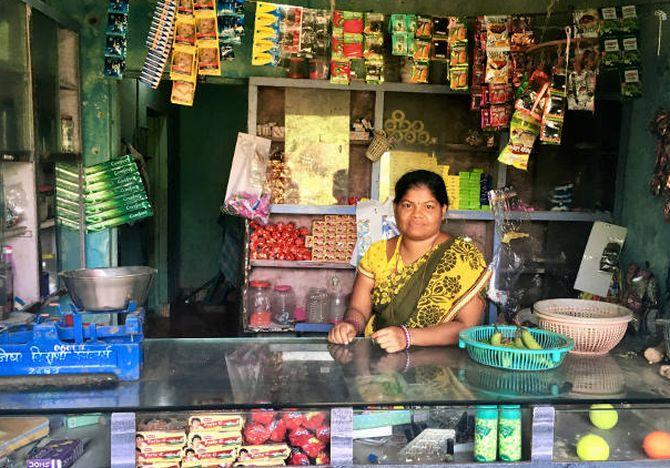 IMAGE: Lalita Yogesh Patil, 31, in her shop, Tanish Kirana Store, in Vishwabharti Phata village, Thane district, Maharashtra. Since demonetisation a year ago, her store has been in losses of 50 per cent and more. Photograph: Alison Saldanha/IndiaSpend
"Notebandi ka kya faayda hua? (What was the use of demonetisation?)" asked Lalita Yogesh Patil, her face red, voice terse and breath short.
Heaving a sigh, the diminutive mother of two sank into her withered plastic chair and said softly, "It has only brought us ruin."
It has been a year since India announced the scrapping of Rs 1,000 and Rs 500 notes -- 86 per cent of India's currency in circulation, by value, at the time.
Four months ago, a new Goods and Services Tax (GST) regime was introduced.
The government claimed that both policy actions were aimed at cleaning up the economy, modernising payment systems, and setting India on a path of prosperity.
"We used to earn Rs 10,000 to Rs 12,000 a month a year ago, now it's down to Rs 5,000 to Rs 6,000. After household expenses and what is needed to send the children to school -- pens, books, etc -- we are left with practically nothing," Patil told IndiaSpend on October 30, 2017.
At the time of demonetisation, Prime Minister Narendra D Modi promised the situation would return to business-as-usual in 50 days.
On days 54 and 55, IndiaSpend visited and reported from 24 corner shops in Mumbai and semi-urban, peri-urban and rural areas north of Mumbai about the impact of demonetisation on small retail stores.
Patil was one of the 19 shopkeepers who had reported losses of 50 per cent or more.
A year after demonetisation, IndiaSpend returned to the 24 stores to check if the situation has improved (we were able to track down and speak to 17 store owners, the others either having relocated or being unavailable at the time of our visit).
Largely, they said, the situation has not improved.
The owners of 14 stores said their stores were still running losses. During our last visit (in January 2017), 13 stores had reported losses.
Among these 14, owners of 12 stores said their losses were higher than 50 per cent, and eight said business was now worse than 10 months ago.
All shopkeepers said GST had made goods more expensive, reduced business and customer walk-ins, but their estimates for business lost ranged between 10 per cent and 50 per cent.
None of the store owners said business was better than before November 8, 2016.
All shopkeepers said fewer customers wanted to pay through cashless modes, so fewer shopkeepers have invested in non-cash payment infrastructure such as card swipe machines.
Support for the BJP among kirana store owners remains strong, despite their losses.
Nearly every shopkeeper we spoke to (15 of 17), including supporters of the BJP, said they could not see any benefit from demonetisation.
Jobs vanish, as does business
In Vishwabharti Phata, off Kawad highway in Thane district, Patil runs the tiny Tanish Kirana Store, which is attached to her pucca house flanked by rice fields, a few hundred metres from the village centre.
We visited at noon. Her sons, Harshad (11) and Tanish (6), were playing a game of marbles on the porch.
Inside the store, half-empty jars lay scattered across empty shelves.
Patil's husband's death in a motorbike accident in 2012 had forced her to close down the store. She reopened it two years ago, after having tried her hand at working in a chocolate factory.
"I was earning Rs 6,000 a month, but was spending Rs 50 a day to travel to and fro. It made no sense," she said.
The shop had just begun to do well again when demonetisation hit and Patil's income dwindled.
Four months later, in March 2017, she was diagnosed with a spinal condition, and was forced to borrow Rs 20,000 from her brother for treatment.
"I haven't been able to pay him back yet," she told IndiaSpend, adding that she has to incur further treatment-related expenses every two weeks.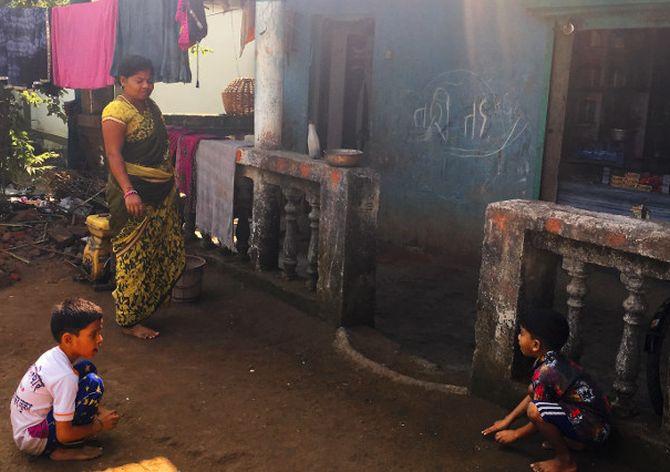 IMAGE: Lalita Patil and her sons Harshad and Tanish outside their home and the attached shop. Her family of three is entirely dependent on the shop's earnings. Photograph: Alison Saldanha/IndiaSpend
Patil's shop would have enabled her to afford treatment were it not for demonetisation, she said.
Her most regular patrons were local Adivasis employed by small businesses in the area. Hit by demonetisation, these businesses downed shutters and laid off workers, so Patil's regular business disappeared.
Since November 9, 2016, she has suffered 65 per cent losses, Patil estimated.
Losses pile up
In conversations with IndiaSpend, 14 of the 17 store owners we revisited said they were facing losses, one more than in January 2017.
Among these, 12 said their losses amounted to 50 per cent or more, and eight said their businesses were now doing worse than 10 months ago.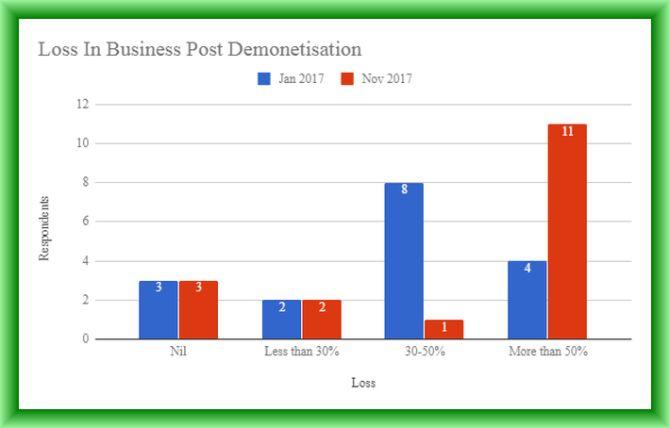 Source: IndiaSpend interviews
Three of the store owners who now admit losses had told IndiaSpend during our previous visit in January 2017 that their businesses had not been affected by demonetisation.
None of the 17 revisited stores said earnings were now better than before November 8, 2016.
Four kirana store owners said business had improved slightly by June 2016, but the gains had been quickly lost with the introduction of GST on July 1, 2017.
"Business was improving before GST came in. Now any chances of profit have been completely ruined," said Jagdish Chaudhari, a 23-year-old kirana store owner in Kupari Naka, Virar, a rural fringe of the Mumbai Metropolitan Region.
In January 2017, Chaudhari's brother Chaganlal, an avid BJP supporter, had said business had not been greatly affected by demonetisation.
Now, the family told IndiaSpend, the shop's losses amount to 50 per cent. "Earlier, if the maximum retail price was Rs 10, companies would sell to us at a discounted rate of Rs 8 so we could earn Rs 2 in profit. Now with GST we sell at the same rate we buy." Chaudhari said.
"There are no savings, no profits -- only losses," Chaudhari added.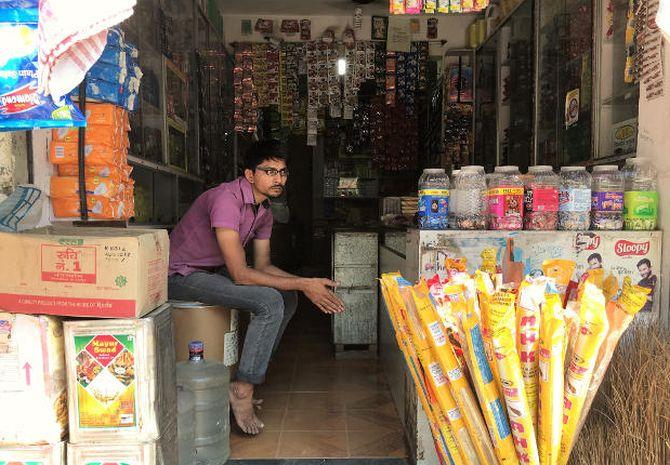 IMAGE: Jagdish Chaudhari of Poornima Kirana Store in Kupari Naka, Virar, Mumbai, said that since the introduction of GST in July, his shop's profit margin had dropped and the inflow of customers had reduced by half with many buying goods in lesser quantities. Photograph: Alison Saldanha/IndiaSpend
"Iss saal Diwali kuch khaas nahin tha (this year Diwali was nothing special), said Ramesh Kumar, 34, another shopkeeper in Kupari Naka who reports 50 per cent losses.
"I have yet to sell 80 per cent of the store's festive season stock of rawa, sugar, etc. We could not even buy new clothes for ourselves or burst crackers at home. We hardly made sweets," Kumar said.
All the kirana stores we revisited said GST had made consumer goods more expensive, leading to a drop in earnings of between 10 per cent and 50 per cent.
The waning trickle of customers for an entire year has visibly dampened spirits -- 14 of the 17 store owners said they did not hope things would get better.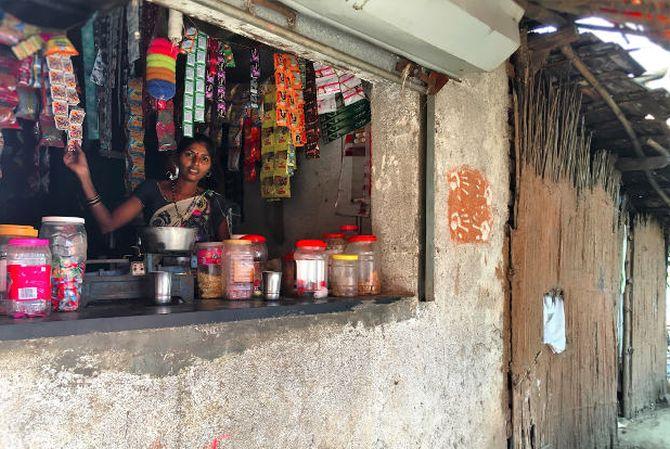 IMAGE: Farmer and kirana store owner Megha Patil mortgaged her gold to meet farm expenses.
With heavy rains ruining the crop, and the shop in losses from demonetisation and GST, she says it is now difficult to pay the interest. Photograph: Alison Saldanha/IndiaSpend
"Kabhi kabhi lagta hai ki dukaan band karke kheti mein hi kaam karna chahiye (sometimes I think it is better to shut the store and work on the farm)," said kirana store owner Megha Patil, 29, of Hivali village.
What prevents her is the fact that farming is risky too -- heavy rains in October this year washed away the bhindi (ladyfinger) crop on her land, causing losses of Rs 10,000 to Rs 15,000.
Patil mortgaged her gold to meet farm expenses, hoping to pay off the loan from the shop's earnings.
"Now we are struggling to even pay the interest of Rs 1,200," she said, sitting in her 100-square feet home, a bamboo hut patched with mud, attached with which is her 50 sq ft kirana store.
Alison Saldanha is an Assistant Editor at IndiaSpend.
Powered by

Indiaspend.org is a data-driven, public-interest journalism non-profit.