Heading Crisil would have been the peak of most people's professional lives.
But Roopa Kudva felt that was the right time to change tracks.
She tells Anjuli Bhargava about how she embraced a whole new learning experience at the Omidyar Network.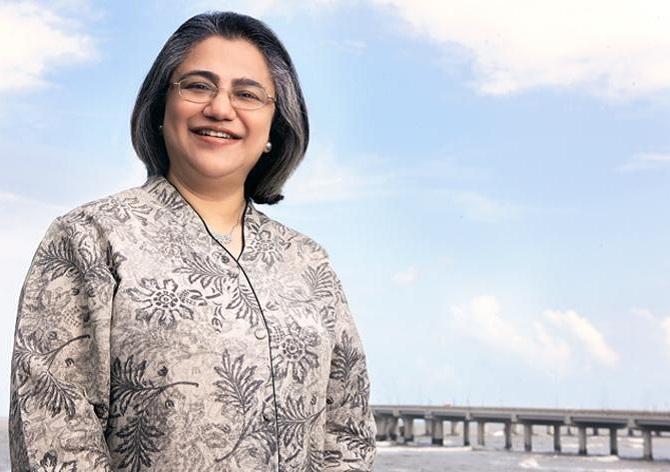 IMAGE: Roopa Kudva. Photograph: Kind courtesy Omidyar.com.
At 50, Roopa Kudva decided it was time to change tracks.
She had been the CEO of Crisil for eight years and had been with the organisation for 23 years (since 1992).
She had earned more money than she could spend, had seen the ins and outs of corporate life and worked with some of the best minds in the country.
If she continued at Crisil, where she had another 10 years to go before she retired, she would be CEO for 18 years.
"Too long for any one person to be in the saddle," she says.
She also felt that if she wanted her life to take a new direction, 50 was a good time to do it.
When she was first approached by the Omidyar Network, the US-based philanthropic investment firm, she wasn't even fully aware what impact investing was.
But it wasn't long before she understood that she could use her core skills -- strong understanding of companies -- to create positive social impact.
It's been a whole new learning experience.
Omidyar has an open office culture, unlike Crisil where, as CEO, she had a large office to herself.
Crisil had 4,000 employees, while Omidyar has 22 in India and 120 globally.
In Crisil, she mostly dealt with "companies that had arrived."
Here, entrepreneurs are by and large still struggling.
The company focuses a lot on technology, so she has to keep herself abreast of the latest developments in the tech sector.
"Ever since I joined, I am learning something every day," says Kudva.
A Maharashtrian-Konkani by birth, Kudva grew up in the Northeast since her father -- a bureaucrat -- was posted in Assam (she speaks better Assamese than Marathi).
She had a simple upbringing, where one was always "very close to nature", and an "outstanding education" due to the Christian missionary influence in undivided Assam, of which Shillong was then the capital.
Growing up in a matrilineal society, where "the social milieu was tilted in favour of women," she says she never perceived or felt any of the differences in the two sexes that she found later in life.
By the time Kudva graduated, Assam was facing its own share of problems.
She had cleared the entrance exam for the Indian Institute of Management-Ahmedabad. But back home, her final exams were put off due to the anti-foreigner agitation in the state.
Since she would not have her result in time, IIM-A refused to hold admit her.
Undeterred, she appeared for the IIM-A entrance exam again the next year and had no trouble clearing it.
During the year-long gap, she taught at a small nursery school in Guwahati. "I sometimes think I might have become a teacher as I enjoyed it so much," she says.
But life had different plans for her.
'Sometimes when I see young children today, planning five years ahead, I can't understand how they can be so focused.'
After graduating from IIM in 1986, she joined IDBI -- at the time a development bank -- where she spent six years and learnt the complexities of project finance across sectors.
It gave her a sound understanding of companies and their financials.
In 1986, Kudva had married a batchmate, a banker with a transferrable job. She had requested IDBI for two postings already and when in 1992, she asked for a third one to Bengaluru, the organisation sounded a bit iffy.
Then one day, she chanced upon an article in BusinessWorld about how Pradip Shah was trying to bring the concept of credit rating into the country.
In the interview, he had mentioned that it was opening an office in Bengaluru. "And I said, 'Aha, this sounds promising'," she recalls.
A week later, while on a consortium meeting in Bengaluru, she walked into the Crisil office. She had no prior appointment, but Shah happened to be there and met her.
For the next 45 minutes, he explained what it was attempting to do, and as she was leaving, she asked if he'd be interested in someone like her for the job.
That was the beginning of Crisil for Kudva.
"Completely unplanned and more by happenstance than anything else," she says.
It was the beginning of a new era. Crisil at the time was a non-hierarchical, young organisation.
"The most important decisions in the company, like rating, were made in an open forum," she says.
Anyone could walk in and attend a rating meeting and "I found that so empowering."
She was 29 when she joined. At 43, in 2007, she became the CEO of the company.
Crisil grew and diversified: it went global, research centres were set up in Argentina, Poland and China; it introduced an affordable rating for small and medium businesses.
It was also the first rating agency in the world to launch an IPO in 1993.
'People flit from job to job the moment the prospects seem brighter, but to my mind, companies still value and reward loyalty.'
Her career took the shape it did more by chance than anything else.
"Sometimes when I see young children today, planning five years ahead, I can't understand how they can be so focused," she says.
But then, she adds, her generation (those who made their careers in the 1980s and early 1990s) was the most fortunate.
"I think no other generation saw this kind of uplift in its economic trajectory and, to my mind, probably no other generation in the future will see it either."
Children today have far more opportunity, but the delta from the starting point to the end of their careers might not be what we have seen, she says.
To her mind, people grossly underestimate the luck factor.
Of course, you have to be smart and work hard, but a lot of it is "being at the right place at the right time."
She says Crisil grew and everyone who was there "grew with it."
She argues that payoffs of sticking to your job and putting in a long service are also underestimated today.
"People flit from job to job the moment the prospects seem brighter, but to my mind, companies still value and reward loyalty."
Kudva also says she couldn't have reached where she did without the support of her equally successful husband, who heads some of Franklin Templeton's businesses.
She says despite the fact that she often asked for transfers to follow his postings, the couple managed to draw a good balance between her and his career.
Not having children has been a conscious choice, but not one she seems to regret.
"I often say in a lighter vein that I am still learning to take care of myself," says Kudva.