Anjuli Bhargava finds out that an astonishing number of relatives of DGCA officials over the years are and have been employed in the airline industry.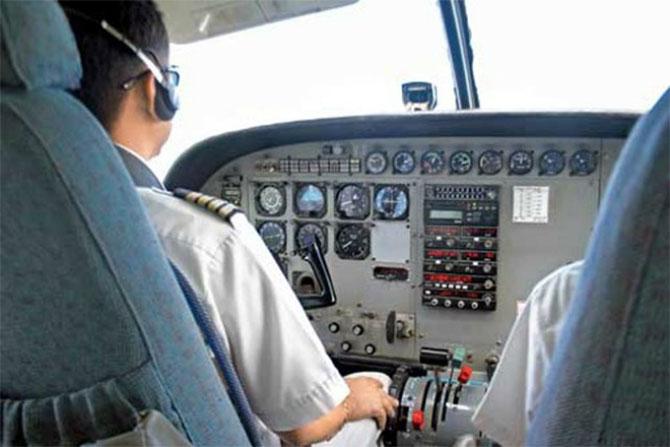 Airline pilots in India and the aviation industry in general had a busy time last week.
In addition to their normal duties, many of them were engaged in a battle with senior Directorate General of Civil Aviation (DGCA) officials including joint DGCA Lalit Gupta, DGCA B S Bhullar and other officials of the aviation ministry.
My own email and WhatsApp had so many messages, videos and even photographs, it was akin to witnessing the incidents like a fly on the wall.
I have to say colourful language is not the preserve of only the pilots; the DGCA side didn't do too badly either.
I'll quickly sum up what happened. DGCA came up with a proposal to increase senior pilots' notice period (upon resignation) from the present six months to one year and invited feedback on it.
A senior pilot wrote to protest the move and a bunch of other pilots signed on.
The pilot addressed the letter to Lalit Gupta, joint director general and a senior official of the DGCA, but had inadvertently mentioned a wrong designation.
Mr Gupta reacted rather unexpectedly to the letter and argued that he couldn't take the feedback of someone who got his designation wrong - as if his designation was more important than the matter at hand!
The matter escalated through WhatsApp, videos and messages through various social media and soon enough most pilots were enraged over what was described by many as his "high-handed" behaviour.
Pilots - a colourful lot - used some of the choicest expletives to describe Mr Gupta on various media platforms. On social media - being the animal it is - things soon leaked.
Mr Gupta was enraged, used his clout with the airlines (more on this later) to summon a bunch of the 34 errant pilots, lodged a complaint with the Lodhi Road Police Station and threatened them with consequences including possible arrest.
Eventually, the pilots were left off with a stern warning.
The pilots were incensed over the behaviour of DGCA officials and are in turn threatening all kinds of action including filing an FIR with the police and staging a one-day protest against the notice period proposal.
In the aftermath of the spat, many disturbing facts - of a more serious nature - have emerged.
One, the son-in-law of Mr Gupta is a pilot with Jet Airways and holds a managerial position in the airline's flight safety department. Moreover, his daughter worked for IndiGo - albeit briefly - in 2007.
Let me elaborate a bit on this. An astonishing number of relatives of DGCA officials over the years are and have been employed in the airline industry - just like in the case of Air India.
Ever since I have been covering the sector I have come across many cases and have often wondered whether this would not be a major conflict of interest.
Also, if so many relatives of DGCA officials find themselves working in private airlines, one can't help but wonder if some influence may not have been exerted to get them these jobs.
In 2010-11, an enquiry into this matter led to an investigation into cases of 20 officials whose kith and kin were employed by private airlines.
The officials had flouted service rules by failing to obtain government sanction. They feigned ignorance of the rules - God bless their innocent souls!
Penalties including two orders for suspension in service were issued at the time and an FIR was registered in one case.
I don't know what anyone else thinks but sanction or not, it seems to me that there should be a rule banning this kind of practice altogether.
If they must be in the aviation sector, they can surely work in airlines outside India.
Two, across airlines in India pilots who hold managerial positions are - for some odd reason - DGCA-approved.
This allows DGCA officials to exert influence over matters within the airline that are out of their jurisdiction.
These pilots act like DGCA moles in the airline. The other pilots are wary of them - annoying them can lead to serious problems including licence suspension and even cancellation.
Even the senior management handles these moles with kid gloves.
Three, corruption in the DGCA - legendary by now - is rife and thriving, if the photographs I received in my mail are to be believed.
Officials who earn modest salaries drive vehicles that would cost an arm, a leg and perhaps another organ or two and are to be found in the car park of the DGCA.
I'm not mentioning any names but anyone interested - including motoring enthusiasts - could go and take a look.
Photograph: Rupak De Chowdhuri/Reuters