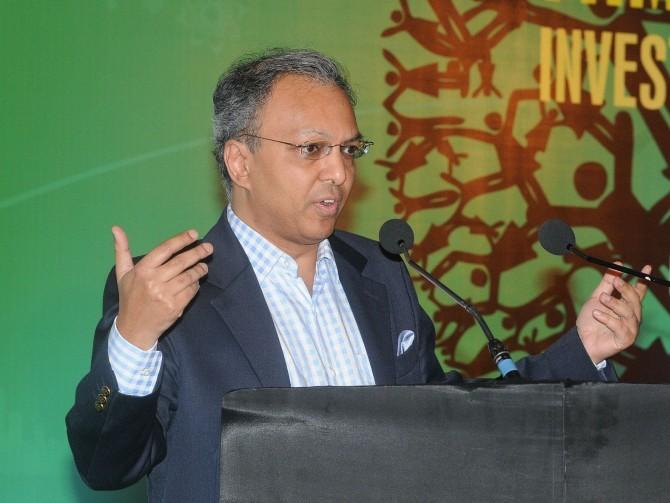 Be a fox by temperament and a hedgehog by conviction, Gaurav Dalmia tells Bhupesh Bhandari. Then, he explains why.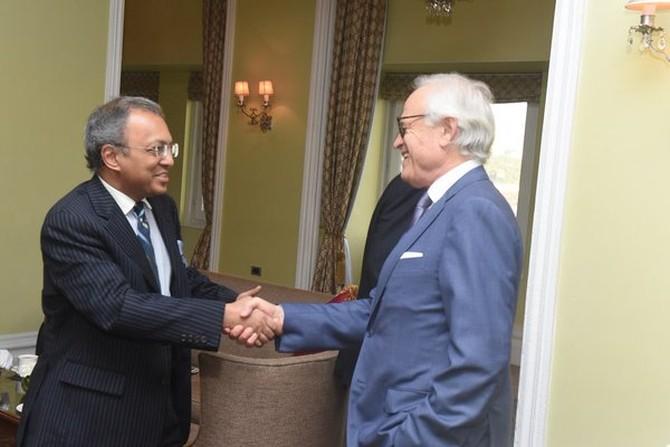 IMAGE: Gaurav Dalmia, left, with Martin Indyk, former US special envoy for Israeli–Palestinian negotiations from 2013 to 2014 and currently executive vice-president, Brookings Institution, Washington, DC.
"I am a value investor," Gaurav Dalmia says when I remark on his workman-like Xiaomi mobile phone. "It is one-seventh the price of an Apple iPhone, but with as many features."
For the 20-odd years that I have known him, Dalmia has always come across as a hard-nosed investor, economical with words and sharp with numbers. He philosophises frequently and has reasonable knowledge of economics. If it is gossip you are looking for, Dalmia is not your man.
San Gimignano, tucked away in a corner of The Imperial, New Delhi, is one of the city's best kept culinary secrets: The restaurant serves amazing Italian fare, and its smallness makes it a perfect destination for some friendly chit-chat.
A day ago, Dalmia had sent me a copy of a speech he had delivered where he had said that India was on a strong wicket so far as growth was concerned. (A few hours after our meeting, the National Democratic Alliance would announce the gross domestic product growth rate for 2015-2016.)
India's size and growth is a rare combination in today's world, Dalmia says. He agrees that growth numbers in India could be overstated, and that's why he looks at other indicators such as copper prices. "And right now, Dr Copper isn't saying much," he says.
Dalmia is one of the few businessmen to have stayed on in Connaught Place while most others have moved to bigger, and cheaper, offices in neighbouring Gurugram and Noida. The proximity to The Imperial has made him a regular at San Gimignano.
When I reach the restaurant, a wooden plaque on a table in the corner announces it is reserved for Dalmia.
That he is familiar with the menu becomes evident when Dalmia quickly orders the food: Salad with avocados, followed by spaghetti with an extra dash of sauce. I settle for a seafood soup, followed by pasta. Dalmia assures me that meat on the table will not upset his Marwari sensibilities.
Dalmia comes from a family that was the third-richest in the country, after Tata and Birla, at the time of Independence.
His grand uncle was the maverick businessman Ramkrishna Dalmia who had serious differences with Jawaharlal Nehru and campaigned for the protection of the cow. The atmosphere at home must have been heady with politics, religion and business, I enquire.
Dalmia says in measured words that in terms of variety in dining table discussions, he and his cousins were more exposed than most others of his age. "It was a stimulating childhood."
After studying at Modern School, de rigueur for kids of Delhi's old business families, Dalmia went to ColumbiaUniversity, from where he returned to work in the family flagship, Dalmia Cement. After a few years, he started his own investment business.
Dalmia never talks about the companies he has invested in, but I know for sure that he manages close to Rs 5,000 crore (Rs 50 billion); about half of it is his own money, while the rest has been entrusted to him by institutions and very high net worth individuals in India and abroad.
This money Dalmia puts into private equity, public markets, structured debt, real estate and short-term investments.
His largest deployment, Dalmia says, is in residential real estate. All told, he has exposure to around 30 projects of 10-odd builders. The list includes Tier 2 cities such as Karnal in Haryana, Tiruppur in Tamil Nadu and Bhubaneswar in Odisha.
"I am a great believer in the small town story," says Dalmia.
The bulk of his real estate investments are in the form of structured debt to projects that face last-mile capital constraints. Dalmia has set aside Rs 1,000 crore (Rs 10 billion) for such investments over the next two years.
Given the financial crunch most developers face today, there are quite a few seekers for Dalmia's funds, but he finds only two or three per cent of the proposals worthwhile. His returns on such investments are 18 to 22 per cent, Dalmia claims, though he admits that once in a while there are hiccups in payments.
A similar opportunity Dalmia is chasing is in infrastructure: Intrinsically sound projects that are stuck for want of capital.
"I exited an investment yesterday that gave us an IRR (internal rate of return) of 25 per cent," Dalmia announces calmly, with zero trace of triumph on his face, as he digs into the cottage cheese salad on his plate.
"Overall, we shoot for 15 per cent returns or more," says Dalmia. "If you look at basic earnings growth of the last 10 years, or stock market returns or nominal GDP growth (factored for inflation), that is the number you will get."
Our food, in fine spotless china, arrives. The flavours are awesome. Dalmia takes a generous helping of cardamom over his spaghetti, while I go for olive oil. The conversation returns to investing.
In private equity, Dalmia is happy to deal with traditional sectors like manufacturing and stays clear of technology because it is beyond his "circle of competence." As I prod him, he says in a matter-of-fact way: "It has very high volatility and mortality, which is unnerving for old economy guys like us."
Many of these investments, he rues, take the form of auctions, and that's another reason why he avoids the sector.
Dalmia has taken a position in technology, but in a roundabout way.
Along with friends Rajan Anandan and Ashish Dhawan, he has set up a fund that buys shares in unlisted companies from their employees. Many employees, who have been vested with stock options, want to liquidate their stake, but cannot do so because their companies are unlisted on the stock market; this is where Dalmia and friends step in: They buy those shares at a discount, with the hope of selling them once the companies get listed.
They have been at it for over a year and now own shares in more than half a dozen marquee names from the world of start-ups. The recent meltdown in valuations, Dalmia admits, has the potential to affect their profit spreads.
Still, his 17-year-old son Aryaman, who is studying at the University of California, Berkeley, wants to set up a technology accelerator. At 14, he had written a book, Graham, Buffett & Me, a slim volume on investing.
Dalmia shows me a photograph of his son with Warren Buffett stored in his phone, which was taken when the ace investor was in India a few years ago.
Dalmia's older daughter Devanshi, who got married earlier in the year, is an artist (her exhibition of paintings in Delhi was inaugurated by senior Bharatiya Janata Party leader Lal Krishna Advani) and studied at Wharton before working for two years at McKinsey and later at a hedge fund.
His second daughter Aanya, also 17, is studying behavioural economics at Swarthmore College in the US, and runs a water charity.
"I don't know where they got their genes from," Dalmia says.
As we round up our lunch, Dalmia waxes philosophical on his investment strategy. "It is more about temperament and less about knowledge, which is available in the market." And again: "You can either be a hedgehog, which is very good at what it does, or a fox which does many things reasonably well but is not a master of any. We are a fox by temperament and a hedgehog by conviction, and that has worked well for us."
As we come to the porch, a sleek Jaguar whisks Dalmia away to his office nearby. A value investor is allowed some indulgences.
Photograph: Kind Courtesy Brookings India/Twitter