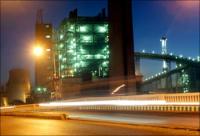 Adani Power Ltd has become the largest private sector thermal power producer in India, with the commissioning of the second supercritical unit of 660 megawatt at its Mundra (Kutch) plant.
The 4,620-Mw coal-fired plant comprises five supercritical units of 660 Mw each and four units of 330 Mw each.
Ahmedabad-based APL, an arm of diversified industrial conglomerate Adani Group, synchronised the second supercritical unit on Friday.
With this, the plant's total installed capacity stands at 2,640 Mw, comprising four units of 330 Mw each and two supercritical units of 660 Mw each.
"We are hopeful of synchronising the remaining three supercritical units by the end of this financial year," said Ravi Sharma, chief executive officer of APL.
He said the company would have a generation capacity of 6,000 Mw by 2011-12.
Of the plant's present 2,640 Mw capacity, APL would sell 2,000 Mw to Gujarat Urja Vikas Nigam Ltd under long-term power purchasing agreements
and the rest to merchant users. Sharma said the average realisation in case of merchant power had remained around Rs 6 per unit.
The company would evacuate electricity from Mundra power plant via a 400 Kv transmission line to Dehgam in Gujarat, covering 430 km, and a dedicated 500 Kv direct line from Mundra to Mohindergarh in Haryana, covering 1,000 km, he said.
Adani Group Chairman Gautam Adani said he was confident that APL would achieve 20,000 Mw well before 2020.
"We are building 9,400 Mw at present, of which long-term PPAs for 7,200 Mw have already been signed with state utilities in Gujarat, Haryana and Maharashtra.
"Meanwhile, of the planned capacity of 16,500 Mw, financial closure for 13,200 Mw has been completed," said Sharma.
APL is implementing 16,500 Mw of thermal power projects at six locations - Mundra (4,620 Mw), Bhadreshwar (3,300 Mw) and Dahej (2,640 Mw) in Gujarat; Tiroda (3,300 Mw) in Maharashtra; Kawai (1,320 Mw) in Rajasthan; and Chhindwara (1,320 Mw) in Madhya Pradesh.