Can welfare schemes truly transform from being flagship to flag-bearers for a government that is looking to get a second term in 2019?
Jyoti Mukul takes a look at how some of the signature programmes of Modi Sarkar have performed.
Illustration: Dominic Xavier/Rediff.com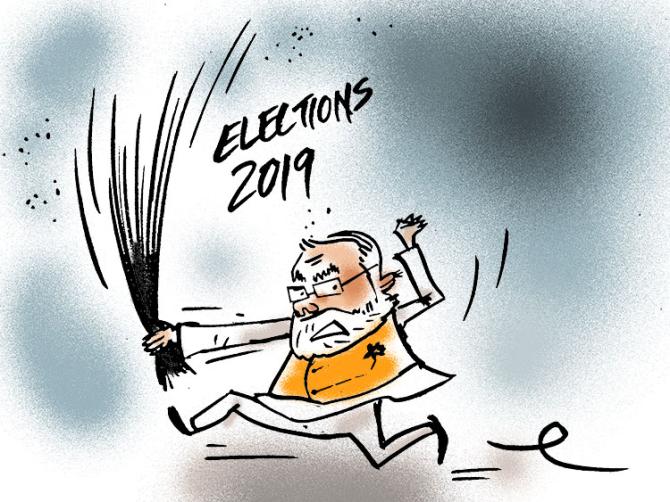 Catchy acronyms and high-pitched launches have often defined the flagship schemes of the Narendra Modi government.
Peppered with social media campaigns, these outreach plans have been able to go to the remotest corners of the country in messaging.
As this government enters its last year in office, the signature programmes have started performing. Some say many contributed to the BJP's electoral successes.
A series of reports will show how the Modi government's report card looks good, if not excellent yet, when flagship schemes are a benchmark.
From Swachh Bharat to Ujjwala, Jan-Dhan to Bharatmala, numbers tell a story of progress that has clearly taken off.
Underscoring the significance of flagship programmes, M Ramachandran, former secretary, ministry of urban development, says such schemes set targets and then try to achieve them.
"The specificity of targets and the willingness to work towards them is very important."
Take, for instance, Swachh Bharat Abhiyan, one of the earliest schemes to be rolled out by the NDA alliance.
Launched in October 2014, the mission with urban and rural components aims to ensure an open defecation free country by October 2, 2019.
When the programme started, 38.7 per cent of rural households had toilets.
Now, the government data shows 83.7 per cent have toilets, with 71.96 million built since 2014-15.
Critics warn that a target-oriented approach may lead to a partial repeat of problems like toilets not being used after a while.
Toilets are not the only way the NDA sought to change living habits.
Providing energy access has been an equally powerful message about inclusion, relayed right into households.
Two schemes have been specifically designed to provide energy to households, especially to those living on the margins.
The Pradhan Mantri Ujjwala Yojana that gives free cooking gas (LPG) connections to poor households and the Deendayal Upadhyaya Gram Jyoti Yojana that brings electricity to rural households.
While the Ujjwala scheme launched on May 1, 2016, now targets to provide cooking gas connection to 80 million households by 2020, it has already reached the 39-million mark.
In a similar display of achievement, on April 28, Modi announced his government had met the target of 100 per cent rural electrification by covering 18,374 remaining villages 12 days ahead of schedule.
Both these schemes, however, face a hurdle of consumers not buying the services or paying for them -- gas cylinder refills for LPG and taking connections for rural electrification -- if the charges are beyond their means.
For the Bharatmala programme, which is all about road connectivity, formal targets were rolled out only last October after a Cabinet nod.
Although some of the projects under the umbrella plan are being implemented, the first phase is to be completed by 2021-22.
A total of 24,800 km are being considered in Phase I along with 10,000 km of balance road works under National Highways Development Project, taking the total to 34,800 km.
Clearly, the government will try to push for completion of some of these projects before the 2019 general elections.
When it comes to creating virtual connectivity, the government has spelt out targets for e-governance and e-office, among others.
Kirit Parikh, former member, Planning Commission, says there has been a certain level of improvement in e-governance that has helped step up service delivery in the public sector.
However, increasing rural teledensity, which is the most basic of the digital programme, is yet to show substantial results.
The number of telephone connections in rural India is just above the halfway mark at 57 per 100 persons.
Closely linked to the digital connectivity plank is financial inclusion and direct benefit transfer.
Aadhaar or biometrically-linked unique identification number launched by the previous UPA government got an all-out backing of the NDA government.
Though the validity of Aadhaar is pending in the Supreme Court, over 1.2 billion have been enrolled under it.
The unique number is used for disbursement of government benefits under 432 schemes through the direct benefit transfer platform.
Also, under the government's ambitious Jan Dhan Yojana, a parallel initiative to bring unbanked sections of the society into the formal banking network, some 315 million accounts were opened till last week.
Of the total, roughly 59 per cent are in rural and semi-urban areas.
Another much talked about programme is the Pradhan Mantri Awas Yojana -- Gramin, which aims to build 10.2 million houses by March 2019.
According to data available with the government, the speed of construction of houses has picked up in rural areas from about 1.6 million houses that were constructed in 2014-15 to 1.8 million in 2015-16, 3.2 million in 2016-17 and 3.4 million in 2017-18.
But there's a catch. While the jump in numbers was substantial in 2016-17, the pace appears to have slowed down in 2017-18.
The challenge would be to double the speed of construction to complete the remaining 6.6 million houses before March 2019.
According to Parikh, these flagship plans are primarily welfare schemes.
"By setting up ambitious targets, creating awareness and pushing for them, the government has made progress on achieving multi-dimensional idea of human development."
He says it's a different issue altogether whether all this will result in higher economic growth and job creation.
"Perhaps, that was also not the idea behind these schemes."
Whatever the outcome, these programmes appeal to common people, says Ramachandran, though the jury is out on whether a voter exercises franchise based on their performance.
Even so, feedback and responses will be critical at this stage of implementation for knowing how far these programmes have been successful and whether their reach has been uniform across regions, he points out.
Only then can these schemes truly transform from being flagship to flag bearers for the government that is looking to get a second term in 2019.