Rediff.com's Prasanna D Zore reports from Akodara village that went cashless and digital on January 2, 2015.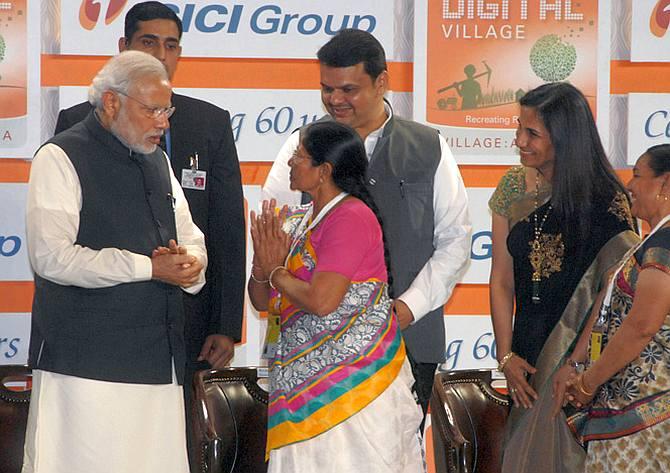 IMAGE: Prime Minister Narendra Modi dedicated ICICI Bank's Digital Village to the nation on January 2, 2015.
To Modi's left is Maharashtra Chief Minister Devendra Fadnavis and ICICI Bank MD and CEO Chanda Kochhar.
Photograph: Kind courtesy narendramodi.in
Even as India is coping with long bank queues to withdraw and deposit demonetised currencies of Rs 500 and Rs 1,000 after November 8, a village in Gujarat's Sabarkantha district is an oasis of calm and order.
Akodara, about 80 to 90 kilometres from Gandhinagar, the state capital, is India's first Digital Village, where around 1,258 people in 236 households conduct their lives almost cashless within the village.
The children study in schools that records their attendance electronically, and imparts lessons on tablets and electronic whiteboards.
This Digital Village, created by ICICI Bank, and dedicated to the nation in January 2015 by Prime Minister Narendra Modi, has about 1,159 bank accounts, where technology helps people use even their basic mobile phones -- those who have smartphones use them too -- to make and receive payments using a simple text message.
Accounting the benefits, Jayantibhai, a local shopkeeper, says the most important benefits of going cashless was stoppage of credit to the villagers and freedom from carrying cash while going to Himmatnagar town, a trading centre 20 km away, to buy goods that he sells in his shop.
"We go to the ATMs in Himmatnagar to withdraw cash, and make payments to the vendor," he says. "I wish Himmatnagar too goes cashless soon," he says.
In his shop, his customers use a simple mechanism to make payments for their purchases.
On their mobile phones, the customers first type '3', followed by space, Jayantibhai's mobile number, followed by space, followed by the amount of their purchase, followed by space, followed by the last six digits of their account number.
The entire process barely takes a minute and the money gets instantly transferred to Jayantibhai's bank account, which is linked to his mobile number.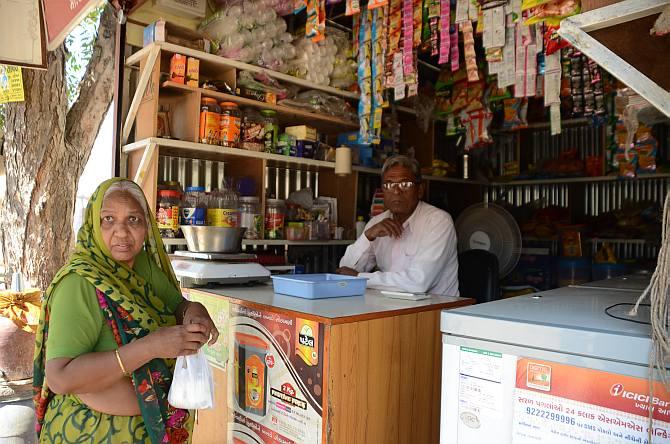 IMAGE: Neeruba is a regular customer at Jayantibhai' shop. While she doesn't understand technology too much and hesitates using her phone to make digital payments, Jayantibhai knows her son will make the payment by phone whenever he comes by his shop.
All Photographs and Videos: Prasanna D Zore/Rediff.com
However, those who are not comfortable using technology -- mostly older people -- buy goods on credit, the payment for which is made by their sons or daughters when they visit Jayantibhai's shop.
"I know Neeruba since 2000. I have no problem selling goods on credit to her," says Jayantibhai when reminded that he had listed no credit to villagers as one of the advantages of going digital and cashless.
"Cashless or cash, I owe this much to my villagers," says Jayantibhai with a wide grin.
***
"The bank (ICICI Bank) trained people in the village, mostly the youth and women on how to go about buying and selling goods the cashless way using their mobile phones," Rakeshbhai, the deputy sarpanch of Akodara, explains.
The village has 4 shops and all of them make use of mobile technology, wi-fi connections and the Internet to transact their monetary needs digitally.
Not just shops but even the milk collection centre (seen behind Rakeshbhai in the video) in Akodara uses modern technology to measure the fat content of milk that villagers come to deposit here.
School children make use of tablets, electronic whiteboards to learn lessons and swipe cards to record their attendance.
"Cashless transactions have helped villagers get into the savings habit," says the excited deputy sarpanch.
IMAGE: This ATM in Akodara had no restless crowds unlike others in Ahmedabad and Gandhinagar en route.
Being a cashless village most villagers find no need to withdraw money.
As such this ATM has become a landmark of sorts for people from neighbouring villages as they drop by to withdraw cash hassle-free.
However, after about 10 to 15 withdrawals, this ATM too ran out of cash on November 24.
Jyotasnaben Patel has been working at the primary school in Akodara for almost 15 years and has been witness to the digital revolution that took over her school and the children last January.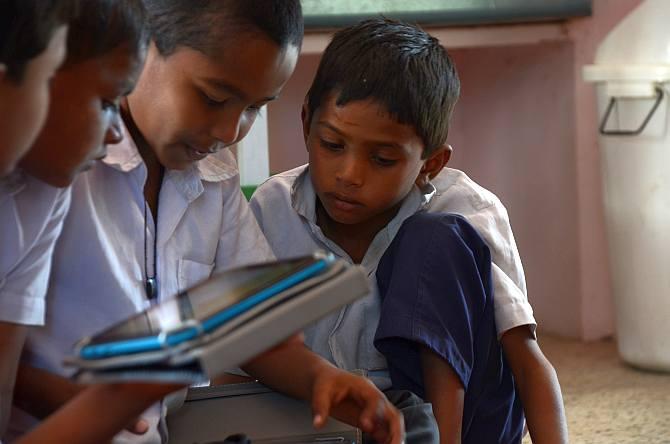 IMAGE: Jyotsnaben Patel's wards enjoy studying simple concepts on their tablets
"I learnt how to use tablets with the help of the children," says the school teacher about her wards, who as we speak, are busy drawing tomatoes and learning word formation on their tablets.
"Most of the information that they need is accessed using these tablets," Patel says about how technology is revolutionising the lives of the children at school.
Ask her to show how she uses the metal and glass slab to teach children and Jyotsnaben enthusiastically shows her expertise with the touchscreen interface.
One of her students demonstrates how comfortable she is with using an electronic device to sketch a tomato and a tent.
Tell the little girl you are hungry and want to eat a tomato and she happily volunteers to draw one again.
At the same primary school, Pinkesh Raval is busy teaching a chapter on India's social reformers using a K-Yan (Knowledge Yantra or machine), a small projector actually, as students listen in rapt attention.
The schoolmaster punches a few keys and selects a chapter that is digitally available on K-Yan.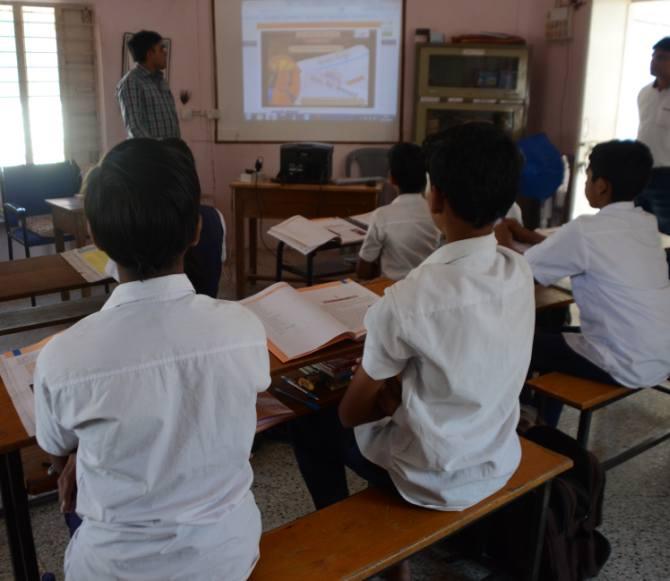 IMAGE: Pinkesh Raval uses a K-Yan to teach the children about India's social reformers.
After every session he asks them questions to check if they have grasped the topic well.
"While one cannot substitute the textbooks completely," Raval, the teacher says, "e-learning is big in Akodara and sometimes discourages students from bunking school."
Ask students how they study at home and they all say, "Textbooks."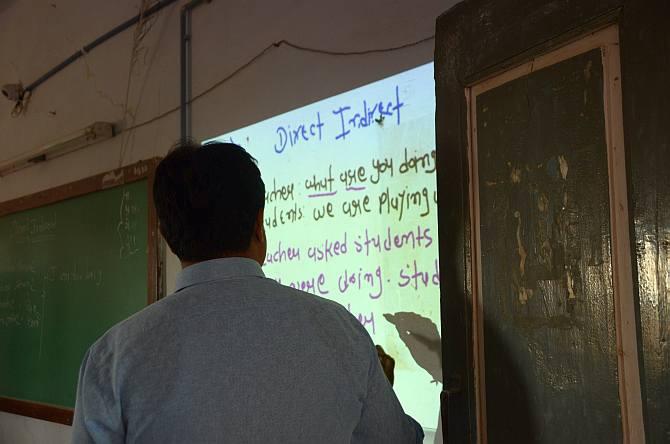 IMAGE: A teacher makes use of a projector-aided teaching tool to explain grammar concepts to his students at the secondary school in Akodara.
At the secondary school at Akodara, teachers use whiteboards to explain grammar concepts as a classroom full of boys and girls listens to the lessons and basics of grammar studiously.
Here, students use a swipe card to record their daily attendance showing how easily the villagers in Akodara adapt to the blowing winds of technology.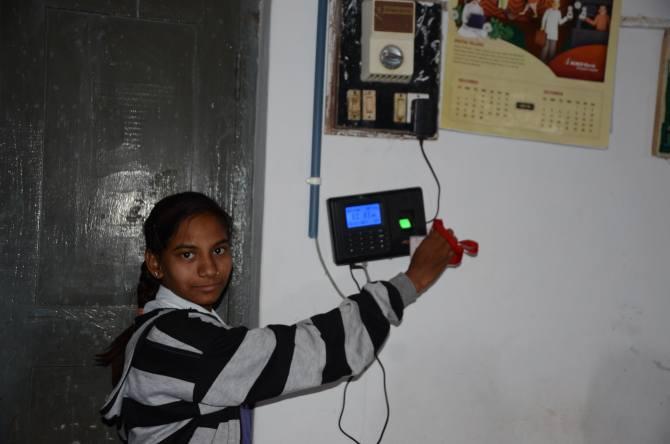 IMAGE: A student at the secondary school demonstrates how they record their attendance using a swipe card
Highlighting the other digital aspect of these villagers' chores is this milk collection centre where everything, from measuring the fat content in the milk to maintaining a digital record of milk supplied by each farmer, to making NEFT payments to their bank accounts takes place seamlessly.
"Mohanbhai measures the fat content of the milk we bring here using that machine (see video) and Hareshbhai makes a record of the quantity of milk and its fat content in his computer," says Rasiklal, a villager who has come here to deposit milk.
"After every 10 days (the village has adopted a 10 day payment cycle), we get the payment for our milk directly into our bank account. As soon as the payment hits the bank we get a message," Rasiklal adds.
Mohanbhai takes some milk in a small container, mixes a chemical in it and pushes it into a machine that measures the fat content.
"The fat content is cow's milk is less than that of buffalo's milk and based on their fat content the milk is priced. Higher the fat content, higher is the per litre price," says Mohanbhai and Hareshbhai who work at the Akodara Milk Mandali.
Every evening, the Milk Mandali, the cooperative that runs this collection centre, stores milk in a 3,000-litre cold storage tank, which is then collected the next morning by milk vans from the Sabar Dairy, which then distributes the milk to its customers.
At the Akodara Animal Hostel, which was inaugurated by Modi in January 2015, more than 1,000 cows and buffaloes are provided shelter, fodder, water, proper medical and reproductive care.
Most villagers come to the hostel in the evening to milk their cattle and take their produce to the Milk Mandali.
Palak Sheth has more than 10 cows and buffaloes and says he has been making good profits after his village went cashless.
Unlike many other farmers in the neighbouring village, Sheth and his fellow villagers have had no impact on their business after the November 8 demonetisation.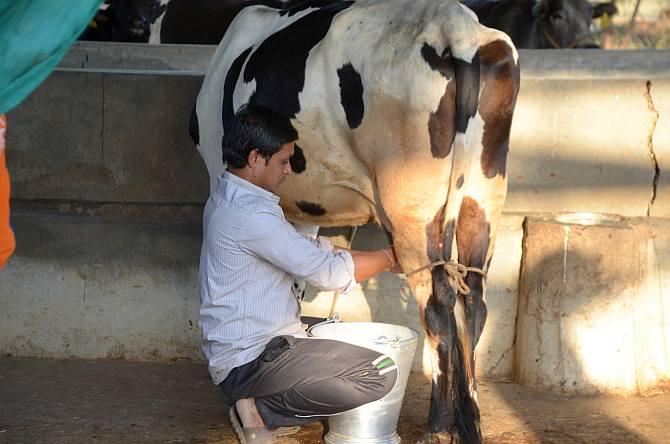 IMAGE: A villager milks his cow at the Animal Hostel, Akodara, which he will later deposit at the Akodara Milk Mandali.
"If we have to buy fodder for our cattle we use our debit cards to make payment," gushes the young man explaining how Akodara's transition to a cashless village.
Explaining the benefits of going digital, Sheth says, "Because of cashless transactions we were able to reduce our payment cycle to just 10 days unlike other milk mandalis where they use cash, but take 20 days to settle payments."
Akodara's villagers, he adds, produce a turnover of Rs 1 crore (Rs 10 million) annually by supplying milk to Sabar Dairy.
"Our monthly turnover is Rs 9 lakh (Rs 900,000)," he says, "and everyday we deposit 2,100 litres of milk at the Akodara Milk Mandali."