Hopefully, the small recovery in the labour force and employment seen in the September-December 2017 wave will gather momentum in the coming waves, says Mahesh Vyas.
Illustration: Dominic Xavier/Rediff.com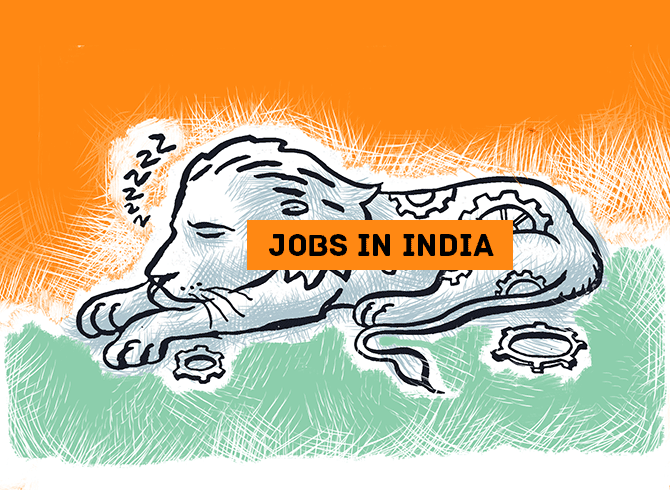 The September-December 2017 Wave of CMIE's Consumer Pyramids Household Survey concluded on December 31, 2017.
During a wave, the entire sample (168,161 households in the present case) is surveyed over a four-month period.
The survey took observations of the employment/unemployment status of 436,000 individuals from the sample households, who were of 15 years of age or above as of the date of the survey.
Estimates derived from this data set are the most robust.
The final estimates of employment/unemployment based on this survey became available on January 15.
A complete statistical profile with state-level rural-urban details is available on http://unemploymentinindia.cmie.com.
The same site also provides all the past statistical profiles as well.
In all, there are six profiles corresponding to six waves of data since January 2016 produced under the BSE-CMIE partnership.
The months September through December are part of the busy season in India.
This includes the period of kharif harvesting and also the period of most important festivals in India.
Economic activity is therefore elevated during these months compared to other months of the year.
Besides agriculture harvest, expectations of higher spending by households also leads to increased activities in the foods, garments and retail trade industries during these months.
As a result, employment is generally expected to be the highest during these months.
As expected, employment during the September-December 2017 period was 0.58 million higher than it was in the preceding wave of May-August 2017.
It was also slightly higher than its level during January-April 2017.
This higher employment during September-December reflects the seasonality of employment in India.
If we remove the effect of seasonality by comparing the employment level during September-December 2017 with the same months of 2016, we see a fall in employment, of a substantial 1.37 million.
But, merely comparing values of similar months while measuring change does not give a complete understanding of change.
A year-on-year comparison merely makes a comparison over like months.
But, the change that we measure over these two periods is in fact the cumulative effect of several changes that happened during the course of the year.
For example, the 1.37 million loss of jobs mentioned above did not happen during September-December 2017.
It happened over the entire period of a year. In fact, 1.37 million is a summary measure of the fall in employment over a year that comprises a 1.54 million fall during January-April 2017, then a 0.42 million fall during May-August 2017 and finally a 0.58 million increase during September-December 2017.
Changes are best seen over the preceding period.
For example, ideally we should compare employment in the September-December 2017 wave against employment during the previous wave which was May-August 2017.
But, this would require the data to be de-seasonalised, which is possible only when there is a sufficiently long time series of data to conduct what statisticians call the de-composition of a time series into its seasonal, trend and random components.
While employment increased by 0.58 million during September-December 2017 compared to the preceding four months, it had grown by a much larger 3.4 million during September-December 2016 compared to its preceding four months.
This is a comparable and useful comparison.
Here, data shows that the increase in employment seen this year is significantly lower than the increase recorded in a similar period last year.
While this is disappointing, there are other statistics that are encouraging.
For example, the labour force increased by 5.1 million. While employment increased by 0.58 million, the count of unemployed increased by 4.5 million.
Although most people who thronged the labour markets did not find jobs, it is a good sign to see labour returning to the jobs markets.
This is because before this, the labour force shrunk relentlessly for an entire year.
As a result, in spite of the 5.1 million increase in the labour force during September-December 2017, it was 10 million lower than the level a year ago.
Hopefully, the small recovery in the labour force and employment seen in the September-December 2017 wave will gather momentum in the coming waves.
Another encouraging statistics is that for the first time the number of persons who were unwilling to work declined -- by 6.2 million.
This count had always increased so far. Correspondingly, there is an increase in the count of people willing to work.
If a much greater number of people have expressed a willingness to work then it reflects a hope that must have risen from somewhere that jobs will become available.
The challenge is to find the corresponding jobs for these aspirants.
Mahesh Vyas is managing director and CEO, Centre for Monitoring Indian Economy.