Image:
Infosys campus.
Photographs:
Reuters
Nivedita Bhattacharjee and Sumeet Chatterjee
in Mumbai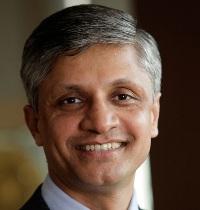 Infosys Ltd is under pressure to bring in a new chief executive soon to check an exodus of junior staff and reassure investors after a slew of departures at the top.
Shares in Infosys, the most widely held Indian stock, fell to their lowest level in nine months on Thursday, the day after it announced president and board member BG Srinivas (left) had resigned.
The departure of Srinivas, the 10th senior executive to exit in the last year, widens a leadership vacuum at Infosys as it searches for a new chief executive.
It also increases the chance the company will break with tradition and hire an outsider for the job, analysts said.
. . .
Infosys running out of time to name new CEO

Image:
N R Narayana Murthy.
Photographs:
Reuters
Srinivas was widely seen as a frontrunner for the top job among internal candidates after Chief Executive SD Shibulal, one of company's seven founders, said in April that he wants to retire by January 2015 at the latest.
"With his (Srinivas') resignation, the impression is quite clear that the company is going to get an outsider for the job," RK Gupta, managing director of Taurus Asset Management, which owns Infosys shares, told Reuters.
"With a large organisation like Infosys you need new blood. Old guards sometimes have a sense of lethargy."
. . .
Infosys running out of time to name new CEO

Image:
Infosys campus.
Photographs:
Reuters
A decision on the new CEO is likely to be made earlier than expected, possibly during the July-September quarter, said two people with knowledge of the matter.
The sources declined to be named as the selection process is confidential.
Infosys did not reply to a Reuters email seeking comment.
The company, which has been losing market shares to its rivals Tata Consultancy Services Ltd and Cognizant Technology Solutions Corp, did not give a reason for Srinivas' resignation in a stock exchange filing.
Srinivas' resignation follows the departure of at least nine senior executives who left since the company brought founder N R Narayana Murthy back from retirement to help revive its fortunes in June last year.
. . .
Infosys running out of time to name new CEO

Image:
Infosys campus.
Photographs:
Reuters
Investor confidence
Infosys was once a star performer in India's more than $100 billion outsourcing sector, but the uncertainty at the top and its shrinking market share have dimmed its status as the employer of choice for young IT workers, with staff leaving at an unprecedented pace.
Analysts said the company would benefit from swiftly appointing a new CEO.
"They should announce the next CEO in one or two months to bring some stability and boost investor confidence," said Sanjeev Hota, assistant vice president of institutional equities at brokers Sharekhan.
. . .
Infosys running out of time to name new CEO

Image:
Infosys' conference hall.
Photographs:
Tricia Wang/Creative Commons
Infosys shares were trading down 7.2 per cent at 1:54 p.m., underperforming the BSE Sensex which was down 0.7 per cent and the IT sector index, which was trading 2.8 per cent lower.
The stock is down nearly 16 per cent so far this year.
Some analysts said the stock was likely to remain under pressure until the new CEO proved themselves capable of turning Infosys around.
In a research report published on Thursday, Barclays analysts Bhuvnesh Singh and Hitesh Das said the CEO selection process may lead to "further management churn".
"We believe that the probability of an external candidate may indicate that the company's problems are more deep seated than earlier thought and that an external person is required to bring significant changes within the organisation," they wrote.