Image:
Ranbaxy whistleblower Dinesh Thakur said one in five medicines that are manufactured and distributed in India are spurious.
Photographs:
Pawel Kopczynski/Reuters
Aziz Haniffa
in Washington, DC
In the second of a three-part series, Ranbaxy whistleblower Dinesh Thakur tells Aziz Haniffa that a formal Congress hearing on spurious drugs from India is being sought.
Part I: War on made-in-India drugs comes to US Capitol Hill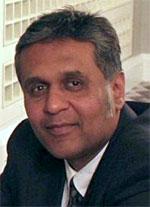 Dinesh Thakur (left), a chemical engineer, trained in development and manufacturing of drugs, has spent his career in the pharmaceutical industry and is led by his passion for weeding out spurious drugs.
He feels so strongly about the importance of strengthened oversight, he said, that he recently launched a company, Medassure Global Compliance Corporation, to focus on educating and providing assessment risk from global manufacturing to public health in the United States.
And in the wake of the US Food and Drug Administration Commissioner Margaret Hamburg's recent India visit, he — along with Roger Bate, an expert on substandard and falsified medicines, and Amir Attaran, a Professor in the Faculties of Law and Medicine at the University of Ottawa — also published a working paper titled India's drug quality under the spotlight with FDA.
Photograph of Dinesh Thakur: Courtesy, twitter.com/d_s_thakur
Click on NEXT for more...
India's reaction myopic, irrational, says Ranbaxy whistle-blower

Image:
Capitol Hill in Washington, DC.
Photographs:
Reuters
It highlighted key areas and concerns related to drug safety, regulatory mechanism in India as well as in the US and the statement of intent signed between the American and Indian regulator during Hamburg's recent visit to India, enabling the Indian regulators to accompany US authorities during their inspections of facilities.
Speaking to India Abroad on the sidelines of his Capitol Hill briefing about India's defensive posture on the subject, Thakur said, "Unfortunately, India's reaction is myopic and irrational in my opinion."
Some quarters in India have said the country's manufacturers were being targeted by vested interests, including some in the powerful pharmaceutical lobby in the US, because India had become the biggest exporter of generic drugs to the US market.
Click on NEXT for more...
India's reaction myopic, irrational, says Ranbaxy whistle-blower

Image:
'The pharma industry will go by the way of IT services industry, which is already leaving India'.
Photographs:
Keith Bedford/Reuters
But, Thakur argued, "The reason India has been in the news is because it's hard to get similar data from China, although the transgressions of Chinese companies are far worse. Heparin and what happened to the cough-syrup in Panama are but two examples."
"Rather than responding in a mature manner and acknowledging its problems," he added, "the typical Indian response is to dig in. This attitude doesn't help it in the long run."
"If they continue to react in this manner," Thakur warned, "the pharma industry will go by the way of IT services industry, which is already leaving India for other locations in South East Asia."
"Lack of clarity in public policy has already driven out much of the clinical trial business away from India. API (active pharmaceutical ingredients) manufacturing has already gone to China and if they continue with this attitude, formulation business will follow suit," he said.
Asked what next in terms of a follow-up from this briefing on Capitol Hill, Thakur said, "We are asking for a formal hearing of the US Congress into this issue. An investigative committee is one of the options we are pursuing. This is a process; we don't know how long it will take to materialise."
To read the concluding part of Dinesh Thakur's shocking revelations, watch this space on Monday!