With more than 100 million new accounts opened under the Jan Dhan Yojana, the demand for white-label ATMs has increased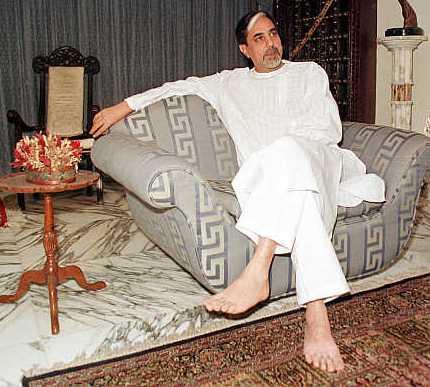 ZEE promoter Subhash Chandra is betting highly on white-label automated teller machines (those operated by non-banking entities).
He plans to roll out 50,000 of these, at a time when new companies in the segment are struggling to ramp up and stabilise operations.
Chandra's investment in the project is estimated at Rs 2,500 crore (Rs 25 billion).
It is likely he will rope in an international ATM manufacturer as a strategic partner with equity stake.
On the financing arrangement, Amitabh Chaturvedi, managing director of Essel Finance, Chandra's Essel Group company, said, "It is too early to comment on the exact means of financing, but we are working on novel business models.
"It is likely we will seek private equity investment for this project and expect to start roll out in the next six months."
Essel Finance plans to partner with an ATM manufacturer keen on entering India, not those already present in the country (such as NCR and Diabold).
With more than 100 million new accounts opened under the Jan Dhan Yojana, the demand for white-label ATMs has increased.
As a large unbanked population has come under the ambit of formal banking, the government plans to channelise all financial benefits through bank accounts.
Currently, about 187,000 ATMs operate in India under the National Financial Switch, managed by National Payments Corporation of India.
Though the number of ATMs has increased, there has been no decline in the average number of transactions per ATM, possibly due to a demand-supply gap.
As the ATM density in India was much less than in other countries, banks alone couldn't meet the demand-supply gap in the case of ATMs, Chaturvedi said.
India has less than a third of the 0.6 million ATMs in China.
ATMs involve high fixed expenses such as rent, security and electricity, with relatively low variable expenses.
For an ATM operator to be profitable, economies of scale are vital.
In this regard, Chaturvedi said the Essel Group hoped the authorities would support white-label ATM operators through timely reforms in the revenue framework.
The group's consumer-facing businesses such as Dish TV and Zee Learn, as well as the TV channel and franchisee partners, provide customer touch points. It is expected these will help it set up ATMs in locations accessible to customers.
It is possible Essel Group will work with cooperative banks and regional rural banks for the ATM project.
The group was considering new business models to help cut capital expenditure and operating costs, Chaturvedi said.
EYEING A NEW BUSINESS
Essel pegs investment at Rs 2500 crore (Rs 25 billion)
Will rope in ATM makers who are not in India
Set up ATMs at Dish TV, Zee Learn touch points
Take private equity player on board for financing
Alliance with cooperative and rural banks to control cost
Image: Subhash Chandra. Photograph: Reuters