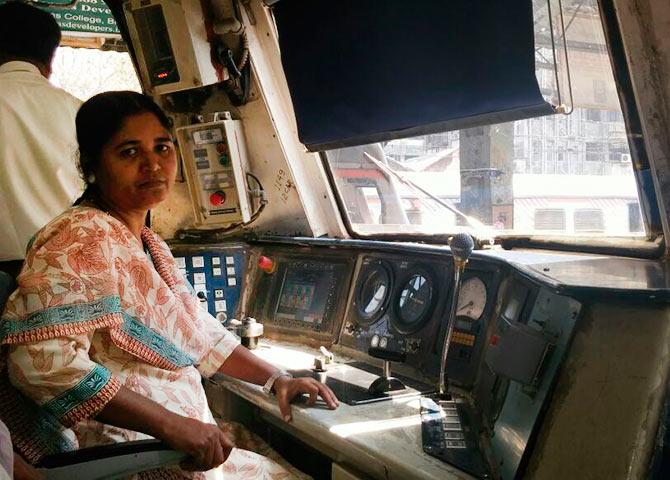 Breaking stereotypes, the fair sex is progressively contributing towards the smooth running of the Indian Railways, even if it means sweating it out in the field jobs.
Women workforce has made its presence felt in areas such as manning railway gates, keeping train tracks fit and checking tickets, DRM Northern Railways, Lucknow, Anil Kumar Lahoti told PTI.
Track (wo)man Kailasha, goods guard Radha Rani, ticket checker Pratibha Singh or gate (wo)man Mirza Salma Beg posted in different parts of the state have proved through their grit and determination that they can manage successfully tasks traditionally considered as man's job, Lahoti said.
"Mirza Salma Beg is posted as gateman in Mallhaur and the fact that she is a woman has not come in the way of discharging her duties," Lahoti said, adding that she has been working in odd hours too to ensure smooth passage of passenger and goods trains and presenting an example before all - even her male counterparts.
Another example is that of Kailasha, posted as trackman in Jaitipur who toils to keep tracks fit for trains.
She has been doing tasks which demand physical labour while dealing with sleepers and concrete slabs, Lahoti said.
Sarita Shukla, assistant station master at Alamnagar station in Lucknow ensures passage of some 55 trains in one shift, he said, adding that since Alamnagar is an important inter-change point, she has additional responsibilities. Besides, she has the responsibility related to passengers and cleaning work among others.
Pratibha Singh was part of the train checking team that contributed to the Railways exchequer by realising Rs 27 lakh from ticketless passengers in 2014-15 in Varanasi, he said.
Rightly, these women have been honoured on occasions like May Day and Women's Day. Lahoti said women also have a sizeable presence in nursing and RPF.
There are two sub-inspectors and 30 constables in the RPF whose services are being specifically taken for women safety, the DRM added.
Image: Mumtaz Kazi, first Indian woman to drive the diesel locomotive.
Photograph: Divya Nair/Rediff.com