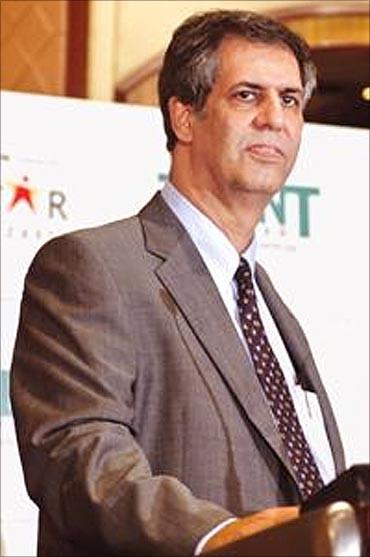 Noel, Ratan Tata's half-brother and Mistry's brother-in-law, was a contender for the top position when Mistry was chosen as chairman in 2011.
Raghavendra Kamath reports.
The ongoing battle between Ratan Tata and Cyrus Mistry is being keenly watched by another member of the Tata family: Noel N Tata.
Noel, Ratan Tata's half-brother and Mistry's brother-in-law, was a contender for the top position when Mistry was chosen as chairman in 2011.
Noel is now busy running India's most profitable retail venture, Trent.
Statistics show Trent has stood out among peers when it comes to profitability, helped by its low debt.
"Trent chose profitability when it came to the profits versus growth debate. When most retailers like Future Group and Birla Retail were struggling with debt and closing loss-making stores after aggressive expansion, Trent chose to go slow and steady but remained profitable over the years," said a senior executive with Tata Group, who did not wish to be named.
Noel, who prefers a low profile, has not talked about his candidature.
Noel's biggest strategy was to make each store profitable before opening the next one though it was termed a slow mover, the executive said.
Adding that it saved a lot of capex for the company, while others opened aggressively to build scale but shut these down to stem losses.
For instance, Trent's Star Bazaar first opened an store in 2004, took almost four years to open the next store, he said.
"Even Westside treaded cautiously. He ensured the logistics and supply chain is in place. Now that their systems was in place, they are looking at fast expansion in both."
Trent grew its profits at a compounded annual rate (CAGR) of 53 per cent in the past five years, the highest among peers, while its sales grew 9. 4 per cent CAGR.
The executive said Tata International was also growing fast. Its sales went up six times in the past five years. "Tata International is focusing a lot on exporting to the US and Latin America after Noel joined the firm."
Trent has carved a niche, both in terms of partnerships and own formats, says Pankaj Jaju, former head of strategic partnerships at Axis Bank and an investment banker who has done many deals in retail sector.
"They have done a reasonably good job in operations and that is reflected in their market cap."
A former senior Trent executive said Noel Tata built Trent profitably despite regulatory hurdles and constraints on capital.
"In Trent's Westside, 80 per cent of merchandise is their own brands while other chains have just 20 per cent own brands. In this strategy, don't you think having 100 Westside stores is a big deal?" he asks.
While Trent has built its fashion empire with Westside and a joint venture with Zara, it has shut down its Fashion Yatra chain and wound down its venture with Benetton called Sisley.
"Noel Tata understands the psyche of Indian consumers well and has created a value for shareholders. By virtue of that, he should be on the board of Tata Sons," the former Trent executive adds.
Trent's market cap has doubled in the past five years to Rs 6,644 crore.
Although Star Bazaar, a joint venture between Trent and UK-based Tesco, is yet to become profitable, he said Tata had brought a lot of stability in the venture.
However, a former president at Future Group says Trent should have done much better than it has done given its access to capital and early-mover advantage.
"Given that they have been there for the past 10 years, they should have done much better. Their online presence is also poor," he said.