The airline has failed to address fliers' fears and has been opaque about the allegations of tax and financial fraud, giving rise to apprehension that Jet may be headed the Kingfisher way.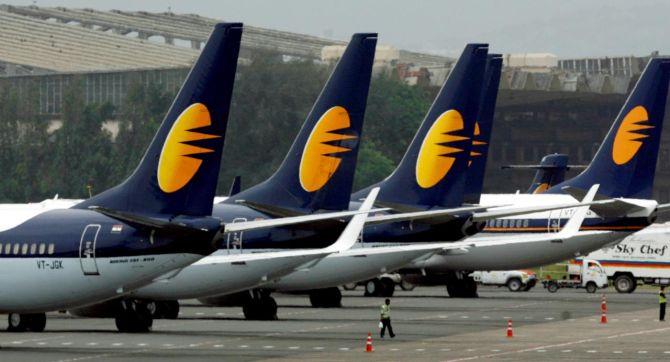 What should have been a year of celebrations is fast turning into an existential crisis for the country's oldest surviving private airline brand.
Passengers worry about their safety on board and employees about their next pay cheque.
And, as Jet Airways ties itself up in a tangle of violations, from operational and financial irregularities to safety breaches, the brand is taking a hit.
The Naresh Goyal-owned-airline in which Etihad Airways owns 24 per cent stake celebrated its silver jubilee in May this year, a rare feat for a private Indian airline.
Yet within weeks of the celebration Jet Airways announced salary cuts and delays, deferred its annual financial results and was suspected of tax evasions.
In September, it delayed payments to pilots and senior management.
The crisis has been compounded by a recent mid-air disaster when Jet's passengers found themselves bleeding because the airline crew had failed to follow a regular safety procedure.
The string of unfortunate events have overshadowed the fact that the airline continues to fly all its routes and has inducted the new Boeing 737 Max planes and is on course to launch its service to Manchester in November.
Expectedly, so say brand experts, given that the airline has failed to address fliers' fears and has been opaque about the allegations of tax and financial fraud.
Naturally, there is a growing apprehension that Jet Airways may be headed the Kingfisher way.
On social media, usually a barometer of brand health in the present age, the airline has been lampooned and trashed.
In a recent meme that went viral, the image of Jet Airways bleeding passengers filing out of the aircraft was labeled 'high cost and low pressure' and juxtaposed with IndiGo's infamous passenger assault last year (low cost and high pressure).
While the two incidents are not strictly comparable, on Twitter, they were both seen as symbols of how the brand had failed its consumers.
How must Jet Airways restore faith in the brand?
The airline after all has a long association with its customers, its frequent flyer programme has nearly 8.5 million members.
First, say experts, Jet must come clean with fliers and second, motivate staff and keep them committed to the airline.
Ambi Parameswaran, founder Brand-Building.com said, "The key thing for Jet Airways is to ensure that its staff stay motivated.
"A service brand is built and destroyed by its staff. Airlines have been turned around by empowering the front line staff.
"If Jet can manage to keep its staff motivated, committed and ready to serve with a smile, as they have done for the last 20 plus years, I think they will be able to get out of the negative word of mouth."
Consumers need to be reassured too.
"Jet needs to prove it is resilient by being transparent and open," said Shashank Nigam, CEO of Simpliflying, an aviation brand strategy firm who believes that the airline's assurances of 'business as usual' could do more harm than good.
"When a brand communicates openly, it inspires trust. When it does not, it breeds doubt," Nigam added.
Since July, Jet Airways has cut top management salaries by 5-25 per cent.
It also decided to pay its August salary to pilots, engineers and top management in two instalments.
But rising costs and depressed fares are clearly taking a toll. It has paid only 75 per cent of the August salary.
"The company is committed to honour its obligations and shall make every effort to release the remainder by October 9," Jet's chief people officer Rahul Taneja wrote last week. The airline did not respond to queries sent for the story.
Apart from salary cuts the airline is also implementing Rs 2,000 crore worth of cost-saving measures.
It also announced a buy-on-board meal option for passengers opting for low fares and is mulling restrictions on frequent flyer benefits.
"Jet Airways could follow the lead of US carriers. After being hit by the slowdown the carriers did not fight competition on price alone.
"But to retain customers they tweaked their loyalty programmes. They cut back on amenities to less frequent passengers but expanded loyalty benefits for frequent flyers," said Devesh Agarwal, who runs a popular aviation blog called Bangalore Aviation.
He says that there are plenty of options for Jet Airways as long as the airline is willing to find a way out of the crisis.
Ashish Mishra, managing director of Interbrand India says in a tough operating environment, full service airlines such as Jet face challenges and their legacy model makes it difficult for them to manage customer preferences as well as margins.
The solution perhaps lies in turning to a leaner business model and thus become more competitive.
"A new narrative backed by the business interventions and changes, enthusing and engaging internal stakeholders and fearlessly engaging the world are steps that may help.
"They need to convey a new positive narrative otherwise bad news has a habit of traveling faster," Mishra said.
Photograph: Punit Paranjpe/Reuters