It's the second time Nasscom has projected single-digit growth in a decade.
Ayan Pramanik reports from Bengaluru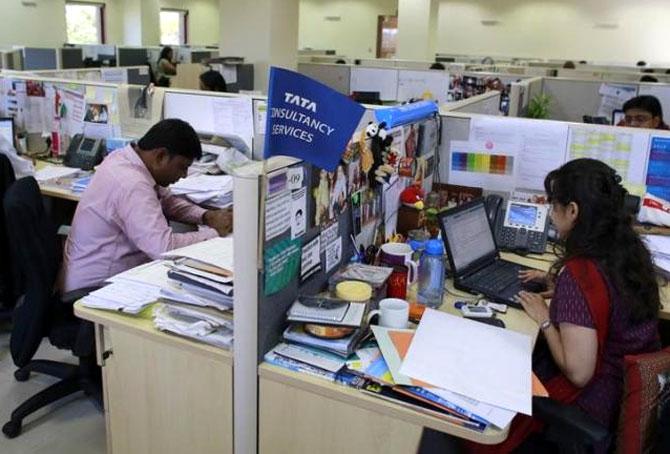 The National Association of Software and Services Companies has revised the information technology sector's growth forecast downwards to 8% to 10% this year, as its biggest members such as Tata Consultancy Services, Wipro, Cognizant and Infosys struggle to grow faster because of an uncertain environment.
This will be the second time that Nasscom has projected single-digit growth in a decade after the industry saw its lowest growth of 5% in 2009-2010 in the aftermath of the banking meltdown in the US.
In April, Nasscom had projected the $108 billion export-focused software and back offices sector to grow 10% to 12% this year.
Indian firms have witnessed growth from clients in newer areas such as adoption of automation, cloud and digital technologies, but this has not been able to offset the drastic dip in volume in traditional IT services.
At the same time, customers are also asking for massive price cuts, expecting the Indian firms pass on benefits from productivity improvement and automation than retaining themselves.
Both Infosys and Cognizant have cut their annual revenue forecast twice for these reasons, while Wipro has forecast flat growth in the quarter to December.
Nasscom said the sector has been impacted because of short-term factors and growth would return faster in the next few quarters.
'The industry is going through a transient phase with various domestic and global factors impacting its performance. While the effect of various short-term factors may show for a couple more quarters, the worst is behind us,' R Chandrashekhar, president, Nasscom, said in a statement.
'Global projected growth for the industry is high and our share remains strong,' he added. 'We are confident that the sector will continue to re-invent itself by investing in digital technologies and competencies, to drive consistent and sustained growth.'
India's IT industry would also face challenges if US President-Elect Donald Trump implements his stricter immigration norms, pushing firms to hire more people locally to serve clients there. Such a move will put pressure on their margins.
Major Indian software exporters have spoken of ramp-downs by clients in banking and financial services and healthcare, which are major revenue generators for them.
HCL Technologies is the only company that witnessed a reverse trend in the July-September quarter.
Nasscom said Indian firms would have to invest more in digital capabilities and upgrade skills of its workforce and acquiring capabilities in newer platforms and domains.
Traditional firms are also aiming to become software and analytics companies.
Global software and IT services globally is set to grow at a healthy pace of 7.2% and 4.4%, respectively, in 2017.
To stay globally competitive, the need of the hour was for Indian firms to invest in the future and enhance their digital capabilities, the lobby group said in a statement.
Nasscom said it would stick to the long-term goal of the Indian IT sector growing to $350 billion by 2025.
Global technology researcher Gartner said the Indian IT service providers had an advantage in emerging areas as these offered local opportunities in India at the same time as globally.
"The digital disruption has come on to the Indian IT players much sooner than later and the opportunities that it provides is much more globally. So how much will the Indian IT players look at India is a guess," said Partha Iyengar, research head at Gartner India.
"Factors such as softness in overall IT services demand, shift towards digital technologies, global uncertainties, Brexit are going to impact the industry. Uncertainty in the global markets is a bad news for Indian IT services players especially in terms of making (growth strategies)," Iyengar said.
Gartner has predicted spending for information technology by Indian companies in the local market would go up by nearly 7% to $72.4 billion in 2017.
Image published for representational purposes only. Photograph: Danish Siddiqui/Reuters