Experts advise investors to buy at lower levels in the next few months and sell at the higher end of their range in the second half, reports Rajesh Bhayani.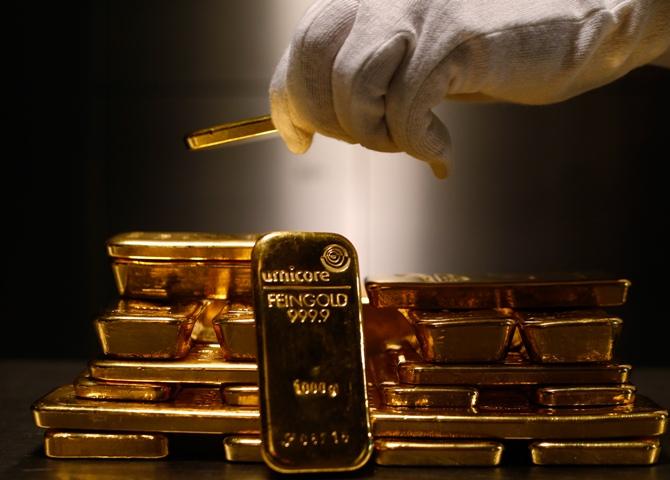 After a subdued Samvat 2073, gold is likely to do better this year, say experts.
While gold prices are expected to be volatile, bias would be upwards. Sudheesh Nambiath, lead analyst, precious metals for South Asia, GFMS TR said, "Gold in dollar terms is on an uptrend and prices are expected to touch $1,350 per ounce next Diwali."
In India, the gold market will continue to undergo transformation, as the government is likely to announce a new comprehensive gold policy in the Union Budget. The new ecosystem is expected to drive gold demand.
However, experts caution that the current price of $1,280 an ounce is elevated as priced jumped in the last few months as geopolitical issues started emerging but are likely.
Gold prices are expected to fall in the first half of 2018 and rise in the second half.
Bernard Dahdah, senior commodities analyst, Global Markets Research, Natixis said, "Gold prices are expected to come under further pressure in the first half of 2018, as result of two (expected) US rate hikes. That said, from the second half on the year, we should expect a slow recovery in prices that will continue into 2019."
He expects the end of US rate hikes and further drops in gold mine output to drive prices.
However, further geopolitical events should be momentarily supportive of gold prices. Natixis says the high and low for next year will be $1,350 and $1,120, respectively, showing a wide variation.
Nigam Arora, a leading global market analyst and author of the newsletter Arora Report gives a range of $1,180 to $1,420 for next Samvat.
Experts advice investors to buy at lower levels in the next few months and sell at the higher end of their range in the second half.
There are some factors that will have a bearing on the direction of prices, and clarity is expected to emerge in the next few months.
The first one is who will replace US Federal Reserve chair Janet Yellen after her term expires in January next year. The new chair will decide the pace of interest rate and dollar strength.
US President Donald Trump is expected to announce the new chairman any time now.
"Gold is priced in dollars. When the dollar goes up, gold goes down. Dollar, in large part, moves on Federal Reserve's policies.
"Barring any geopolitical crisis, if President Trump appoints a hawkish chair, gold may go down; a dovish chair appoint may make gold go up," said Arora.
He cites the example of John Taylor, a Stanford University economist, whom Trump met this week and is seen as a frontrunner for the US Fed chief post.
Arora said, "He is known for the Taylor rule, which relates inflation to interest rates. Taylor impresses Trump. The potential of Taylor becoming the next Fed chair is hitting gold and bonds but helping the dollar."
The reason, he said, is that under the Taylor rule, interest rates would be much higher. Bonds and gold would go down when interest rates go higher, and the dollar rises when interest rates go up.
Another development that is emerging is from Spain, where Catalonia leaders are pushing for independence against the wishes of the national government.
Dahdah said, "Problems in Catalonia could lead to concerns about the stability of Europe and increase demand for a safe haven asset. In such an environment we see gold prices averaging $1,350/oz in 2018 and $1,450/oz in 2019." This is 10 per cent higher than the firm's normal average price projections.
Even FocusEconomics, a Barcelona-based independent research firm sees geopolitical uncertainty lending support to gold prices, even as higher interest rates in the US dampen gold's appeal as an investment.
For Q4 2018, its analysts' panel projects gold prices to average $1,277 per ounce. However within the panel, price ranges between $1,180 on and $1,350.
Back home, several policy changes will continue in the new Samvat.
Most importantly, the government has already said that the threshold limit for providing know your customer details under anti-money laundering law will be revised and announced. It has only been kept on hold. This will be a big dampener when it comes.
The new gold policy will make efforts to divert gold investments to paper gold for which several schemes are being finalised giving flexibility and more options to investors.
These schemes which will be in line with sovereign gold bonds will give returns in gold price but there would not be physical gold buying.
Niti Aayog's panel for gold policy is expected to submit its report to the finance ministry by November 30, which may be put up for public debate.
Photograph: Michael Dalder/Reuters