Public sector banks accounted for 77.4 per cent of the total amount outstanding at Rs 5.3 trillion as of June.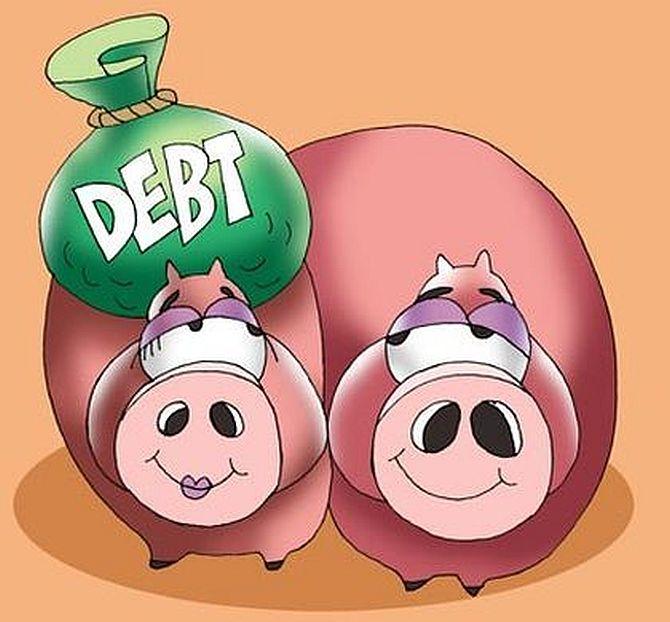 The Indian banking system's latest record on wilful defaulters shows Rs 62,970 crore, or around 10 per cent increase, in the additional amount outstanding since the pandemic began.
The total outstanding amount increased to Rs 6.85 trillion in June from Rs 6.22 trillion in December 2019 (see chart 1), shows a Business Standard analysis of numbers from the TransUnion CIBIL database.
India recorded its first case of Covid-19 in January 2020.The amount outstanding to wilful defaulters had touched a post-pandemic peak of Rs.7.6 trillion in December 2020 (or Rs 1.4 trillion more than pre-pandemic levels).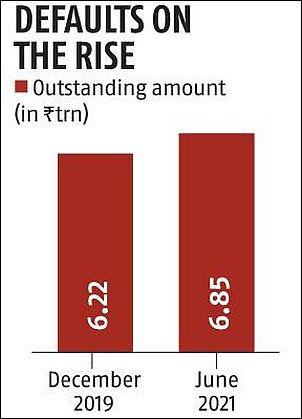 The latest numbers are better, though still higher than pre-pandemic levels.
A wilful defaulter is an entity that has borrowed money from the bank but hasn't repaid despite having the means to do so.
There were 26,022 such cases pending as of June.
The increase in the amount outstanding is larger if one compares the June 2021 figure with June 2019.
There were 24,175 cases at the time with a total outstanding amount of Rs 5.5 trillion.
Public sector banks accounted for 77.4 per cent of the total amount outstanding at Rs 5.3 trillion as of June (see chart 2).
However, the public sector also accounts for the larger share of banking credit.
It disbursed 58 per cent of total credit, according to the Reserve Bank of India's June 2021 data.
The RBI had noted that private sector players have been catching up.
"With their faster credit growth, private sector banks have increased their share in total credit to 36.6 per cent from 25.7 per cent five years ago, at the cost of public sector banks, whose share declined from 69.0 per cent to 58.1 per cent over the same period," the RBI said in its September 30 press statement.
What's worse is that though wilful defaulter data for the September quarter is still trickling in, at least 16 banks noted an increase over June.
This analysis only looked at banks that showed an increase in both the total number of outstanding cases as well as amounts outstanding over June.
This would indicate fresh cases filed.
Banks saw an of Rs 3,613.28 crore in what wilful defaulters owed them in the quarter.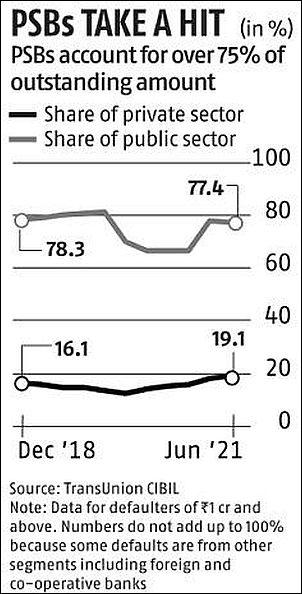 At least 345 new cases have been filed.
This would mean that banks recorded around four cases worth Rs 40 crore daily over the quarter.
Union Finance Minister Nirmala Sitharaman said on Tuesday that the government is intent on ensuring that defaulters return money.
"We have ensured that we pursue every case and get the money back to the banks, otherwise NPAs (non-performing assets) would not have come down," she said at a press conference in Jammu and Kashmir.
"We should not let go any defaulter and particularly those who have fled the country and we will get their assets through courts and give it to banks," she added.
The RBI's July financial stability report noted that there may be an increase in bad loans, for which scheduled commercial banks (SCBs) haven't yet made provisions, called gross non-performing assets (GNPAs), under increased stress.
"Macro stress tests for credit risk show that SCBs' GNPA ratio may increase from 7.48 per cent in March 2021 to 9.8 per cent by March 2022 under the baseline scenario and to 11.22 per cent under a severe stress scenario.
"Stress tests also indicate that SCBs have sufficient capital, both at the aggregate and individual level, even in the severe stress scenario," it said.