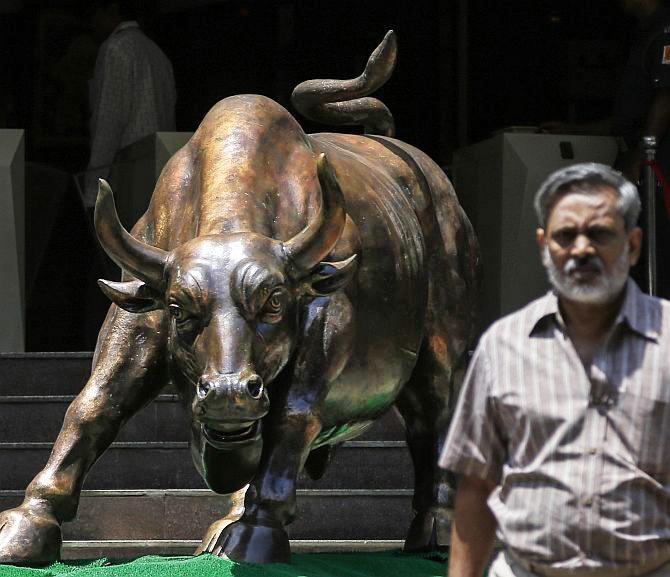 Arvind Kejriwal and the Aam Aadmi Party are surely going to have an impact on companies directly connected to Delhi, says N Sundaresha Subramanian.
(This report was written on February 9, a day before the results were announced. As expected, AAP is set to come to power with a landslide victory. The story analyses how AAP victory can impact the markets).
As the Mufflerman sneezed and coughed his way to an exit poll victory amid the Delhi winter, much warmer Dalal Street seems to have caught a cold.

Though some hardcore ruling party fans are keeping their fingers crossed until Tuesday morning, most of Delhi seems convinced the only thing to be decided on Tuesday is the difference in seats.

Taking cues, the Nifty and Sensex were headed south in early trading on Monday.
(On Tuesday, market sentiment turned positive on the back of Delhi election results where the Aam Aadmi Party is heading towards a landslide victory in Delhi Assembly polls.)
While it is too early to read too much into the investor sentiment, it is never too late to question misconceptions mass-produced in the factories of vested interests.

Arvind Kejriwal and the Aam Aadmi Party are surely going to have an impact on companies directly connected to Delhi.

The power utilities were leading the losers on Monday morning, with losses of over two per cent each, double those of the broader market.

And, understandably so. In one of his TV interviews, Kejriwal has said he would go for an audit of these companies right away and reiterated his earlier threats that he would not shy away from bringing in other distribution companies, if these do not fall in line.
This is going to key to his election promise of bringing down power rates. He has warned that he would not allow companies to dictate terms or blackmail the chief minister. Kejriwal did enough in those 49 days.

If he nails it this time, he is going to get about 1,800 days to do what he surely considers his unfinished agenda. So, the writing seems to be on the wall for the power companies.
But, what is in it for the broader market? One resounding theme of Kejriwal's campaigns is businesses and businessmen which have created value outside the system, unethically, sometimes even illegally, either by influencing people in the system or by hoodwinking the system.

This has been a disturbing byproduct of liberalisation. Tremendous wealth has been created in the past two decades by India's move towards capitalism but as a revelation in The Indian Express–Le Monde-ICIJ investigation codenamed Swiss Leaks showed, a lot of this wealth has been siphoned and is in mysterious accounts in Switzerland.

Inefficiencies in the system have meant Rs 25,420 crore (Rs 254.20 billion) of wealth, which could have been gainfully deployed in numerous cash-hungry projects, was sitting in these offshore accounts.

A lot of this might be legal but a lot is also illegal, ill-gotten wealth.
And, in only one branch of one bank. What about the others?
This toxic byproduct of right-of-centre political economy, which often goes by the name of crony capitalism, created a convoluted form of value creation on the Street.

Wherein, investors flocked to companies connected with or seen to be connected to the ruling party. And, rode their shares, which rose on goodies showered in the form of grants of plum contracts, allocation of resources, tailormade tax law fineprint and so on.
The Street seemed to have forgotten that such cronyism was at the heart of the scams and tremendous value destruction between 2010 and 2014.

With the new government at the Centre seen as 'business-friendly', the Street is hurtling down the same dangerous path.
However, more and more global investors are now as worried about the 'how' of wealth creation as the 'how much'.

They would prefer to back durable wealth than sand castles created through connections and cronyism.

A government in the capital led by Kejriwal, which understands the nitty-gritty of finance and corporate manoeuvres better than many other politicians, would be the much-needed brake the juggernaut never had.

The Street should shrug off the cold. Spring is round the corner.