On average, an account-holder among Punjab farmers availed of crop loans of around Rs 2.23 lakh in the first 11 months of 2016-17.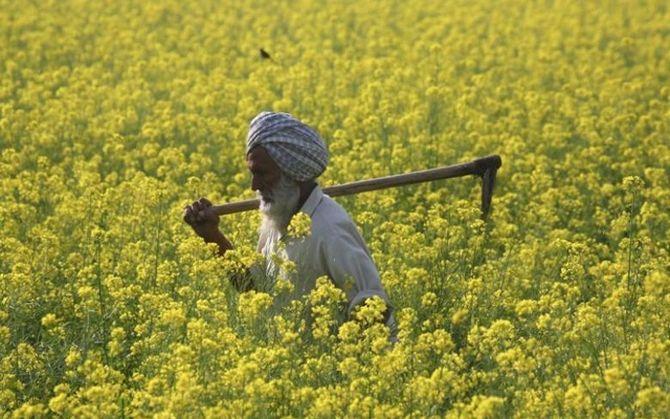 Farmers in Punjab are bigger beneficiaries of the enlarged rural credit flow through the Centre-subsidised institutional mechanism than their counterparts in other states that have announced debt waivers.
On average, an account-holder among Punjab farmers availed of crop loans of around Rs 2.23 lakh in the first 11 months of 2016-17.
Repaying the short-term loan, which is taken usually for a year for most crops except sugarcane, becomes a problem if the price the crop gets is abnormally low, and this leads to mounting debts.
According to the data sourced from various banking channels, including cooperative banks and regional rural banks, of the five major states that have announced waivers of crop loan schemes, credit penetration among most of them has shown an exponential rise in the past three years, both in terms of the number of account-holders and also the credit availed of by them as short-term crop loans.
Term loans are usually less than crop loans disbursed through institutional mechanisms.
In 2016-17, according to the provisional data, of the more than Rs 9.59 lakh crore loans disbursed through various institutions in 2016-17, almost 65 per cent of those are crop loans, while the remaining are term loans.
The data show that in Uttar Pradesh, a big state that has announced a mega waiver of crop loans up to a threshold, little over 8.4 million registered account-holders availed of crop loans amounting to around Rs 52,442 crore till the end of February in 2016-17.
This means that each account-holder got Rs 62,094.
In Maharashtra, which too announced a debt waiver, the data show that around Rs 37,790 crore was disbursed through little over 6 million bank accounts.
Or, in other words, an average of around Rs 62,811 per account-holder was disbursed in this period.
The data include all sorts of crop loans disbursed through cooperative banks, regional rural banks, and commercial banks.
Of the more than Rs 6,00,000 crore of crop loans disbursed till February 2017, commercial banks had the largest chunk of more than 67 per cent, followed by cooperative banks at over 18 per cent, and then regional rural banks (RRBs) at over 14.4 per cent.
The data show that credit disbursal through institutional sources grew by over 11 per cent per account-holder from 2014-15 to 2015-16 in Madhya Pradesh, the state where farmers are demanding a waiver of crop loans in line with neighbouring Uttar Pradesh.
Uttar Pradesh, Maharashtra, Punjab, Karnataka, Telangana, and Andhra Pradesh have announced waivers of crop loans in varying degrees.
In most cases, the state governments have agreed to pay a certain portion of the crop loans directly to the banks from their own resources.
In the case of UP, the state, in accordance with the scheme, has decided to redeem up to Rs 1,00,000 to individual small and marginal farmers whose crop loans were disbursed by lending institutions on or before March 31, 2016.
Rough estimates peg the amount that would be reimbursed by these states at over Rs 1,27,000 crore.
Photograph: Reuters