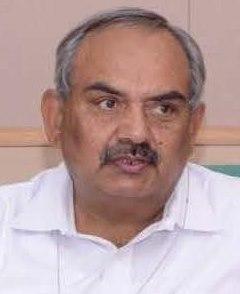 The new economic affairs secretary believes that doing more of the same cannot help; you must do things differently.
Speaking to Business Standard a couple of months ago, Rajiv Mehrishi, who was appointed Union economic affairs secretary on Thursday, was critical of many schemes launched under the Congress-led United Progressive Alliance (UPA) government.
But Mehrishi also appeared to believe the problem was much wider — that the very processes of governance that India's administrative system had relied on for decades urgently needed fixing.
Mehrishi, 59, who was Rajasthan's chief secretary since December 2013 and spearheaded many reforms initiated by the Vasundhara Raje government, said, "What is obvious to thinking people is we are failing at delivering education and health to the people. Doing more of the same cannot help. You must do things differently."
At a time when both the capabilities of the Indian state in delivering services in India's villages and the efficiency of government spending are being widely questioned, Mehrishi's appointment as economic affairs secretary puts him in the right place at the right time.
"We are making the exercise (of governance) very complicated without it being effective. We are pumping in resources and creating arbitrage opportunities," he said of the public food distribution system.
Soon after taking charge of the Rajasthan government for the second time, Chief Minister Vasundhara Raje had appointed Mehrishi as chief secretary to the new government on December 12, 2013.
For many, Mehrishi was the obvious choice for the post because he had worked closely with Raje in her previous term, from 2003 to 2008. He was principal finance secretary and had worked on rolling out Raje's ambitious Bhamashah project, a scheme to financially empower women.
Mehrishi returned to New Delhi on central deputation a few months after Raje's Bharatiya Janata Party (BJP) lost the state Assembly elections, working in the agriculture ministry and, later, as secretary in the Ministry of Overseas Indian Affairs.
"Raje would call him to brief her on various issues, whenever she was in Delhi," says a senior official privy to such meetings. In Raje's second tenure, which began in December 2013, the duo hit the ground at full speed.
Among the first initiatives of the new government was taking the government to the doorsteps of people.
While the chief minister led the team of state cabinet ministers, Mehrishi would go with his senior officers to villages and try to give on-the-spot solutions to people's problems.
In an interview with Business Standard, he was candid enough to say he had not been in a village for decades, adding these visits spurred him to faster action.
He empathetically recounted the story of a grandfather he met in a village near Dholpur who complained his grandson, in standard VII, had learned very little, blaming it in part on the decision to do away with exams as a step to promotion.

Mehrishi said he was troubled by the fact that there were secondary schools in only a third of Rajasthan's gram panchayat jurisdictions and girls dropped out of school at this stage because they had to travel 8-10 km to attend classes.
The Raje government then pushed to combine primary and secondary schools to make high schools more accessible, though the drop in the number of primary schools saw a mixed response.
In Rajasthan, Mehrishi and Raje seemed willing to embark on radical reforms in areas such as health care, for which Mehrishi said the government was even considering providing buses to bring villagers seeking medical care to small towns, rather than building rural health care centres that suffered from chronic absenteeism, as doctors largely didn't want to work in villages.
"Even a saintly doctor needs a small room with a toilet. You can't rent that in a village. We have to accept the ground realties and act accordingly," he said.
Mehrishi was also seen behind a raft of labour reforms the Rajasthan government undertook to lure investors to the state and expand the industrial belt from Gurgaon to Neemrana to Jaipur. Mehrishi was inclined towards bringing amendments to the Land Acquisition Act. But the BJP's members of legislative Assembly stonewalled the Bill.
For Raje, Mehrishi's move to Delhi is the third loss of a senior official in the past few months, with one taking a job with the World Bank and another with the Union government.
As Prime Minister Narendra Modi puts state elections behind him and focuses on economic reforms, Mehrishi is expected to bring fresh ideas to the Union finance ministry.
He is replacing Arvind Mayaram, a 1978 batchmate from the Rajasthan cadre.
From working on capital markets reform to drumming up foreign direct investment, Mehrishi will have his work cut out for him.