In the last couple of months, the IT and BPO space has seen a big uptick in M&A activities, with companies merging with other entities to become bigger players.
Debasis Mohapatra and Romita Majumdar report from India's IT capital.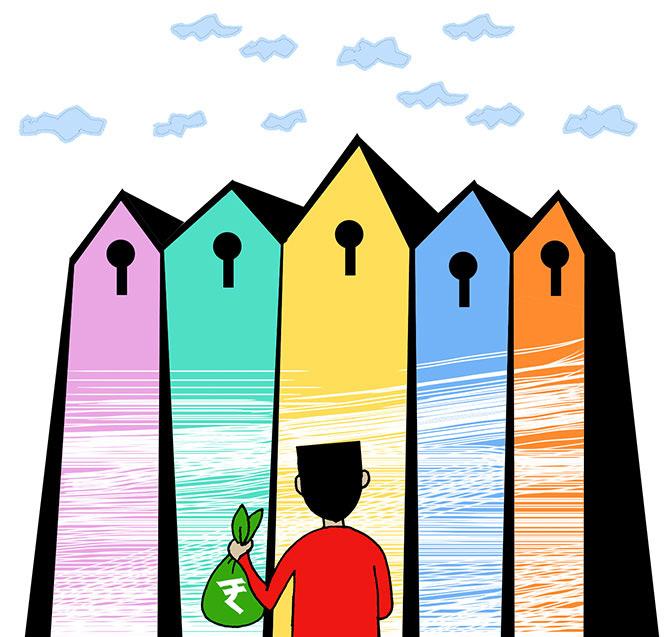 Illustration: Dominic Xavier/Rediff.com
Consolidation in the mid-tier IT and ITeS segment is on the rise as companies are increasingly chasing top line growth in a globally sluggish software services market.
Moreover, attractive valuations of these firms are prompting promoters and investors to exit their portfolios at multiple-times gains, leading to more M&A activities.
In the last couple of months, the IT and BPO space has seen a big uptick in M&A activities, with companies merging with other entities to become bigger players, or private equity players buying a controlling stake in mid-tier IT firms with the hope of cashing out investments for better returns.
Pune-headquartered KPIT announced its merger with the C K Birla Group-owned Birlasoft earlier this year, to create an over $700 million combined entity, with plans to split it into two separate firms.
In March, Aegis -- a business process outsourcing firm and the portfolio company of Capital Square Partners -- announced its merger with US-based Starteck.
Upon completion of the deal, the entity will have revenue of $700 million, with over 50,000 employees and operations in 12 countries.
In the same month, France's Altran Technologies completed the acquisition of design and engineering services company Aricent from a group of investors led by KKR, at a valuation of $2 billion.
Industry insiders say the pace of M&A will only increase and at least half a dozen deals are expected to be completed in the ongoing calendar year.
"M&A in IT is going to be big in the next 2 to 3 years as a lot of consolidation is going to happen in mid and small IT companies," said Kaushal Aggarwal, co-founder and MD, Avendus Capital.
"When firms are growing at 20 to 40 per cent on a year-on-year basis, which used to be the case for long, things were very different. However, when growth becomes 10 to 12 per cent but still you have a lot of cash, a lot of people are rethinking growth."
"With no new growth coming in, consolidation is the route being taken by IT firms in their chase for top line," Pareekh Jain, senior vice-president and head of India operations at HfS Research, said. "That's why we saw so many deals in the last few months."
"While some players are doing it for growth, others are taking the M&A route for building up capabilities in specific areas," Jain added.
Teleperformance of France recently announced plans to acquire private equity major Blackstone-owned BPO services company Intelenet for around $1 billion (Rs 68 billion).
The deal marked the exit of Blackstone with a 4x return, its largest in Asia so far.
"Over the past few quarters, valuation of mid-tier IT companies has gained significantly due to upswing in digital IT spend and a favourable exchange rate. Mid-tier IT companies are trading at premium valuation—higher than most larger peers with an exception of TCS," said Ajay Shah, Partner at EY.
While many deals mark the exits of earlier investors, the segment is also seeing newer investors filling the gap by buying out the former at a higher valuation.