Right marketing and product strategy have helped Falguni Nayar build Nykaa, an enormously successful beauty retail business.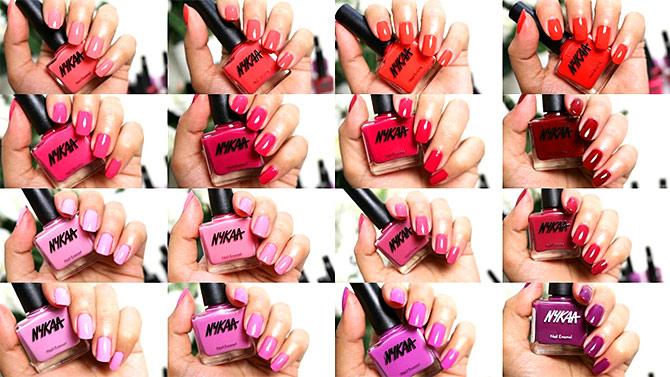 When Falguni Nayar left investment banking firm Kotak Mahindra Capital to start Nykaa, a multi-brand beauty retailer, little did she know the business would gross Rs 600 crores in four years.
Nykaa earned Rs 225 crores for the year ended March 2017 and is eyeing a break-even at the operating earnings level by September and hopes to end the year with a top line of Rs 750 crores; it is doing Rs 600 crores on a run rate basis.

What has it done well?
The key differentiator has been its marketing (focus on digital media than on expensive television advertising), product strategy (right ones and exclusive brands), and an inventory-led model that allows it to deliver fresh products. ''The key is to be a retailer than chase customers with discounts,'' says Nayar.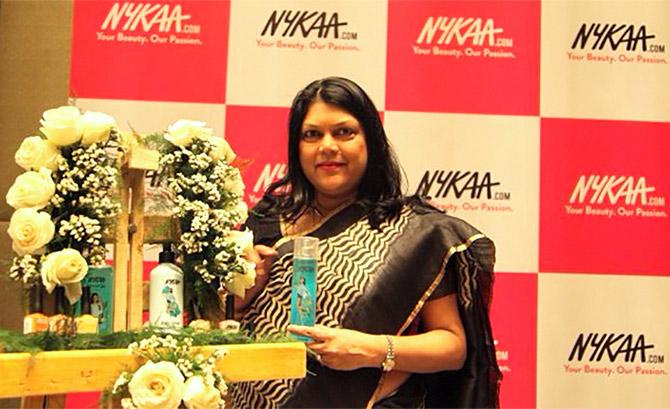 IMAGE: Falguni Nayar, founder of Nykaa. Photograph: Eventfaqs/Twitter.
Adding: ''We bought a lot of content on our website and understood the art of retailing, which is to intertwine advice with sales, not just push sales. We have an online magazine and are very active on social media (2.1 million Facebook likes, 225,000 followers on Instagram) to connect and educate customers on new brands and trends. New is a big thing in beauty and drives 30-40 per cent of all sales."

Nykaa follows an inventory-led model. It has big warehouses in Delhi and Mumbai (50,000 sq ft each) and a 15,000-sq one in Bengaluru. Beauty is a long-tail inventory business, requiring it to carry a wide variety of brands and stock keeping units (say, 50 shades of a nail enamel).
Nykaa sells 650 brands on its website. Many brands are offered exclusively on its website. These include MAC, Kiehl's, Innisfree, Ciaté London and LA Girl that are available online only at Nykaa in India; brands like The Shave Doctor or Milani Cosmetics are available exclusively at Nykaa in India. It also sells products under the private label, Nykaa, which accounts for 8 per cent of its sales. The plan is to grow this to 20 per cent.

Shalini Raghavan, chief marketing officer at the consumer products division of L'Oréal India, says the online space holds great potential to educate and inform customers through influencers such as bloggers and social media, where content is very important. "The key is to integrate content into e-commerce, so that the consumer does not miss the 'touch and feel' aspect on which the make-up category has been thriving so far."

Nykaa has raised Rs 183 crores in funding since 2014. In end-2016, it raised Rs 21.8 crores from Max Ventures, after raising Rs 82.5 crores in early 2016 from the family offices of Sunil Kant Munjal, Harsh Mariwala and TVS Shriram Growth Fund. In 2015, Nykaa had raised Rs 60 crores from the TVS fund, family offices of Atul Nishar, Harsh Mariwala and others. In 2014, it began with Rs 20 crore from private investors.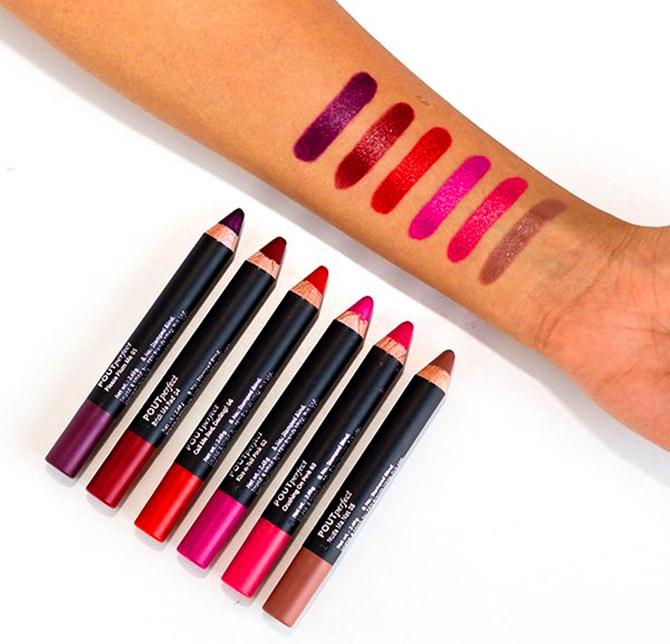 Multi-brand retailer

Nayar wanted to be a multi-brand beauty retailer, feeling there was a need for one. In a market like India's, a nascent one for an industry like beauty, she felt it was hard to fulfil the demand with physical stores. Hence, e-commerce. Though it uses e-commerce, Nykaa sees itself more as a multi-brand retailer.

In matured markets like the US, where there's a proliferation of brands, a multi-brand retailer does better than individual stores. Earlier, brands were sold through counters in department stores. Salespeople of each brand would push their products but consumers didn't necessarily trust them. "Sephora and Nykaa are brand-agnostic," says Nayar.

This has worked well for Nykaa; globally, beauty products are not selling well at stores like Bloomingdale's, say industry insiders. So, Macy's has allowed Sephora in its stores and every Macy's store has a Sephora.

Market structure

In India, the market for personal care and home care products is likely to be $18 billion by 2020, according to an industry estimate; 20 per cent of this is expected to be online, says Nayar. This market includes blades, shaving cream, soaps, face wash, personal care, make-up, skin care and hair care and Nykaa sells all these.

In India, Nykaa competes with Amazon, which is focused on personal care and Sephora, the world's largest beauty retailer, owned by Louis Vuitton. There are few beauty retailers in India -- Shoppers Stop sells some amount, there's Health and Glow, a South India-based chain, and newU, an online beauty retailer from Dabur.
Nykaa also competes with mom-and-pop stores and departmental stores like Amarsons in Mumbai. ''Few beauty retailers have been successful in India, as it is a long-tail business and you need to educate the customer,'' says Nayar. Product expiry is a big issue. Nykaa works on a 40-day inventory cycle to deliver fresh products.

Its key categories are make-up, 50 per cent of sales, skin care (25 per cent) and hair care (15 per cent). It earns margins of 25-40 per cent and also makes money from advertising on its website.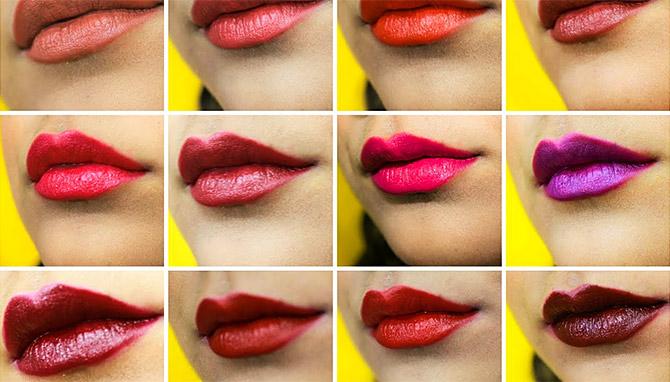 Omni-channel

Nykaa has five stores in Mumbai, Delhi and Bengaluru. It plans to take that tally to 30 stores in 20 cities by 2020. By then, stores could bring in 10 to 15 per cent of the business, up from two to three per cent now. Stores carry limited stock but help the company with its omni-channel strategy, as some buyers prefer to buy from stores.

Photographs courtesy: Twitter and YouTube.